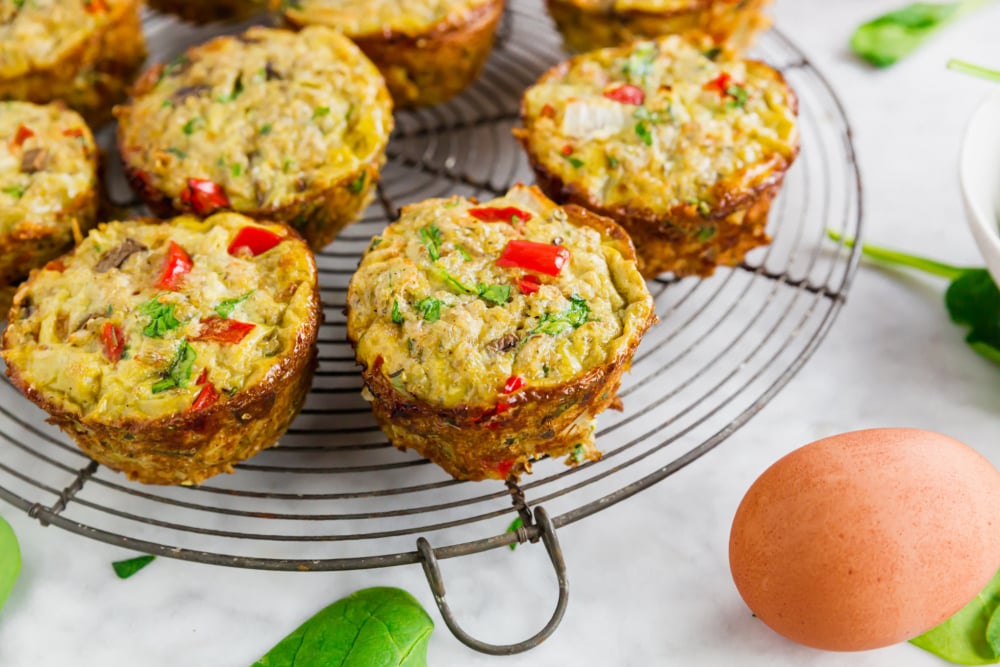 Need a great make-ahead gluten-free breakfast? This recipe for my vegetable quinoa egg muffin is the perfect make ahead breakfast and everyone loves it. It's loaded with delicious vegetables, protein-rich quinoa, and beautiful eggs. This post is sponsored by Happy Egg Co.. Please see my disclosures.
Breakfast is my favorite meal of the day, but sometimes I have to run out the door so quickly that I don't get time to enjoy this important meal in all its glory.
So instead of skipping breakfast and listening to my tummy rumble all morning long, I have created this make-ahead protein-rich, savory breakfast treat that can be enjoyed while on-the-go.
I often make these muffins ahead of time and then freeze them. Then, when I'm looking for a quick bite of breakfast as I head out the door, I simply zap one (or two or three) in the microwave for 30-45 seconds and breakfast is ready!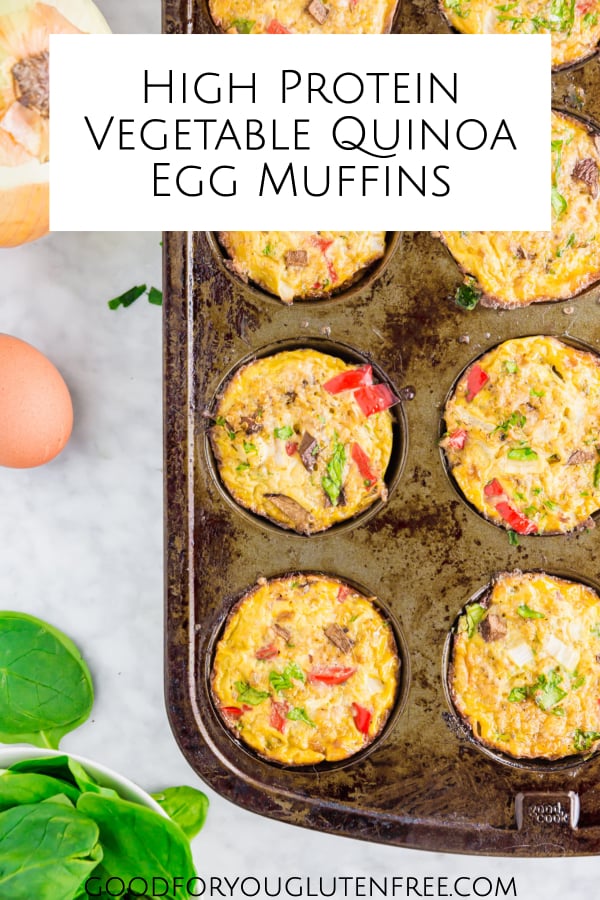 I'd much rather prefer this savory, whole foods breakfast to a processed protein bar any day.
Plus, each muffin is only 100 calories, is exploding with delicious whole foods, and contains a whopping seven grams of protein all packed inside each little muffin!
Let's talk a bit about what's inside these beautiful egg muffins and what makes them so tasty, beautiful and nutrient-dense.
Ingredients
It's always best to gather all your ingredients before starting any recipe. I can't tell you the number of times I've started a recipe only to come up short on something.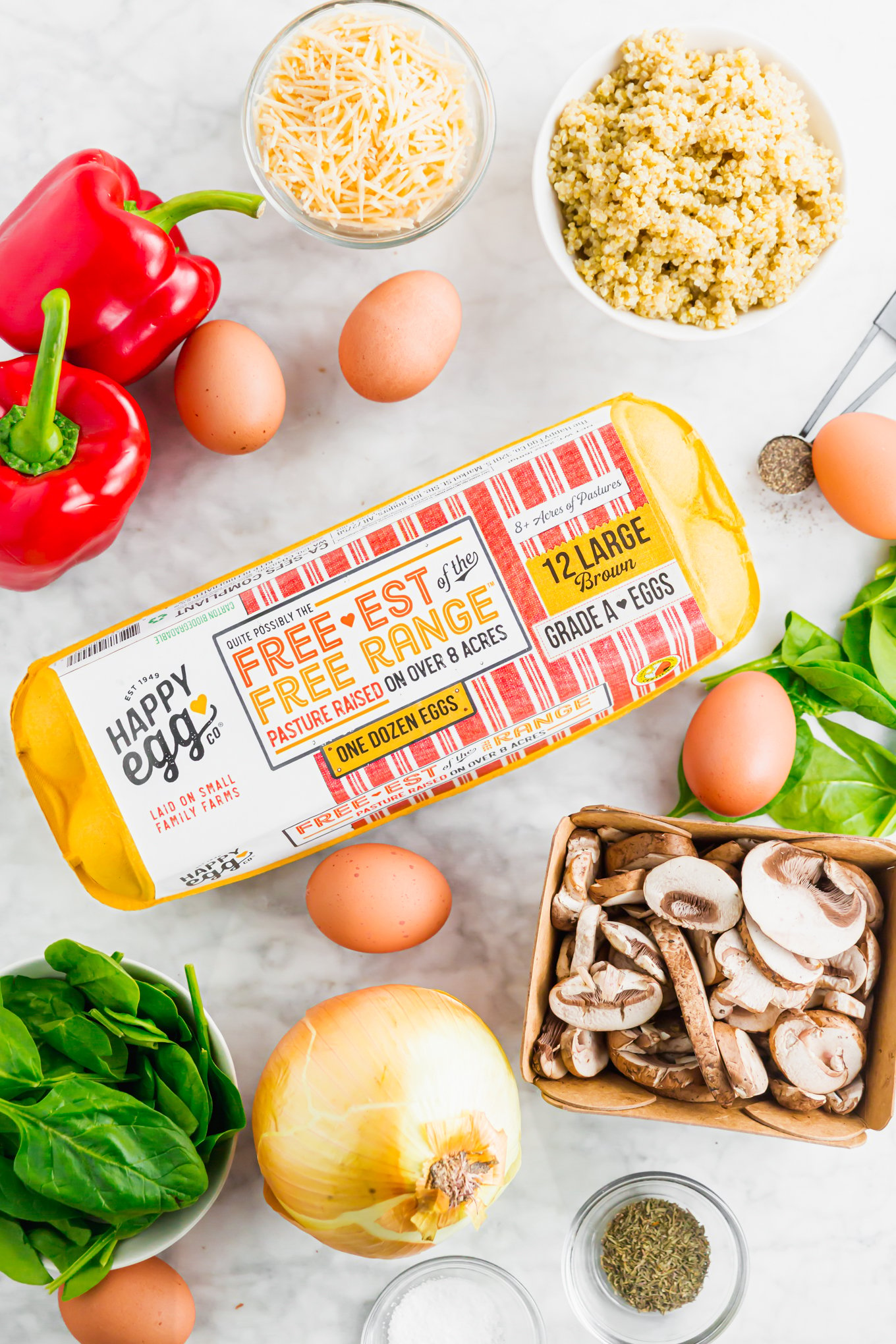 To make these vegetable quinoa egg muffins, first gather the following ingredients:
Eggs: The star ingredient of this recipe is of course those beautiful Happy Egg Co. eggs. These vibrant and creamy eggs are free-range eggs. They are truly the best eggs money can buy.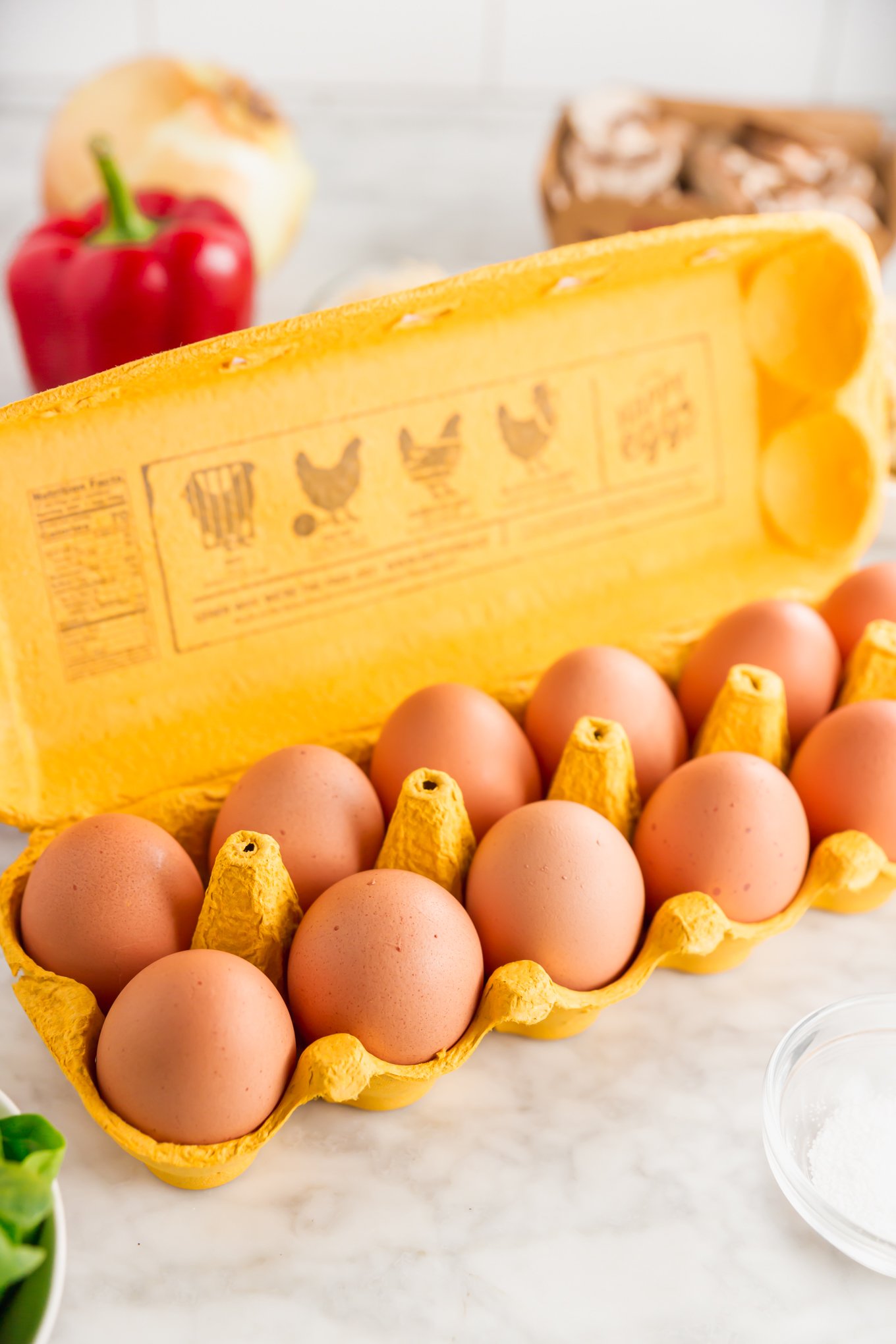 Vegetables: In this recipe, I used finely diced red pepper, onion and mushroom, along with some chopped fresh spinach.
You could technically add whatever vegetables you have or like best. Zucchini, green onions and celery work particularly well too. You can't go wrong.
You'll want to dice those vegetables well into bite-sized pieces. I have this nifty vegetable chopper that allows me to dice my vegetables into perfect little squares.
Quinoa: Quinoa is a complete plant-based protein, so between the protein-rich eggs and the protein-rich quinoa, these muffins are a protein dream come true! Quinoa is also naturally gluten free, although you do want to purchase a brand labeled gluten free. Please read, Is Quinoa Gluten Free?, for more information on how to safely consume quinoa.
Tip! Be sure to cook the quinoa first before measuring and adding it to your mix.
Don't like quinoa? It's okay to omit altogether. Feel free to add a few extra vegetables and additional shredded cheese to give the muffins a bit extra bulk.
Cheese: I used Parmesan cheese because I had it in my house, but you could swap Parmesan cheese with shredded mozzarella or cheddar. Your muffins, your choice.
How to Make
It's quite easy to make these vegetable quinoa egg muffins.
First, you'll want to crack and scramble those beautiful eggs to blend the yolks and whites together evenly.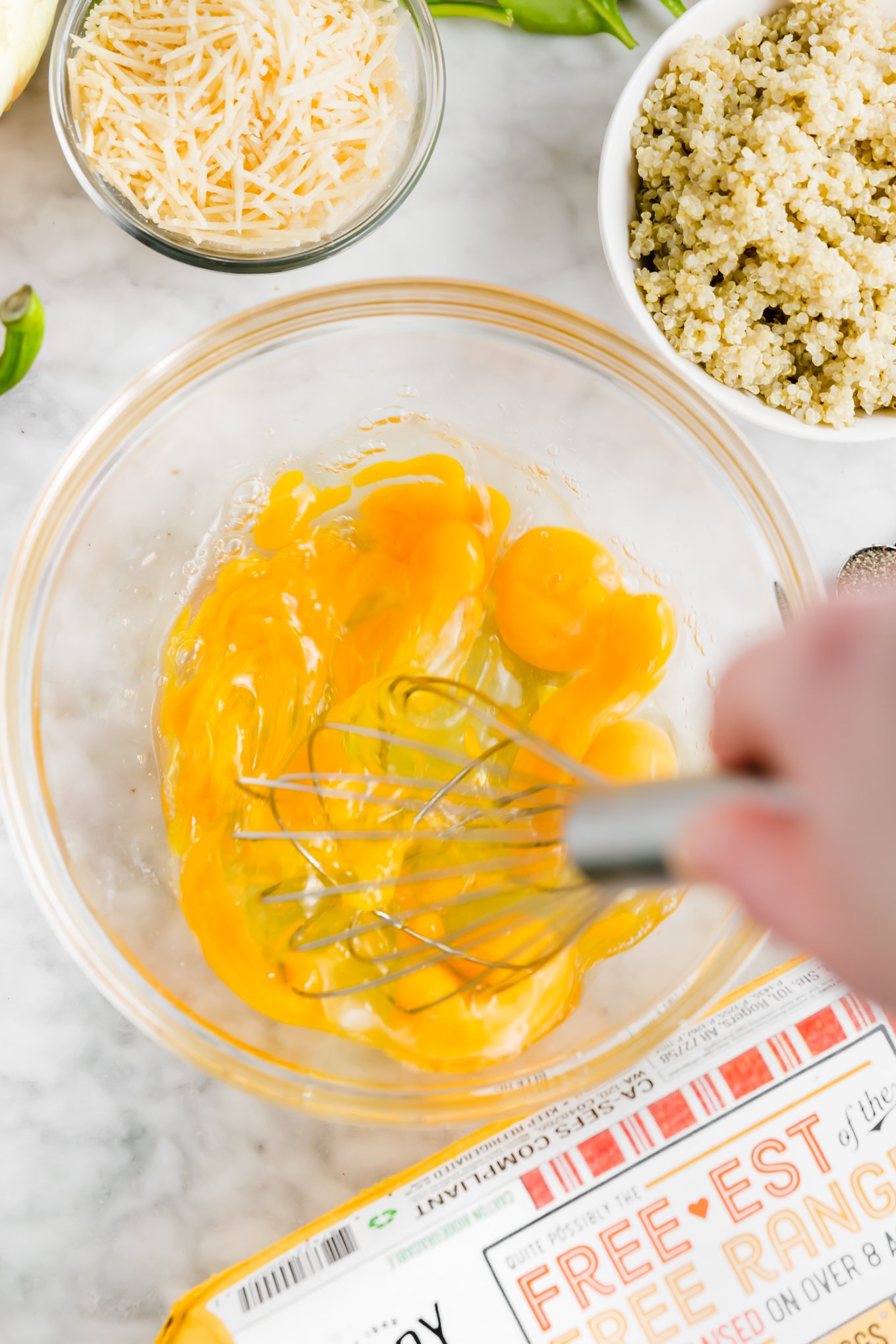 Then, here comes the "hard" part: You'll add all the other ingredients to the egg mixture and mix together well. Pretty simple, right?
Here's what the mixture looks like when combined:
Now add spoonfuls of the mixture into the cavities of your well-greased muffin tin. Do not skimp on greasing those tins or else the muffins will stick.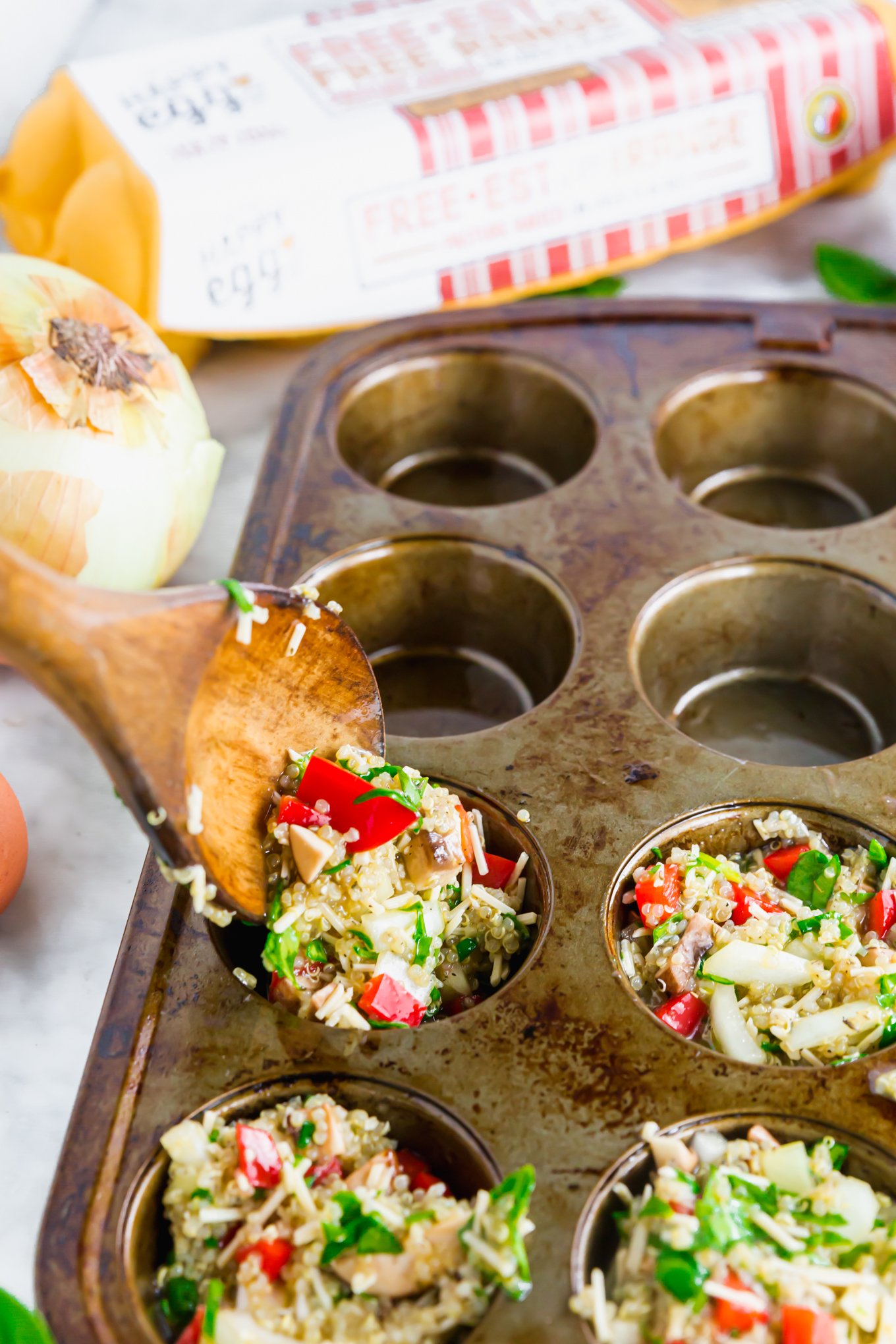 Bake the muffins at 400º F for 22-25 minutes until cooked through.
Remove from oven and allow them a few minutes to cool before removing from the pan. Use a spatula to help wedge out any stuck muffins.
Aren't these vegetable quinoa egg muffins beautiful?
I love the bright yellow eggs complemented with specks of green and red thanks to the spinach and red pepper. Breakfast sure is looking good!
The Taste Test
These gluten-free vegetable quinoa egg muffins taste amazing too.
I, of course, love them best right out of the oven, but like I said before, they freeze and reheat well.
Each muffin is savory and a bit salty (thanks to the cheese), and the diced and chopped vegetables add all sorts of wonderful textures and flavors to the mix.
I personally love how the vegetable quinoa egg muffins slightly brown around the edges. I savor those brown bits the most.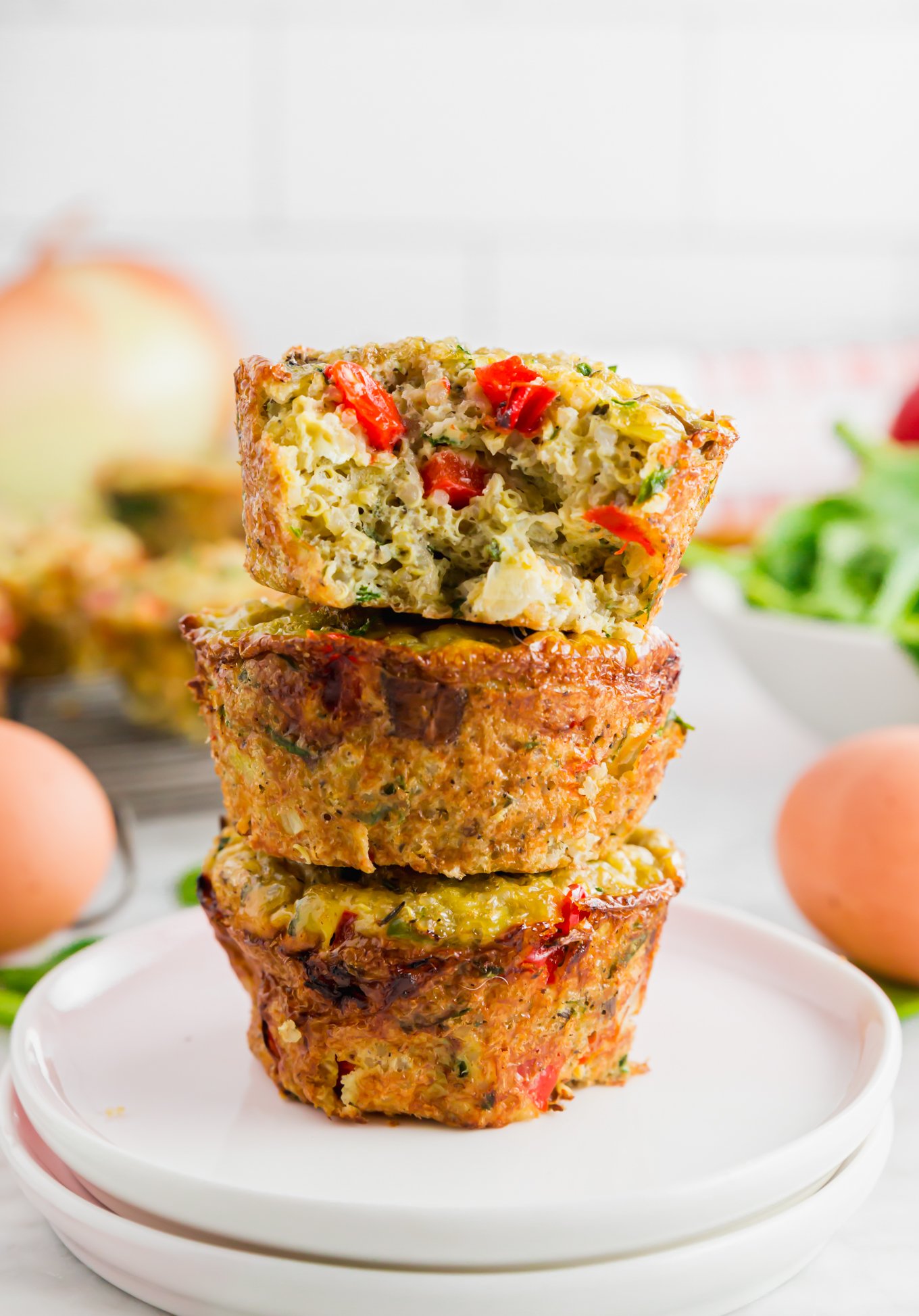 As I mentioned at the top of the article, I like to make these ahead of time when I know I won't have time to sit down and enjoy a hearty breakfast.
How to Freeze 'Em
To freeze these muffins, first allow them ample time to cool. Then place them on a baking sheet and stick them in your freezer for about an hour to flash freeze them.
Once frozen, you can then store all the muffins in a zip-top bag inside your freezer.
When you're ready to enjoy one, pop it in the microwave for 30-45 seconds and it's good to go. I usually eat 2-3 of them to feel satisfied and full.
Other Egg-cellent Breakfast Recipes
Try these other excellent breakfast recipes by Good For You Gluten Free:
Gluten-Free Huevos Rancheros – a family favorite!
Gluten-Free Egg-Fried Rice – we enjoy this recipe for breakfast, lunch and dinner!
For more breakfast inspiration, read 42+ Gluten-Free Breakfast Recipes and Ideas.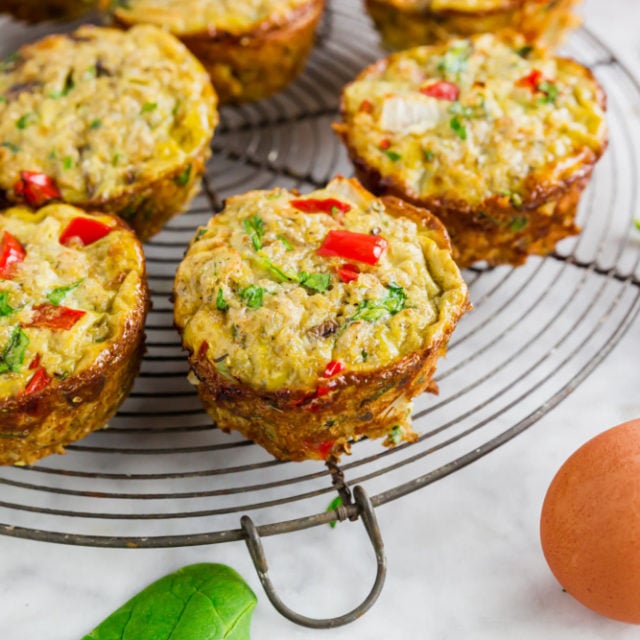 Vegetable Quinoa Egg Muffins
These high-protein vegetable quinoa egg muffins are loaded with good for you ingredients that taste great, feel great and keep you feeling full for hours. Make a batch and enjoy them all week long.
Print
Pin
Rate
Ingredients
6

large eggs

I used Happy Eggs Co. eggs

2

cups

cooked quinoa

cooled

1

cup

diced red bell pepper

1

cup

fresh spinach

chopped (½ cup packed when chopped)

2/3

cup

diced mushrooms

I used mini bella mushrooms

3/4

cup

diced yellow onion

2/3

cup

shredded Parmesan cheese

1

tsp

thyme dried seasoning

1/2

tsp

garlic powder

1

tsp

kosher salt

1/2

tsp

ground black pepper
Instructions
Preheat oven to 400º F and generously grease a 12-cup muffin tin with cooking spray.

In a large bowl, add eggs and scramble with a whisk, then add all the other ingredients and combine well.

Add spoonfuls of the mixture to each muffin tin cavity, equally dividing the mixture among the 12 cavities.

Bake for 22-26 minutes until tops begin to brown and egg is cooked through.

Allow to cool for 5 minutes, remove from muffin tin, and enjoy!
Notes
Make sure you grease the muffin tin well for easy removal of the egg quinoa muffins. Cooking spray works best. Muffins will come out of the tin easier after they've cooled for a few minutes. If you are having trouble, use a small spatula to loosen the bottom of the muffins. A silicone muffin pan can be used instead.
You can freeze the muffins and reheat for a quick grab and go breakfast or snack. Freeze the egg muffins on a baking sheet for an hour until frozen then pack in a freezer-safe container. Reheat from frozen.
Add whatever diced vegetables you want to this mixture. I sometimes call these muffins "kitchen sink egg muffins." There are no rules; just use what you have or like best. Zucchini, green onions and celery work particularly well.
Make sure you cook the quinoa before measuring it for this recipe. If you don't like quinoa, omit it from the recipe and add a few extra vegetables to add bulk.
I used Parmesan cheese because I had some in the house, but you could also use shredded mozzarella or cheddar. Your muffins, your cheese choice.
Happy Egg Co.® sponsored this recipe.
Nutrition
Calories:
101
kcal
|
Carbohydrates:
9
g
|
Protein:
7
g
|
Fat:
4
g
|
Saturated Fat:
2
g
|
Cholesterol:
86
mg
|
Sodium:
319
mg
|
Potassium:
160
mg
|
Fiber:
1
g
|
Sugar:
1
g
|
Vitamin A:
785
IU
|
Vitamin C:
17
mg
|
Calcium:
91
mg
|
Iron:
1
mg