I loved fried rice, but I don't love the gluten! In this post, I'll share my tasty and gluten-free fried rice recipe. This original post was sponsored by Happy Egg Co. and may contain affiliate links. Please see my disclosures for details on how I work with brands.
Just because you eat gluten free doesn't mean you can't still enjoy the flavors traditionally found in Chinese cuisine. I'm going to show you how you can enjoy those savory Chinese food flavors with my colorful gluten-free egg fried rice recipe.
Rice is naturally gluten free and is a staple in the gluten-free community. Read my article, Is Rice Gluten Free?, for more information on this subject.
Most people diagnosed with celiac disease or a gluten sensitivity tell me they were relieved when they learned they could still eat rice.
I've always loved rice. I bought my first rice cooker while studying abroad in Tokyo. My roommates taught me how to prepare the rice and set the timer on my rice cooker so I'd wake up to steaming hot sticky rice each morning.
Today, I still enjoy rice, and eat it often. And one of my favorite ways to enjoy rice is by making my own gluten-free egg fried rice recipe.
Is Fried Rice Gluten Free?
While plain brown and white rice are naturally gluten free, fried rice typically contains gluten.
In fact, fried rice contains hidden gluten in the form of soy sauce, and soy sauce contains wheat (aka, gluten). If a restaurant offers gluten-free fried rice, be sure they are using gluten-free soy sauce or tamari.
Gluten-Free Fried Rice Ingredients
To make gluten-free fried rice, you need a few essential ingredients.
The Rice: When making fried rice, I recommend you use a long-grain rice, like jasmine rice, for the best results. The key to making fried rice that tastes amazing is to use leftover pre-cooked rice that is cold (aka, day old rice). Warm, steaming rice will result in sticky or soggy fried rice, which is not at all the result we're looking for.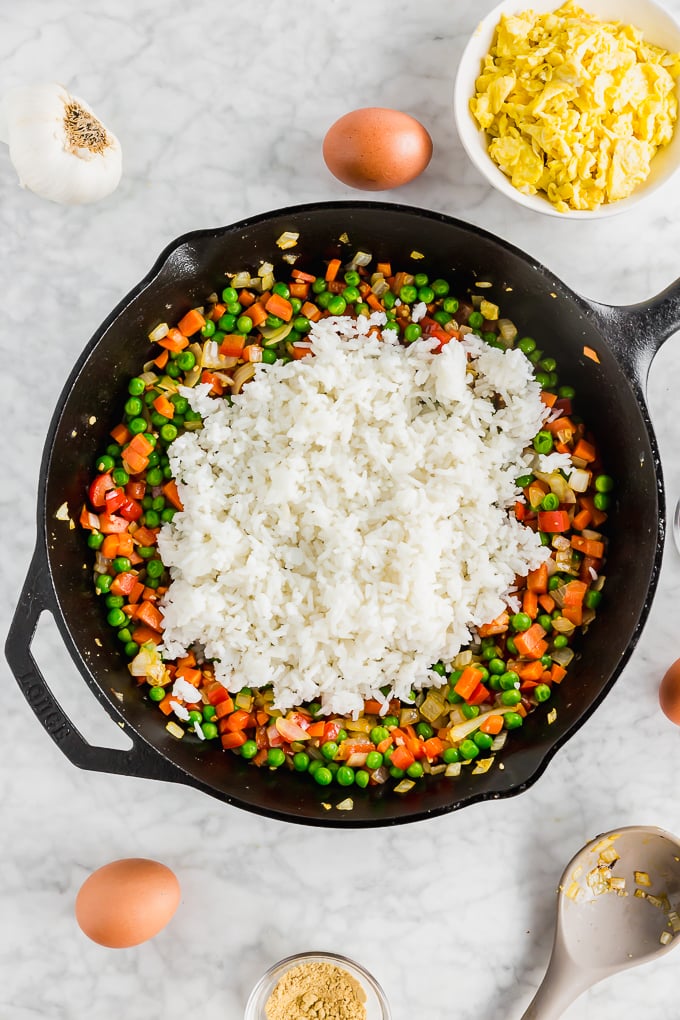 The Eggs: Eggs are naturally gluten free and contain a lot of bioavailable ingredients. Read more about the nutritional benefits of eggs in this article. I used Happy Eggs to make my fried rice, but you could use any egg brand of choice.
The Vegetables: I love to load up the pan with any vegetables I have readily available at home. There are no rules.
For this recipe I used onion, carrots, red bell peppers, frozen peas and scallions, but you can use diced zucchini, eggplant, celery, spinach or anything you need to use before it spoils.
If you're lucky enough to live near a farmer's market, you can really have fun with adding different vegetables and colors to your gluten-free egg fried rice recipe.
When cooking the vegetables, it's key to have them uniformly diced so they cook evenly. You can dice the vegetables by hand, or save yourself the trouble by investing in a handy chopper.
The Sauce: The sauce is where this gluten-free fried rice recipe comes alive. Use a combination of tamari (aka, gluten-free soy sauce), toasted sesame oil, ginger, garlic and red pepper flakes (optional) for a tasty fried rice result.
Instead of red pepper flakes, I sometimes use chili-garlic sauce, which you can find at most supermarkets nationwide. I find it adds a little extra spice (if you're like me and like it spicy).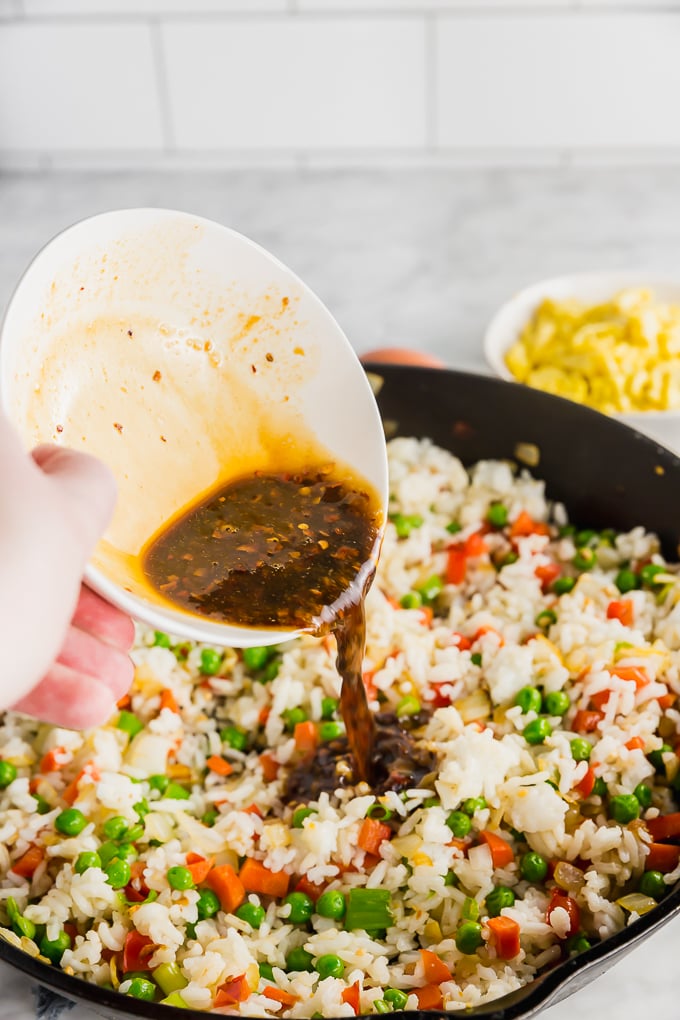 How to Make Fried Rice
You're going to be overcome with joy when you see how simple this recipe is to assemble. Simply combine all your sauce ingredients and set aside.
Then scramble your eggs and set them aside. Feel free to use oil or even a little butter in your egg scramble.
Next, heat more oil in a pan and cook your evenly diced vegetables until softened. Add the garlic and cook for another minute before adding the frozen peas. The peas will soften and warm so they do not need to be defrosted before adding them to the rice dish.
Add the cooked long-grain rice and scallions to your pan, then pour the sauce over the mixture and stir well.
Finally, add the eggs and cook everything for at least another two minutes or longer if you want your rice to be a little crispy (my prefered method).
To get crispy bits of rice, simply keep your burner on medium high heat, and mix the rice mixture every minute, allowing it to cook between mixings.
Print and follow the recipe below for detailed, step-by-step instructions on how to make this delicious, nutritious and gorgeous gluten-free egg fried rice. Doesn't it look scrumptious?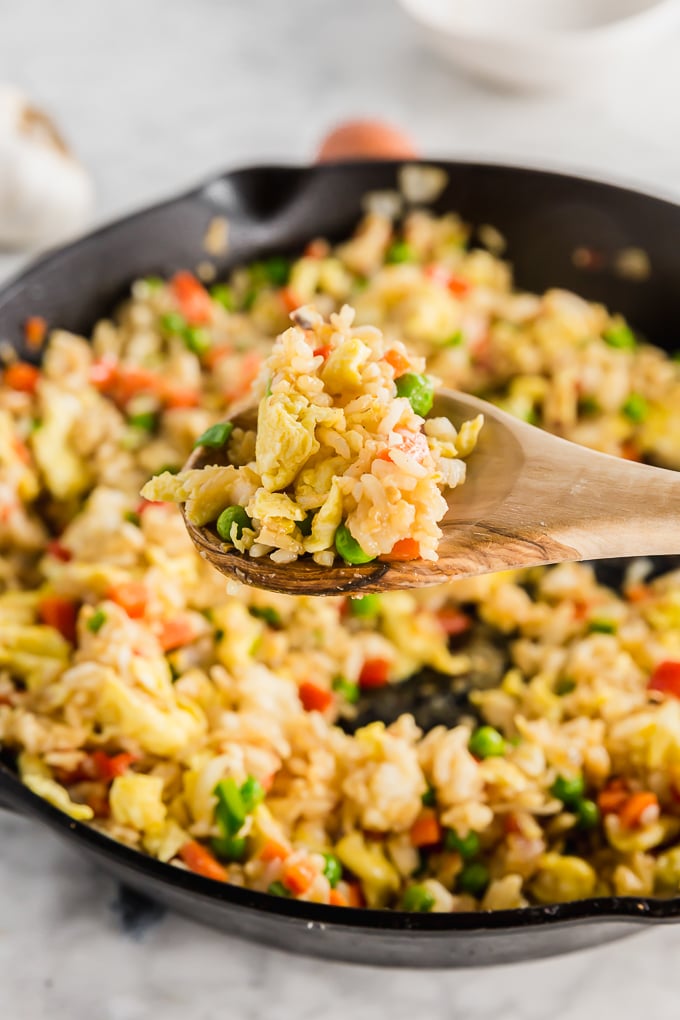 The Taste Test
This gluten-free fried rice recipe is the real deal! The rice is crispy and flavorful and the eggs add color, protein and a delicious creamy taste.
The awesome part of it all is that you can make this gluten-free egg fried rice for breakfast, lunch or dinner. It works at any time of the day.
My son, for example, loves egg fried rice for breakfast and usually suggests it when he sees leftover rice from the night before. I love when he requests this dish because I know he's eating nutrient-dense eggs and lots of vegetables, in addition to the tasty rice, of course.
Experiment with your own vegetable additions and seasonings and let me know how it goes… promise?
Other Egg-ceptional Recipes
Incredibly Easy Brussels Sprouts and Egg Breakfast Skillet
Protein-Rich Vegetable Quinoa Egg Muffins
Gluten-Free Fried Rice
This gluten-free fried rice recipe is easy to make and fun to eat! It's full of delicious flavors and Chinese restaurant spices. Pile in as many veggies as you like to elevate this dish to new heights.
Print
Pin
Rate
Ingredients
3

large eggs

beaten

3

Tbsp

avocado oil (or cooking oil of choice)

divided

1

cup

yellow onion

diced, about 1/2 onion

1

cup

carrot

diced, about 2 large carrots

1/2

cup

red bell pepper

diced

2

cloves

garlic

minced

3/4

cup

peas

frozen

1/4

cup

scallions or green onions

(thinly sliced, about 3-4 stalks of scallions)

3

cups

cooked long grain white rice

3

tablespoons

tamari

(or gluten-free soy sauce)

1

tablespoon

toasted sesame oil

1

teaspoon

ground ginger

(or 1 tbsp fresh ginger, minced)

1/4

teaspoon

red pepper flakes

(optional)

¼

teaspoon

salt

(or to taste)
Instructions
In a small bowl, combine tamari sauce, sesame oil, ground ginger and red pepper flakes. Whisk until spices are thoroughly combined into the sauce. Set aside.

In a wok, cast iron skillet or pan, heat one tablespoon of oil over medium-high heat.

Add beaten eggs to the skillet. Scramble the eggs and cook for 2-3 minutes, until set.

Remove the eggs from the skillet and set aside in a small bowl.

Add the remaining two tablespoons of oil to the pan.

Add the onions, carrots, and bell pepper to the pan. Cook for 5-7 minutes, until onions are translucent and vegetables are soft.

Add the minced garlic and cook an additional minute, stirring often so the garlic doesn't burn.

Add the peas and stir to combine.

Add the cooked rice and scallions to the pan, stirring to combine. Cook for 2-3 minutes, until rice is heated through.

Pour the sauce over the rice mixture in the pan. Add the scrambled eggs and toss.

Cook for about 3-5 minutes, stirring often, until the rice is slightly crispy.

Season with salt to taste. Serve immediately.
Notes
Egg fried rice is a terrific way to use up leftover rice. In fact, it's best to use rice that is a day or two old. Fresh cooked tends to be really moist and stick together a bit more. Day old rice is easy to break apart and isn't as clumpy as freshly cooked rice.
Feel free to swap butter for oil at any point in this recipe.
This recipe is really versatile and you can use whatever vegetables you have on hand. Some other great options would be cabbage, spinach, kale, broccoli, corn or bok choy. Just make sure you cut them up small so that they cook in the same amount of time as the other vegetables.
I used frozen peas in this recipe. You don't even have to defrost them before adding them into the pan. They'll defrost quickly on their own from the heat.
If you don't need this recipe to be vegetarian, you can add in cooked chicken, shrimp, or bacon.
This recipe uses long grain white rice, but you can also use brown rice in this recipe.
I find that this recipe only needs about ¼ teaspoon of salt and I like to season at the end. Taste before adding the salt as it may be salted enough from the tamari. Adjust the salt to your preferences.
Nutrition
Calories:
396
kcal
|
Carbohydrates:
48
g
|
Protein:
11
g
|
Fat:
18
g
|
Saturated Fat:
2
g
|
Cholesterol:
123
mg
|
Sodium:
977
mg
|
Potassium:
399
mg
|
Fiber:
4
g
|
Sugar:
6
g
|
Vitamin A:
6415
IU
|
Vitamin C:
41
mg
|
Calcium:
67
mg
|
Iron:
2
mg