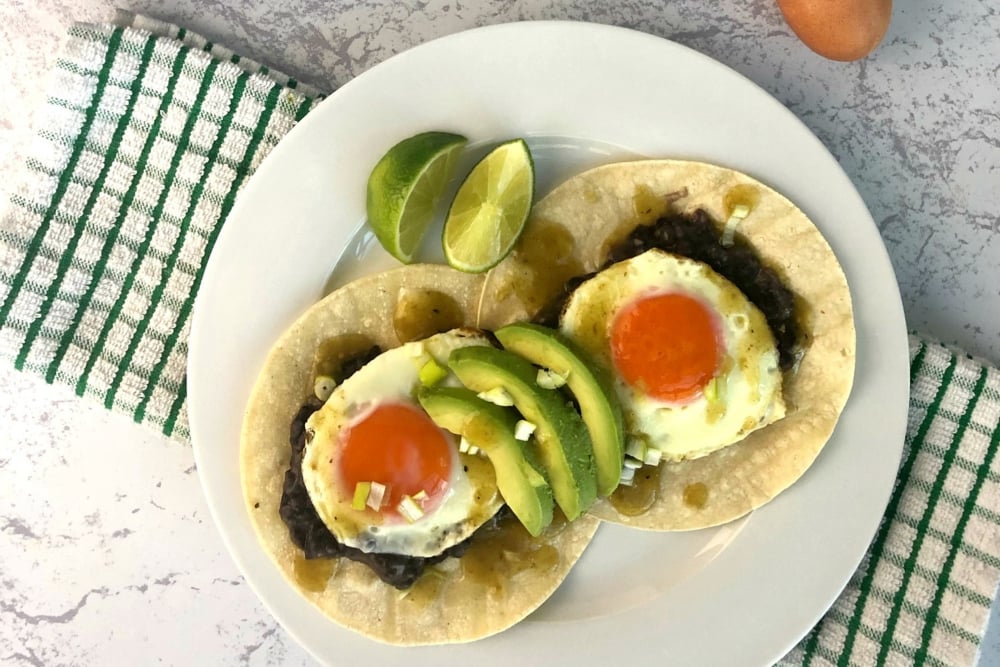 Looking for a delicious, filling and fun gluten-free breakfast treat? Try my classic gluten-free huevos rancheros. This post is sponsored by Happy Egg. Please view my disclosures.
I'm excited to share a new breakfast recipe with you, one that I think will make your morning "scramble" a little easier and more delicious.
I personally love to eat a savory breakfast in the morning. And apparently my friends, Amy and Gerardo, do too.
We spent New Year's weekend with our friends in their family's mountain home. For our morning breakfast (before skiing), they made us such a simple-yet-delicious huevos rancheros recipe.
I watched Amy and Gerardo at work.
Gerardo cooked up the refried beans using such a simple technique that I'm kicking myself that I didn't think of it. He simply poured a can of black beans (with the liquid) into a saucepan, turned up the heat on the stovetop, and then began mashing the beans into a refried bean paste. Brilliant!
He then heated two corn tortillas (which are naturally gluten free; always check ingredient labels) as well as some green chili salsa.
Amy sliced up an avocado and then went to work on the eggs.
She cooked the eggs sunny side up, first frying them in a pan for about two minutes, then lowering the heat and covering the pan for another minute until a light white film formed over the yolk.
I watched Amy and Gerardo perfectly layer each huevos rancheros creation.
First they put the tortillas on the plate, then they smeared the refried beans on top of the tortillas, then the eggs, then a sprinkling of green chili, and finally they topped it all off with slices of avocado.
I watched my husband and kids gobble up their huevos rancheros in no time, and I devoured my breakfast as well. It was the perfect and oh-so-filling breakfast before our day of skiing.
It didn't even occur to me that such a savory and delicious Mexican breakfast staple could be 100 percent gluten-free!
Back at home, with a family craving more huevos rancheros, I went to work. I decided to create my own gluten-free huevos rancheros with my secret weapon: Heritage Breed eggs by Happy Egg Co.
I knew the amber yolks from the Heritage Breed eggs would add intense beauty to this already colorful dish
Traditional huevos rancheros requires sunny side up eggs, (although if that's not your thing, feel free to scramble the eggs instead). However you hatch it, these eggs will make your huevos rancheros more beautiful and tastier than ever!
For more breakfast inspiration, please read the following articles:
Gluten-Free Huevos Rancheros
Huevos Rancheros is a traditional Mexican breakfast dish made with corn tortillas, refried beans, sunny side up eggs and salsa. I will show you how to make this authentic dish in just a few easy steps.

Print
Pin
Rate
Ingredients
1/4

cup

mashed black beans

1

tsp

Kosher salt

2

large eggs

I used Heritage Breed eggs by Happy Egg

2

corn tortillas

warmed

2

Tbsp

green chili salsa

warmed

1/2

avocado

1

Tbsp

green onions

finely chopped (optional)
Instructions
First prepare the black beans by emptying the entire can of beans (with liquid) into a small saucepan and heating over medium-high heat. Add Kosher salt. As mixture warms, use a potato masher to mash the beans and continue mashing until you reach desired texture. Set aside.

Heat a non-stick saucepan over medium-high heat. Carefully crack two eggs into the pan without breaking the yolk. Cook for 2 minutes, then lower heat to low and cover eggs. This will help a film form over the eggs. Cook eggs for one minute, then turn off heat and set aside.

Place warmed corn tortillas on a large plate, then add black beans, eggs, salsa, avocado and green onions (optional). Serve warm.
Notes
The eggs pictured in this recipe are Heritage Breed eggs by Happy Eggs.  The yolk is amber orange, giving this dish it's bright color. You could use any egg of choice.
Sunny side up egg not your thing? Scramble or prepare your eggs over hard. 
For a lighter dish, serve with only one corn tortilla, or nix the tortillas altogether.
Nutrition
Calories:
464
kcal
|
Carbohydrates:
44
g
|
Protein:
20
g
|
Fat:
24
g
|
Saturated Fat:
5
g
|
Cholesterol:
327
mg
|
Sodium:
2601
mg
|
Potassium:
858
mg
|
Fiber:
14
g
|
Sugar:
1
g
|
Vitamin A:
680
IU
|
Vitamin C:
21.5
mg
|
Calcium:
126
mg
|
Iron:
4
mg