You'll love this chickpea cookie dough recipe if you like to eat cookie dough right out of the bowl. It's made with only five simple ingredients and is straight-from-the-bowl delicious! This post contains affiliate links. Please see my disclosures.
I could snack on raw cookie dough all day long. It's sweet and creamy, giving me all the good vibes.
However, as you know, snacking on raw cookie dough can make you sick, and it's loaded with grains and sugar that may cause you to grow in your middle section.
Plus, gluten-free cookie dough isn't as satisfying because it's grittier in texture than cookie dough made with wheat flour.
This chickpea cookie dough, however, checks all the boxes. It's made with gluten-free ingredients, and it might even be good for you because it's low in sugar and loaded with fiber and protein.
So grab a spoon and join me in making this edible chickpea cookie dough dessert – let's get started!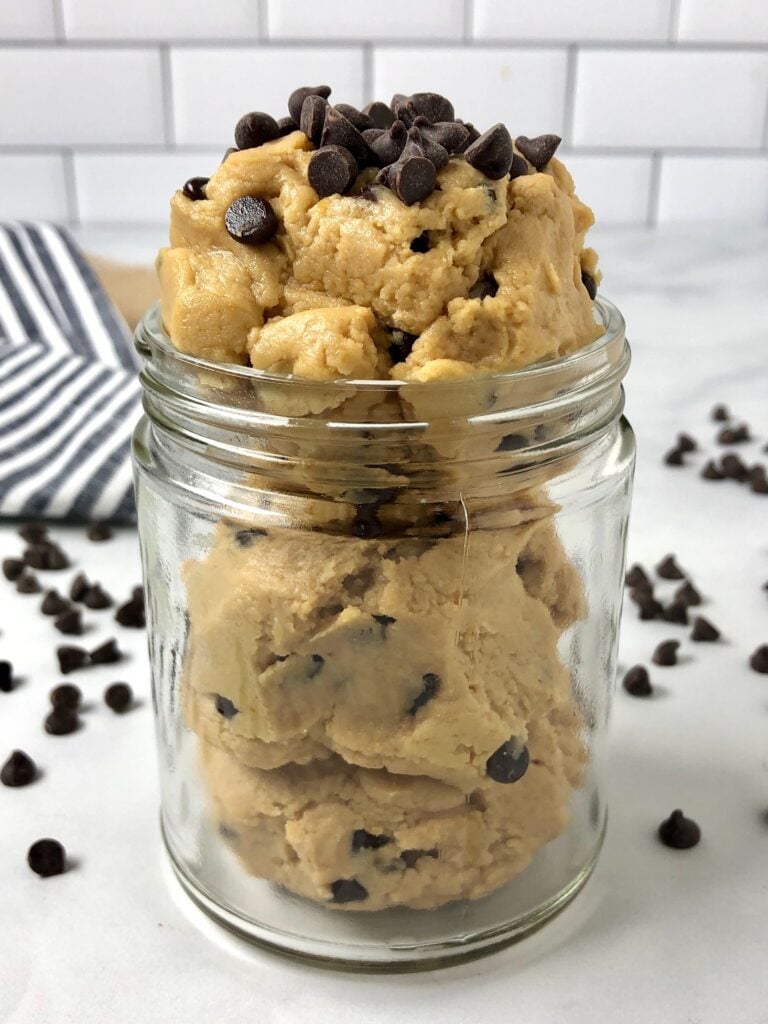 How to Make Edible Cookie Dough
Start by adding the following ingredients to a high-speed blender or food processor and mix until smooth. Scrape down the sides as needed.
Canned Chickpeas: You'll need one can (15 ounces) of chickpeas (also known as garbanzo beans). Drain and rinse the chickpeas and remove the outer skins to ensure the cookie dough turns out as smooth as possible.
To remove the skins, gently massage the chickpeas with your fingers. As you rub them, a translucent white skin will emerge (see picture below). Discard the skins.
It'll take a few minutes to get most of the skins off. Don't worry if a few are left behind. It won't affect the texture of the cookie dough.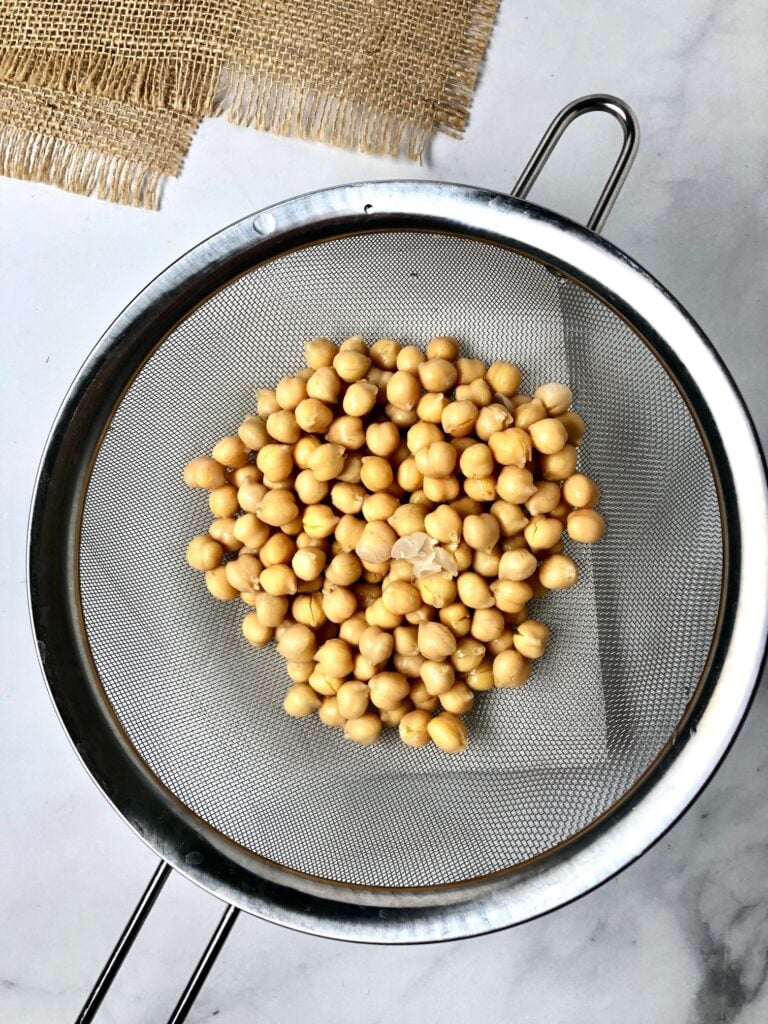 Peanut Butter: You'll need a heaping 1/4 cup of smooth or creamy peanut butter. I use creamy Jiff or Skippy. Avoid using peanut butter brands where the oil separates from the peanut butter. Other nut butters, like almond butter, can make the dough more gritty. You can also use Sunbutter as a nut-free alternative.
Maple Syrup: Use two tablespoons of maple syrup and add more if you like your cookie dough a bit sweeter. You can alternatively use honey.
Vanilla Extract: Add 1/2 teaspoon of vanilla extract for bonus flavor.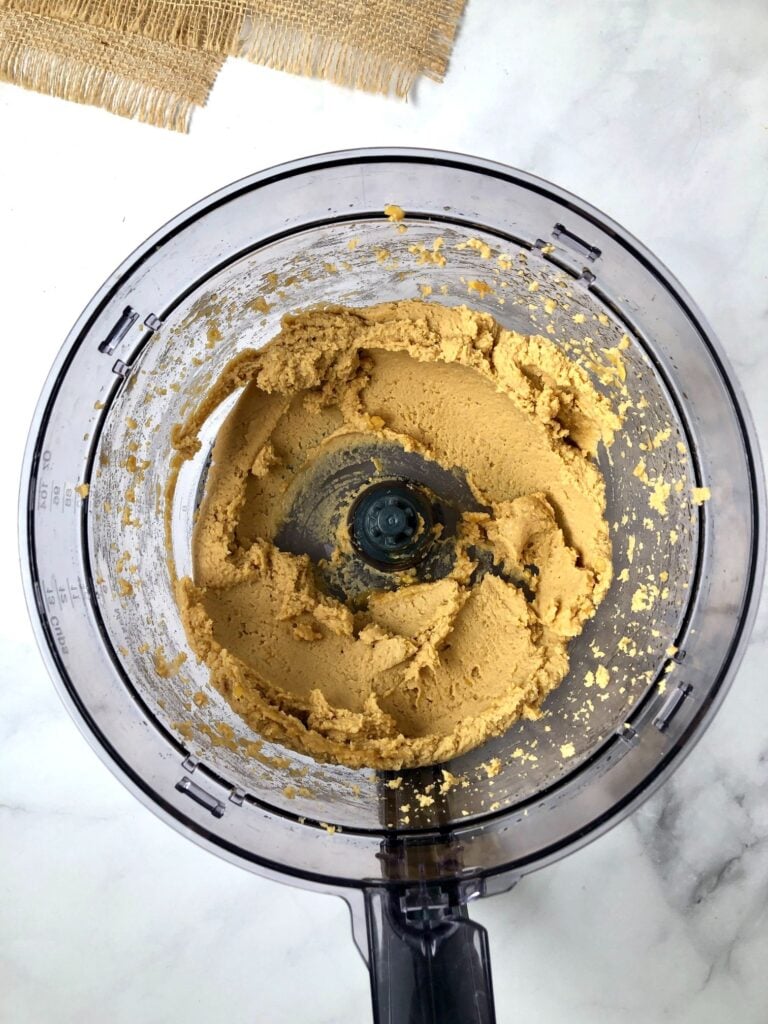 After the mixture is smooth and the dough is well combined, fold in about 1/4 cup of mini chocolate chips by hand.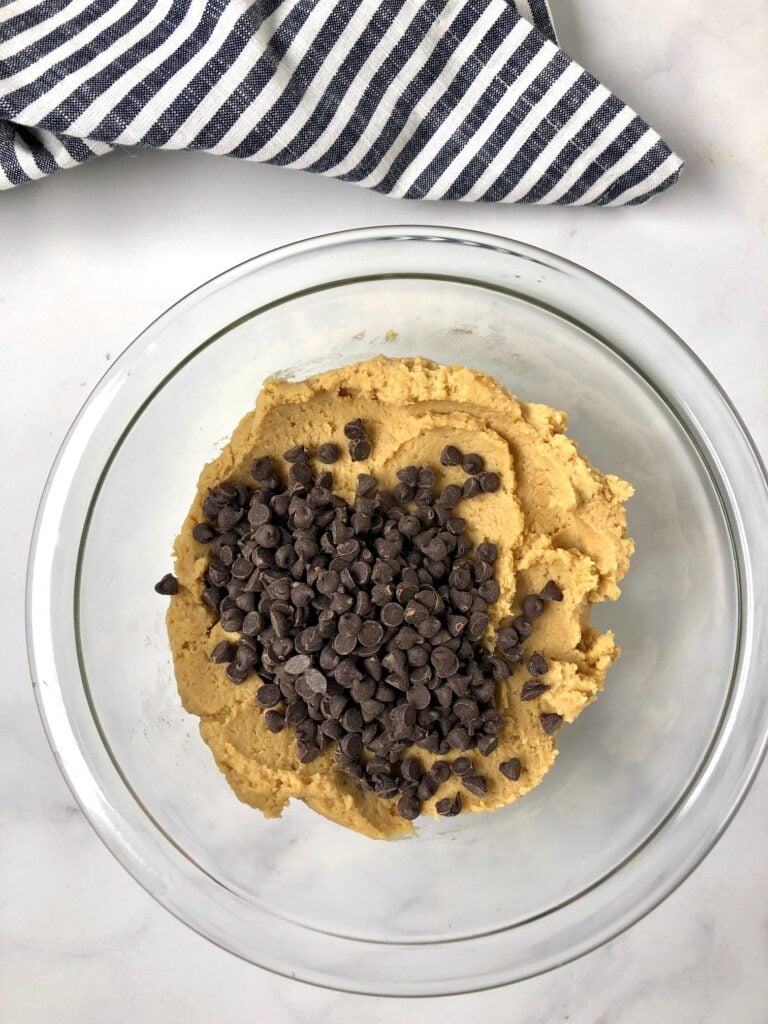 I prefer mini chocolate chips over regular-sized ones, but you could use either. My favorite brand is Enjoy Life Mini Chocolate Chips. You could also use sugar-free chocolate chips from Lily's.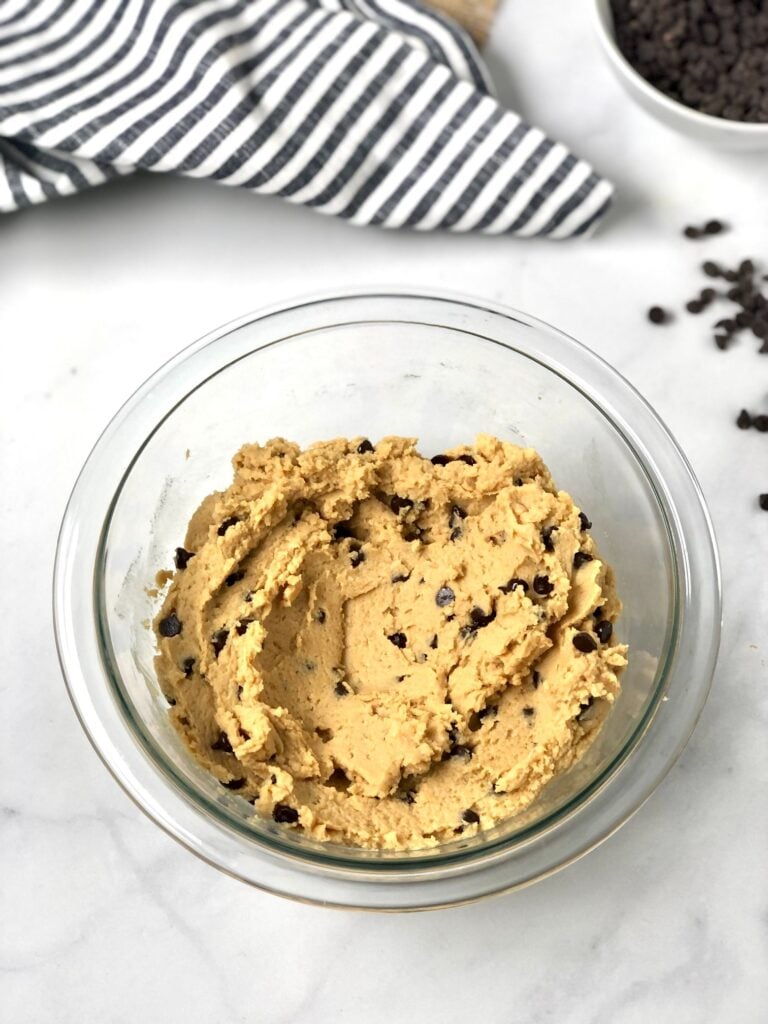 Why We Love Chickpea Cookie Dough
It's Easy to Make: You can make this recipe in minutes using five simple ingredients. Dessert doesn't get easier than this!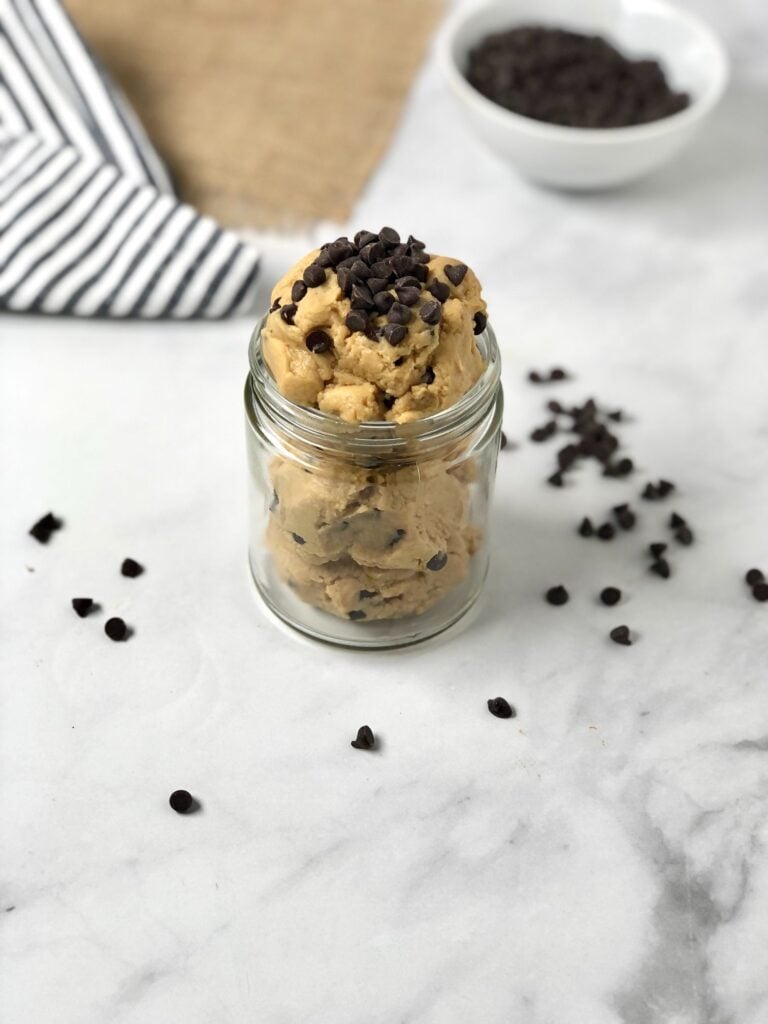 It's Sweet, But Not Too Sweet: You'll notice that this dough is perfectly sweetened but not too sweet. You can add more maple syrup and/or chocolate chips to add extra sweetness.
It's the Perfect Texture: This chickpea cookie dough has a wonderfully creamy texture. The mini chocolate chips add a bit of crunch, which we love!
It's Filling: This recipe contains protein and fiber, keeping you full and satisfied!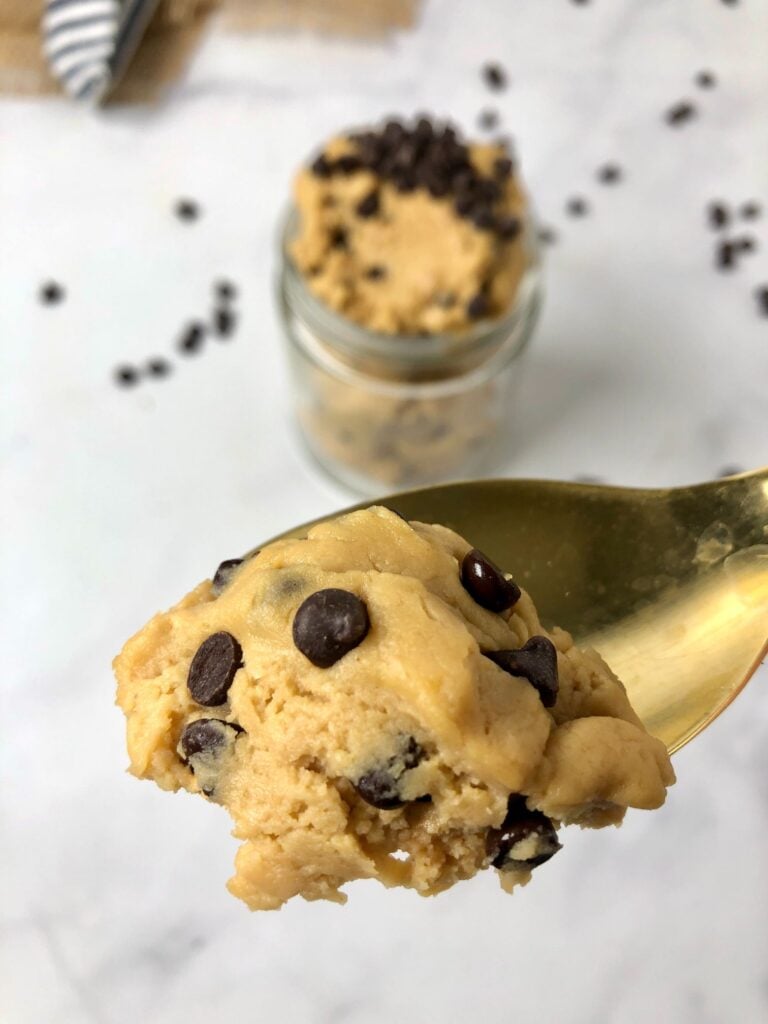 FAQs
Can I bake the chickpea cookie dough? No, this is an edible cookie dough meant to be eaten as is. It's not meant to be baked into cookies. See my classic chocolate chip cookie recipe for a baked cookie recipe.
Can I use other nut butters? Yes, of course. I find peanut butter to be creamy and smooth, but other nut butters, like almond butter or cashew butter, will work. The texture may vary. Sunbutter offers an excellent nut-free alternative.
Can I use regular-sized chocolate chips? Yes, you can; however, I find regular-sized chocolate chips to be quite a mouthful. I enjoy the mini-chocolate chips and find them to work well with this recipe. You can also use sugar-free chocolate chips.
What's the difference between chickpeas and garbanzo beans? There is no difference. They're the same.
Is this recipe vegan? Yes, this is a vegan edible cookie dough recipe when made as instructed. If you're vegan, make sure you use vegan chocolate chips.
Is this recipe healthy? I like to say this recipe ly a healthier version of edible cookie dough. It contains no grains, no processed sugars and is loaded with fiber, protein, and all-natural sweeteners.
How do I store the cookie dough? Store it in a sealed container in your fridge and enjoy it within three days (as if it will last that long!).
I don't eat chickpeas. Can I swap it for another "bean"? I haven't tested this recipe with other beans, but people have told me that Great Northern, navy, or cannellini white beans have worked too. Be sure to rinse whatever bean or legume you use. The texture may vary.
Other Recipes
Gluten-Free Chocolate Chip Cookie Dough: This chocolate chip cookie dough recipe is made with delicious oat flour and has a bit more b it.
Classic Gluten-Free Chocolate Chip Cookies: These classic chocolate chip cookies are crispy around the edges and soft in the middle. Yummy!
No-Bake Chocolate Peanut Butter Oat Cookies: These delicious chocolate peanut butter oat cookies require no baking and taste amazing.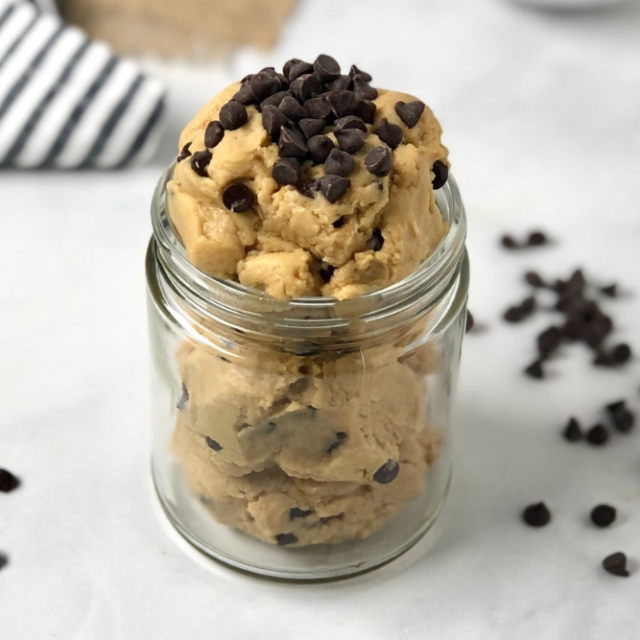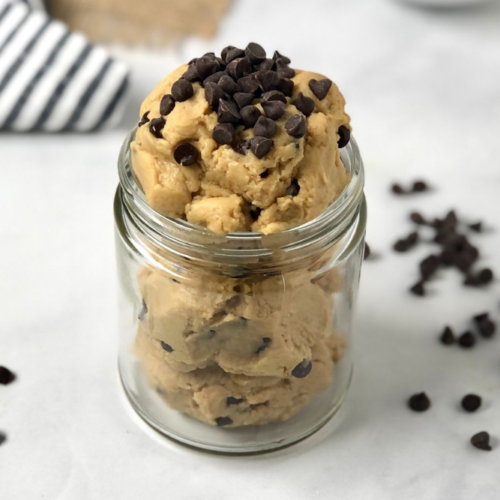 Chickpea Cookie Dough – Healthy and Low Calorie
Enjoy this healthy and easy-to-make chickpea cookie dough recipe. It contains just 5 simple ingredients and the smooth and creamy texture is spot on. All you need is a spoon!
Print
Pin
Rate
Ingredients
15

ounce

can of chickpeas

drained, rinsed well, and skinned (see notes below)

1/4

heaping cup of smooth or creamy peanut butter

2

tbsp

maple syrup

1/2

tsp

vanilla extract

1/4

cup

mini chocolate chips
Instructions
Combine the chickpeas, peanut butter, maple syrup and vanilla in your food processor and process until smooth, about 60 seconds. Scrape down the sides and process for another 30 seconds. Processing the dough well will ensure it's nice and creamy.

Remove the "dough" from your food processor and place into a small bowl. Gently fold in the chocolate chips until well dispersed throughout the dough.
Notes
To get the "skins" off of the chickpeas, gently massage them for 1-3 minutes. You'll notice the skins start to shed. Try to get as much of the skin off for a smoother texture; however, don't stress about getting it all. The food processor will smooth out any missing skins.
You can use other nut butters in lieu of peanut butter. The texture may vary depending on the nut butter used. Use smooth or creamy nut butter.
You can use honey in lieu of maple syrup. Maple syrup is preferred for vegans.
This recipe contains no dairy, and to keep it dairy free, it's recommend you use dairy-free chocolate chips. Enjoy Life makes the perfect dairy-free mini chocolate chips for this recipe.
Store unused portions in a sealed container in your fridge and enjoy within 3 days.
I haven't tested this recipe with other beans, but people have told me that Great Northern, navy, or cannellini white beans have worked too. The texture may vary.
Nutrition
Calories:
177
kcal
|
Carbohydrates:
23
g
|
Protein:
7
g
|
Fat:
7
g
|
Saturated Fat:
2
g
|
Trans Fat:
1
g
|
Cholesterol:
1
mg
|
Sodium:
45
mg
|
Potassium:
219
mg
|
Fiber:
5
g
|
Sugar:
10
g
|
Vitamin A:
27
IU
|
Vitamin C:
1
mg
|
Calcium:
42
mg
|
Iron:
2
mg