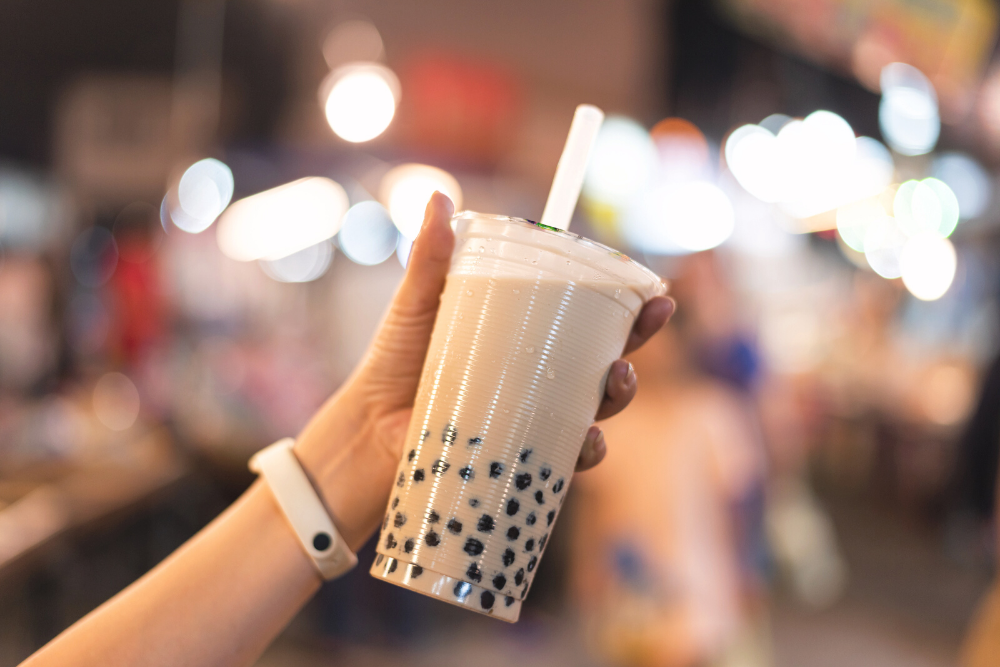 In this post, I'll talk about whether or not bubble tea is gluten-free, show you how bubble tea did when tested for hidden gluten with my Nima Sensor, and show you how I make a gluten-free, low-calorie version of bubble tea at home. Please note that bubble tea and boba tea are used interchangeably because they mean the same thing. This post may contain affiliate links. Please see my disclosures.
The boba tea trend is on the rise with boba shops popping up in almost every major city these days. In fact, there are a reported 19 boba-serving stores within a half-mile radius in Houston alone! By 2027, analysts predict the boba industry will reach a whopping $4.3 billion.
Bubble tea has been around for ages, but today its popularity is soaring. Maybe it's just a fad that will go in and out of favor, like frozen yogurt shops. Who knows? But what I do know is that my kids beg me for boba tea, and that makes me think the boba trend is just starting to heat up.
If you can't eat gluten, a protein found in wheat, rye, barley, and sometimes oats, you may be wondering if you can enjoy a boba tea beverage.
In this article, I'll share more about the origins of bubble tea, whether or not you can enjoy it if you're on a gluten-free diet, where you can buy it, and how to make it at home (I include my low-calorie gluten-free boba tea version below).
I also tested a store-bought boba tea for hidden gluten using my Nima Sensor, a portable gluten-detecting device that you can learn more about in this article, What You Need to Know About Nima Sensor Before You Buy.
What is Bubble (Boba) Tea?
Bubble or boba tea is a tea-based drink that originated in Taiwan. It consists primarily of tea, milk, and chewy boba balls that are made from tapioca starch. Boba tea is usually served cold with ice.
Today you can get bubble tea with or without milk and in a variety of fruity flavors and juices in addition to traditional flavors like green or black tea.
Traditional bubble tea is sealed with a heated cellophane top that you puncture with an oversized wide-mouth straw that is big enough to allow the tapioca balls to move freely through the straw as you drink the tea.
Is Boba Tea Gluten Free?
Boba tea can be gluten-free, and most ingredients used to make bubble tea are gluten-free, with some exceptions, of course.
Here are the ingredients most commonly used in making bubble tea:
Tea: Obviously, bubble tea is made with tea, and tea is naturally gluten-free. With very few exceptions, tea is not something you have to worry about containing gluten.
Milk: Milk is naturally gluten-free, and many boba tea stores allow you to customize your milk choice. If using non-dairy milk, avoid oat milk, as only some oat milk brands are gluten-free.
Syrups: Many boba teas are sweetened with flavored syrups. This is where the gluten may be hiding. A simple syrup of white sugar and water is commonly used and is gluten-free. It's when you get into processed syrups that you may find ingredients like malt (barley) or other derivatives of gluten.
Tapioca Balls: The black tapioca balls found inside any bubble tea drink are gluten-free. They're typically made from tapioca starch, which comes from the cassava root and is a vegetable. Of course, verify the tapioca balls are gluten-free when ordering your beverage or purchasing them to make boba tea at home.
When ordering bubble tea at a restaurant, stick with simple flavors and ask your server which bubble teas are gluten-free. Some boba tea shops, like Kung Fu Tea, clearly mark which beverages contain gluten.
Cross-contamination can always be an issue at any restaurant, especially if the boba tea shop uses oat milk or gluten in any of their syrups, toppings, or other products carried in the store (i.e., pastries, sandwiches, etc.). Always disclose your "allergy" to your server and ask him or her to use clean hands and tools when preparing your beverage.
I tested the following boba tea from Kung Fu Tea for hidden gluten with my Nima Sensor. I tested both the boba (tapioca pearl) and the tea. A smiley face means no gluten found.
Where to Find Boba Tea Near You
There seems to be a bubble tea shop everywhere these days, and many are small mom-and-pop shops, although more chain boba shops are popping up across the US. You'll have to check with each boba tea shop to determine if it carries a drink safe for your gluten-free diet.
One chain boba tea shop I like is called Kung Fu Tea, and it boasts more than 250 boba tea locations in the U.S.
Kung Fu Tea does a great job at labeling its menu with allergen information (gluten and dairy), and it also notes which beverages contain caffeine and which are vegan, too.
ShareTea, which has locations across the U.S. and worldwide, is another popular boba tea chain restaurant. Its owner says in a Yelp thread that none of the products at ShareTea contain gluten.
Other popular chains are Gong Cha, which has locations throughout the east coast and Texas, The Boba Guys, with locations throughout San Francisco, Los Angeles, and New York, and Tapioca Express, which has locations in California, Texas, and Washington. Inquire within to determine if any of these shops offer gluten-free boba tea options.
On top of that, there are plenty of small boba tea shops situated throughout most major cities nationwide. Simply Google "Boba tea near me" to find a bubble tea shop near you.
Why Make Boba Tea at Home
I won't pretend to be an expert on making bubble tea, but I did decide to try to make it for a few reasons.
It's Expensive. Going out for bubble tea is costly, especially given you're mainly getting tea, which is cheap. A medium-sized bubble tea at Kung Fu Tea costs $5.40 ($4.75 for the tea plus $.65 for the boba).
It's Too Sweet. Boba tea is an extremely sweet and caloric drink. In fact, the beverages on the Kung Fu Tea menu range from 37-681 calories each, depending on the size and sweetness, and this caloric value is without the addition of the bubbles (boba), which adds another 199 calories.
Personally, I found the Honey Black Tea at Kung Fu Tea to be extremely sweet even though the menu said it only contained 54-65 calories (plus 199 calories for the boba). Then I realized the nutrition menu shows the calories when ordered at the lowest sugar level.
That means if you want to enjoy a low-calorie version of any drink on the Kung Fu Tea menu, you must order it without sugar (and add your own stevia or monk fruit sweetener) or ask for your tea to be made with 30 percent sugar. I didn't realize this, and I was struggling to drink more than a few sips of this heavily sugared beverage.
When I make boba at home, I don't have to worry about sugar because I'm able to control the sweetness – and calories – of my beverage. This also helps me control my blood sugar intake and waistline. If you drink sweetened boba tea regularly, you'll likely pack on the pounds.
No Worries about Gluten. Finally, when I make boba tea at home, I don't have to worry about hidden gluten or getting glutened from cross-contamination. This is always a relief to me as someone who is hypervigilant about gluten-free.
How to Make Your Own Gluten-Free Bubble Tea at Home
Again, I'm not an expert on making boba tea, and some of you might laugh at or criticize me for doing it wrong.
However, I make it at home to save money, control the ingredients (no gluten!), and control the sweetness. You might say my version of bubble milk tea is not authentic, but let's say it works for me and my diet.
To make my own gluten-free boba tea at home, I first ordered WuFuYuan Tapioca Pearl Bubble Tea on Amazon. It comes with three packs of dried tapioca balls and a large pack of wide straws.
The item is labeled gluten-free (on Amazon – see image below) and contains only gluten-free ingredients, including tapioca starch, water, cornstarch, caramel, and guar gum. It's only 110 calories per 1/3 cup of boba.
You could also make your own tapioca pearls at home, but that seems like too much work if you ask me. You can watch the following YouTube video and decide if you want to make them yourself.
I also used the black tea I already had in my pantry, but you could use any flavored tea you like.
You'll also need some sugar. You can use white sugar or brown sugar, but to make it low-calorie and less sweet, I have used both monk fruit sweetener and Truvia stevia sweetener with great success.
Finally, you'll need some milk. You could of course, use full-fat cow's milk, but I typically use dairy-free milk in my home because we like it. I personally like cashew milk because it's creamy and blends well with coffee and tea without separating. I find soy milk and almond milk often separate from the water.
Here's how I prepared the boba bubbles:
Boil about six cups of water in a pot.
Add 1 cup of bubbles (tapioca pearls) to the boiling water.
Once the tapioca pearls float to the top, cover and boil for 2 minutes.
Turn off the heat and leave the boba in the covered pot for another 2 minutes.
Drain the boba and add the bubbles to a bowl of cold water and soak them for 1 minute.
Drain the boba again and add them to a dry bowl.
Add a sweetener of choice to the bubbles. I added 2 teaspoons of monk fruit sweetener (or no-calorie sweetener of choice), but you could instead add 1-2 teaspoons of white sugar or brown sugar if you're not worried about calories.
While the boba was cooking, I prepared one cup of black tea, which I sweetened with 2 teaspoons of monk fruit sweetener. I also like sweetening my tea with Truvia zero-calorie sweetener.
I then layered my beverage:
I placed 1/4 cup of the sweetened boba bubbles at the bottom of a large glass
I then added 1 cup of ice on top of the boba.
I then poured 1 cup of black tea over the ice.
Finally, I added 2 tablespoons of dairy-free cashew milk on top.
I mixed everything together with the wide-mouth boba straw and enjoyed every sip of this wonderful tea.
Remember, my homemade boba tea is not sweet like the bubble tea you find at boba tea shops. Of course, if you want a sweeter boba tea at home, you could add white sugar, brown sugar, honey or an additional zero-calorie sweetener of choice. The beauty of making boba at home is that you control the sweetness, ingredients, and calories.
My version of boba tea may not be authentic or taste like what you find at boba tea shops, but it's totally gluten-free, low in calories, and totally refreshing.
Is Boba Milk Tea Mochi Gluten-Free?
A reader asked me to test this Boba Milk Tea Mochi (found at Costco) for hidden gluten with my Nima Sensor. It's not labeled gluten-free but does not appear to contain any gluten ingredients.
As you can see, Nima Sensor is all smiles (no gluten found).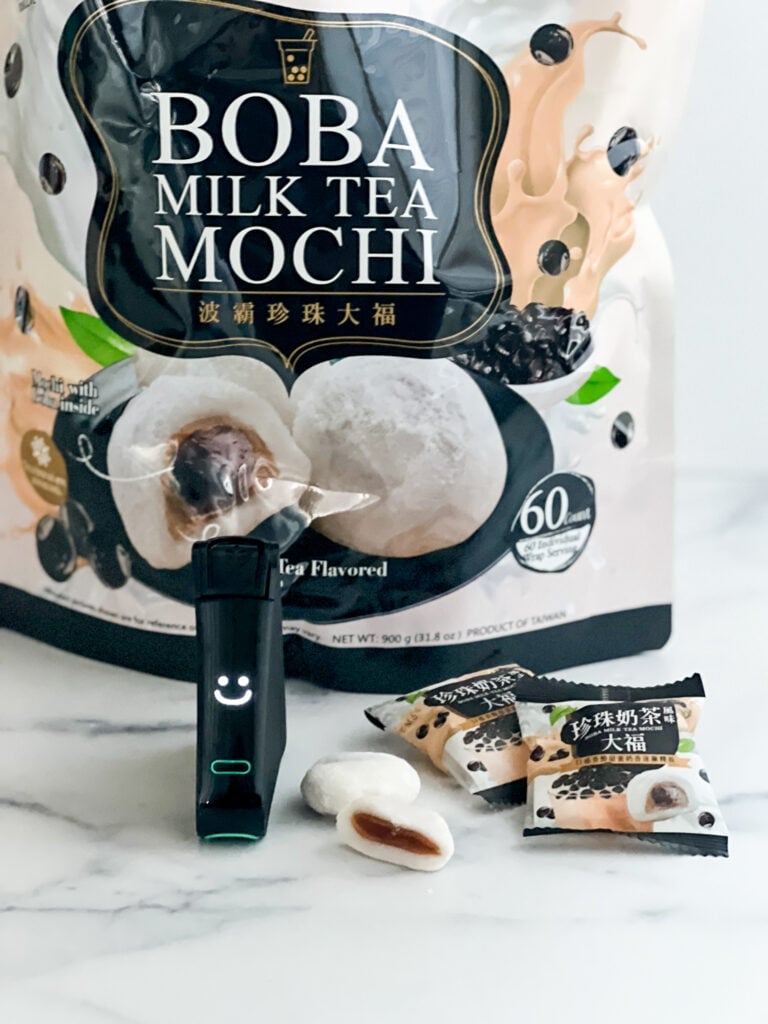 I have since eaten many of the Boba Milk Tea Mochi and think they taste awesome. They're terribly addictive, and now you know that they're free from gluten too.
How Do You Boba?
Do you love drinking boba? Please leave a comment to share:
Where do you buy boba? Please note if your favorite boba restaurant offers gluten-free options.
How you make your own boba at home. Please share your tips, tricks, and preferred ingredients.
If you found this information useful. I always love hearing from you.