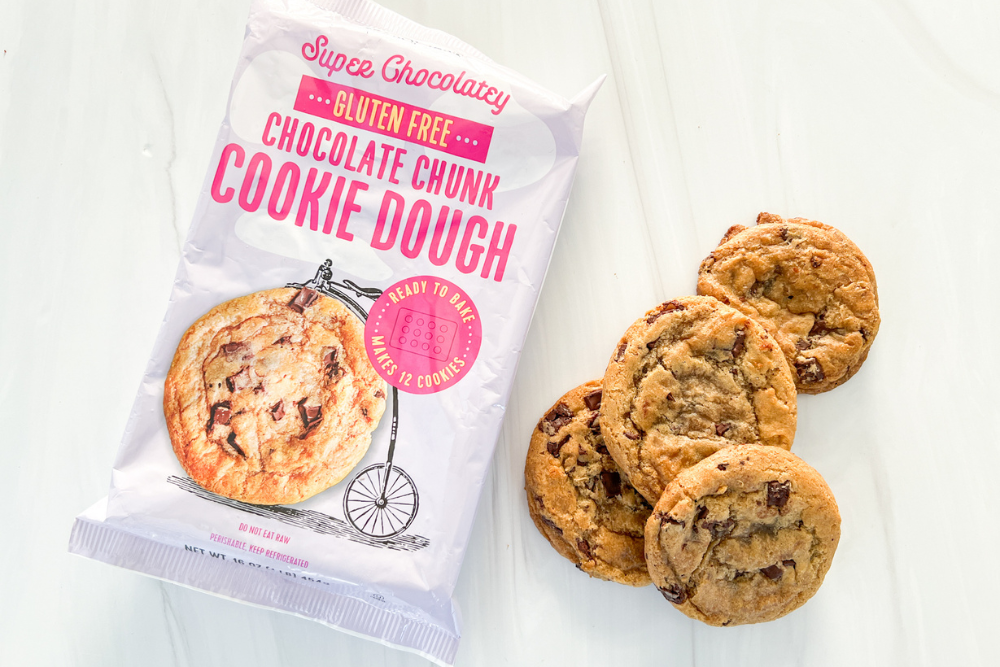 When you struggle with celiac disease and gluten intolerance, finding decent gluten-free products can be a challenge.
Most store-bought cookies are dry and crumbly, and to be honest, store-bought gluten-free cookie dough is only fair at best.
I tried all four gluten-free break-and-bake cookie dough brands and reviewed and ranked them all. You can read my full report in my article, Which Gluten-Free Cookie Dough Brand Is the Best?
The bottom line from the article is that I was disappointed in all the brands, and only one brand, I thought, was worth buying again.
Enter Trader Joe's. They just launched their Super Chocolatey Gluten-Free Chocolate Chunk Cookie Dough that comes in ready-to-bake packaging.
So how does Trader Joe's newest gluten-free product stack up to the cookie dough competition? Let's find out.
What's Inside Trader Joe's Gluten-Free Cookie Dough
The ready-to-bake cookie dough is found in the refrigerated section at Trader Joe's (near the butter and whipped cream) and costs only $4.99 – a steal!
Inside you'll find 12 pre-portioned balls of cookie dough that you can bake up all at once or bake individually to savor when you feel like it.
The product is labeled gluten-free, which means it's free from gluten, a protein found in wheat, rye, and barley. It's also labeled kosher pareve and contains no dairy.
The ingredient list is quite clean too. It contains semisweet chocolate, palm oil, brown sugar, potato starch, sugar, tapioca starch, water, rice flour, invert sugar syrup, eggs, natural flavor, sea salt, baking soda, guar gum, and xanthan gum.
I recommend calling your local Trader Joe's to make sure they're in stock before heading over. This new product is selling like hotcakes, and I reserved a few before I made the trek. When I got there, there was only one left on the shelf.
How Do They Taste?
As soon as I got home from Trader Joe's, I preheated my oven and got to work baking up a batch of these cookies.
They bake at 350º F for 14 minutes, although I slightly underbaked them at 13 minutes because I noticed they were browning on top and bottom. The cookies baked up nicely.
Even slightly undercooked, they still had a brown shimmery top similar to Immaculate gluten-free chocolate chip cookie dough.
In fact, if I had to guess, I would say these are Immaculate cookies in Trader Joe's wrapping. But I can't say for sure, and Trader Joe's would never admit that.
They tasted soft and gooey when they were warm out of the oven, and they contained a good amount of chocolate chips. Even the next day, the cookies were soft and super chewy.
Overall, this is a satisfying cookie with no gritty aftertaste!
While homemade cookies will always take the cake for me, I can honestly say this is the best gluten-free break-and-bake cookie dough I've had.
Priced at $4.99, it's easily the best gluten-free cookie deal around. By comparison, Immaculate gluten-free cookie dough is $6.99 per pack; Sweet Loren's cookie dough is $6.49 per pack.
If you want to know what I think of Immaculate, Sweet Loren's, Miss. Jones, and Cappello's gluten-free cookie dough, be sure to read Which Gluten-Free Cookie Dough Brand Is the Best?
Trader Joe's Got Gluten-Free Game
Trader Joe's is stepping up its gluten-free cookie game after launching gluten-free madeleines earlier this year, as well as soft-baked cookies, which can be found in the bakery section of the store.
Thank you, Trader Joe's, for taking care of the gluten-free community and securing a place in all of our gluten-free hearts!
Additional Reading
Enjoy these related articles, too: