I put Maggiano's gluten-free menu to the hidden gluten test and share my results below. I also discuss safe menu options and how to order to ensure you get a gluten-free meal. This post contains affiliate links. Please read my disclosures.
Maggiano's Little Italy is an American casual dining restaurant chain with 52 locations in 22 states and the District of Columbia. The food is classic Italian, and the entire menu is family-style.
I've always loved Maggiano's and have celebrated many special occasions within the restaurant's walls.
I'm embarrassed to admit this, but I got engaged at Maggiano's. My husband and I were 22-year-old recent college graduates, and Maggiano's was a swanky place for us at the time.
I wasn't gluten free back in 1999, so gluten wasn't even a thought in my mind; however, after my celiac disease diagnosis in 2012, I went gluten free and wondered if I could still eat at Maggiano's.
The good news is that Maggiano's takes gluten-free diets very seriously. I have always admired the restaurant for its allergy protocols.
Of course, I decided to put the restaurant to the test with my trusty Nima Sensor. Nima Sensor is a portable gluten-detecting device that tests a piece of your food for hidden gluten. You put a small portion of your food inside the single-use test capsule, and in about two minutes, Nima reveals if the dish contains gluten.
Please note the Nima Sensor went out of business in 2020 but was later revived by a new company in 2021. You can no longer purchase Nima Sensors on Amazon, but you can buy them at Nima Partners.
I'll share the results of my Nima tests below, but first, here's a bit about Maggiano's gluten-free menu and allergy-friendly policies.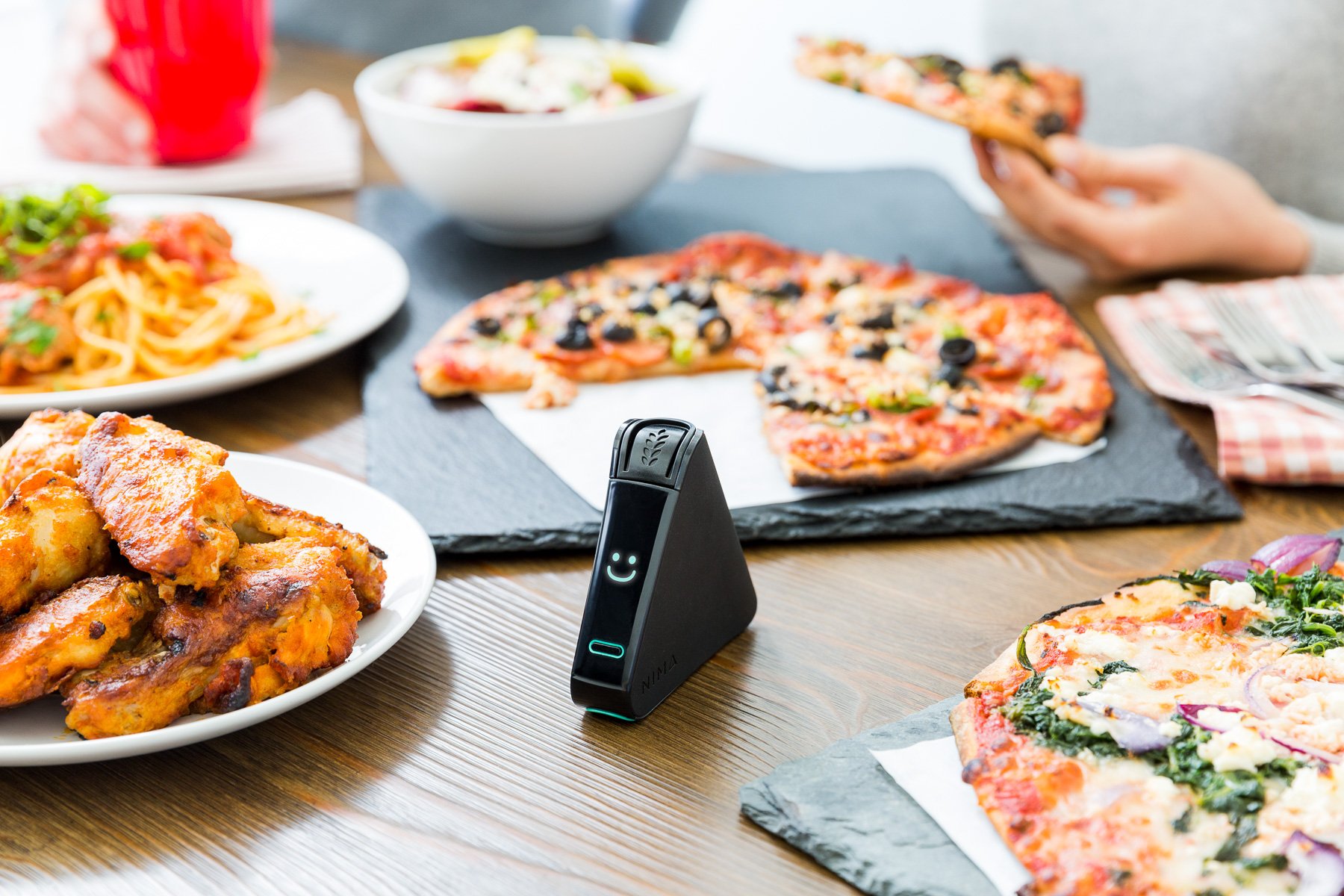 What's on Maggiano's Gluten-Free Menu?
Maggiano's doesn't have an official gluten-free menu per se. Instead, it offers many gluten-free options. You must talk to your server to find out how they can best accommodate your diet.
Your server will likely tell you they have gluten-free pasta, all their sauces and salad dressings are gluten free, and they can make most dishes gluten free by request, except for pre-made items like lasagna and ravioli.
When I told my server I needed a gluten-free meal because I have celiac disease, he said the chef would come to my table to discuss my meal. This is standard policy at Maggiano's.
I explained to the chef that I was serious about eating gluten free, and I planned to test my food for hidden gluten with my Nima Sensor.
The chef was confident I'd get a gluten-free meal, and she said the two dishes I wanted to order, the Chicken Picatta and the Mediterranean Spaghetti, could be made gluten free.
She said the spaghetti would be swapped for gluten-free penne, and the chicken would be grilled vs. breaded and fried. She told me she uses Barilla gluten-free pasta as the gluten-free pasta option.
In addition to being able to make almost everything on the menu gluten free, Maggiano's staff provided ample assurance that they would take my food allergy seriously. I experienced genuinely fantastic service at the restaurant.
Not only did I speak with the server, who took my request seriously, but also I spoke with the chef and was able to ask questions about how everything would be prepared. The chef was knowledgeable and confident, two qualities I look for in a person preparing my food!
Maggiano's says it's committed to creating food for everyone. Its menu says, "Our chefs are happy to accommodate your allergies, dietary needs, and preferences." This is a refreshing and reassuring message to read.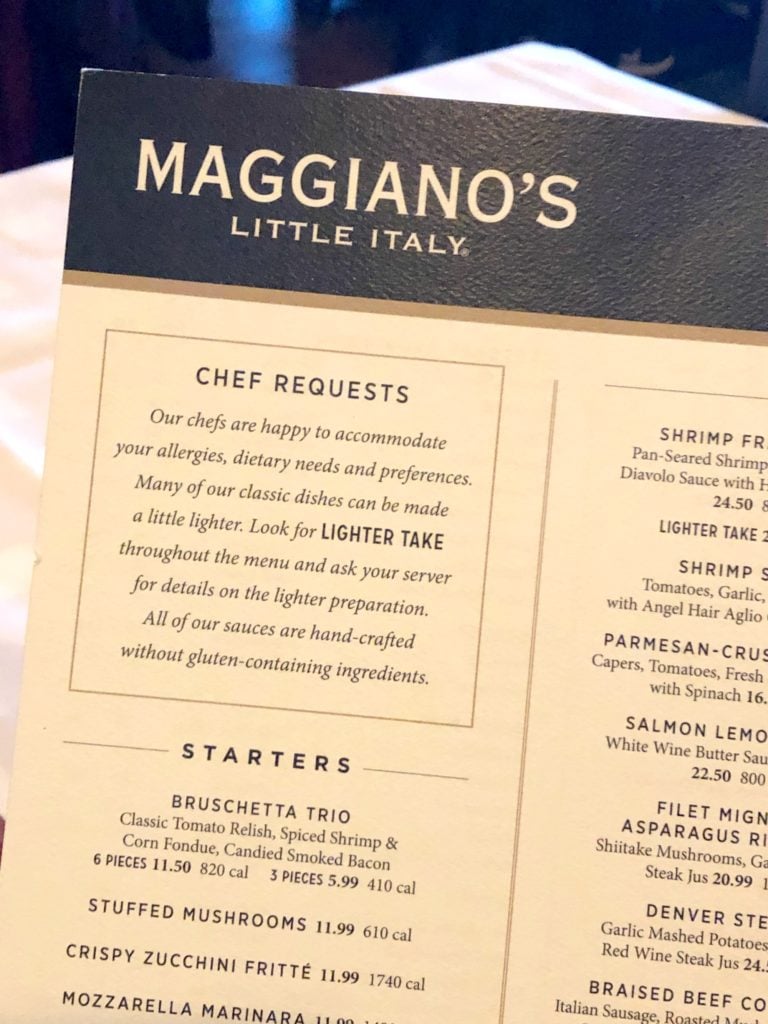 Nima Sensor Test Results
While I felt well cared for at Maggiano's, this didn't translate to an entirely safe, gluten-free experience. Unfortunately, both dishes I ordered came out with a "Gluten Found" message on the Nima Sensor.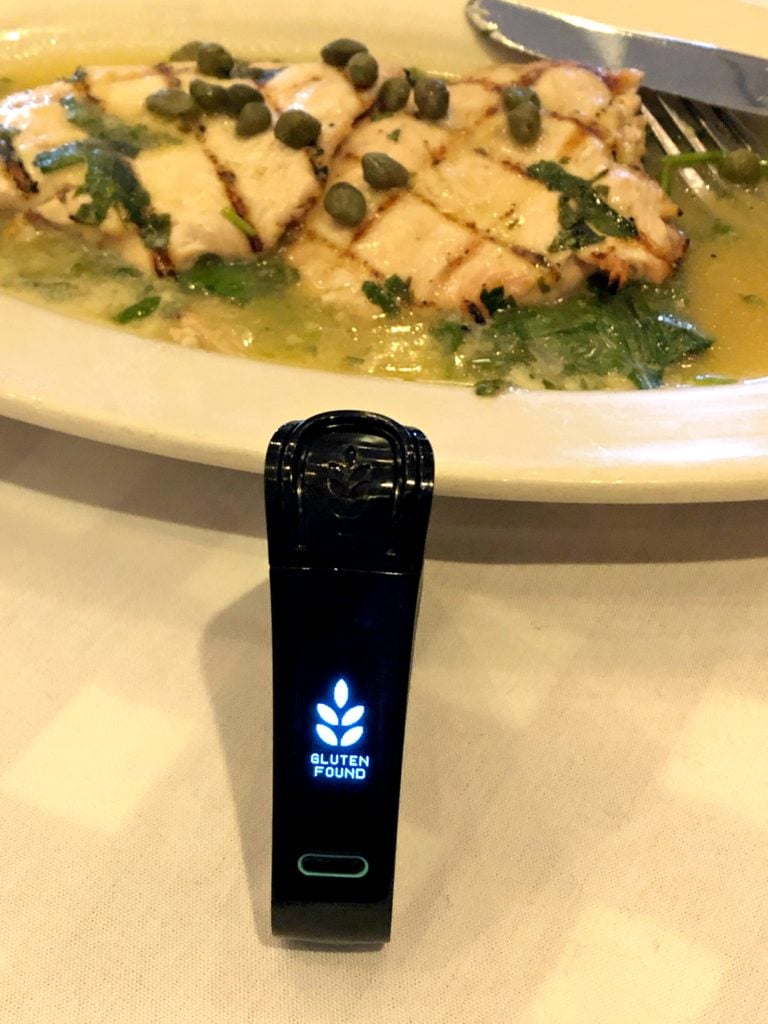 When I showed the results to my server, he was visibly shocked and immediately offered to make me something new. First, however, he wanted to bring out the chef to address my concerns.
Related Reading: The Ultimate Guide to Eating Out Gluten Free ebook
Before I knew it, the executive sous chef was standing at my table. He could not have been nicer and more concerned about me, yet he was stumped about what went awry.
After a lengthy discussion, he offered to make my dishes with fresh ingredients; I agreed to give it another shot.
On the second try, the Mediterranean pasta came back free from gluten. He said he used fresh ingredients, which seems to have done the trick because Nima didn't find any gluten.
However, the second test of the chicken piccata came back with the same "Gluten Found" message.
The chef was still stumped and concerned as to why this kept happening. We discussed all the ingredients; everything was naturally gluten free or labeled gluten free. He told me he cooked the chicken on the grill, which is only used for gluten-free items (no gluten touches the grill, he said).
I tested the chicken piccata a third time to ensure the Nima Sensor didn't make an error, and it returned a "Gluten Found" message.
Here's the Best Part
Rather than throw his hands up in the air, the chef continued apologizing and offered to make me something new (I declined). He said he would be researching more to see what might have gone awry. I gave him my business card and said I'd return anytime to do a re-test. He gave me his card too.
On top of it all, my server didn't charge me for anything. I felt horrible because they went out of their way to make me a safe meal. They made me feel so special. I'm bummed things turned out this way, but I'm forever grateful to Nima Sensor for saving me from eating gluten.
You can watch me test the dishes with my Nima Sensor in this video:
Lessons from Maggiano's
I learned some valuable lessons from my experience testing Maggiano's gluten-free menu.
First, I learned that you must test your food every time you eat at a restaurant. Just because one dish is fine one time doesn't mean it will be fine the next time you go back.
Second, I learned that excellent customer service, like the service at Maggiano's, can make what could have been a bitter experience a positive experience instead.
Beyond that, the restaurant's chef assured me he would investigate this further and that they would figure out what happened and make some changes.
I hope I'm helping make this world better for the next gluten-free diner, paving the way for better dining out experiences for all. I had a fantastic experience eating gluten-free at Maggiano's, even if I couldn't eat everything I wanted.
I plan on going back and giving it another try. I left feeling like Maggiano's chef wants to improve this, and I believe he will.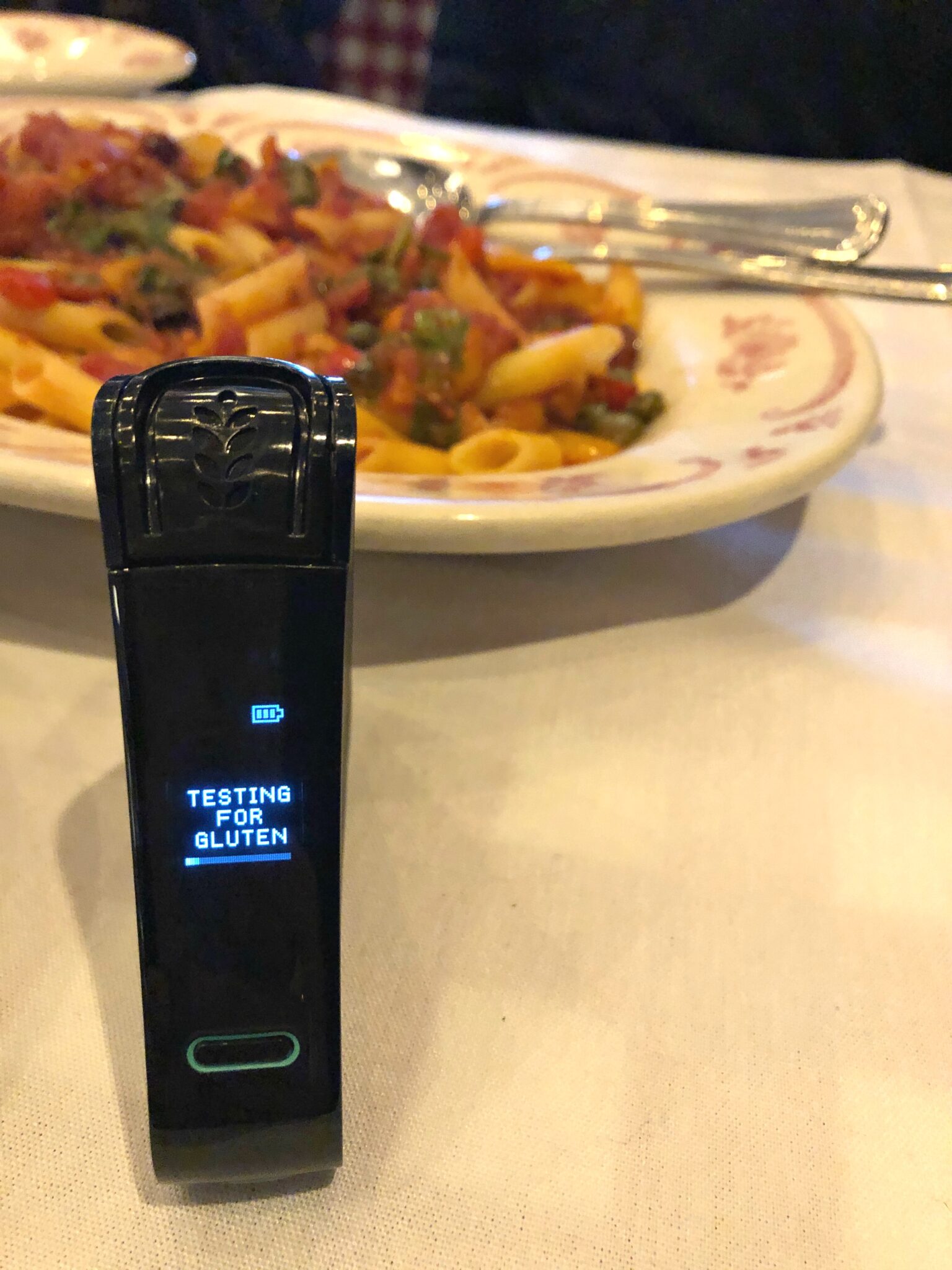 Are you surprised by the results of my Nima Sensor tests of Maggiano's gluten-free menu? What have your gluten-free experiences at Maggiano's been like?
Articles You Might Enjoy