This post contains 24 strawberry recipes for summer and contains affiliate links. Please see my disclosures. This post includes recipes from other bloggers. Please be sure all ingredients used are gluten free before proceeding as I have not independently verified each recipe.
Strawberry season is here and there's nothing I love more than a good – and gluten-free – recipe featuring the delicious, nutritious, and antioxidant-rich strawberry.
Strawberry season runs from May through August, and strawberries are at their best in June and July (at least in my opinion).
You'll find strawberry recipes for dessert, strawberry recipes for breakfast, and strawberry recipes for dinner, too. So many options, so little time!
What You Need
Of course you'll need plenty of strawberries to make each and everyone of these recipes.
For the baked goods, you'll also need a versatile gluten-free flour blend. I high recommend this one. It will work well in any of the baked goods you see below.
I've noted any other special tools or ingredients within the description of each recipe below.
24 Amazing Strawberry Recipes for Summer
Channel those summer vibes and stock up on strawberries, because I've got 24 amazing – and gluten-free – strawberry recipes for summer coming your way…
(1) Gluten-Free Strawberry Shortcake
Make a simple shortbread and stuff it with fresh strawberries and whipped cream. Yum! This is my recipe and a personal summertime favorite! Get the recipe here.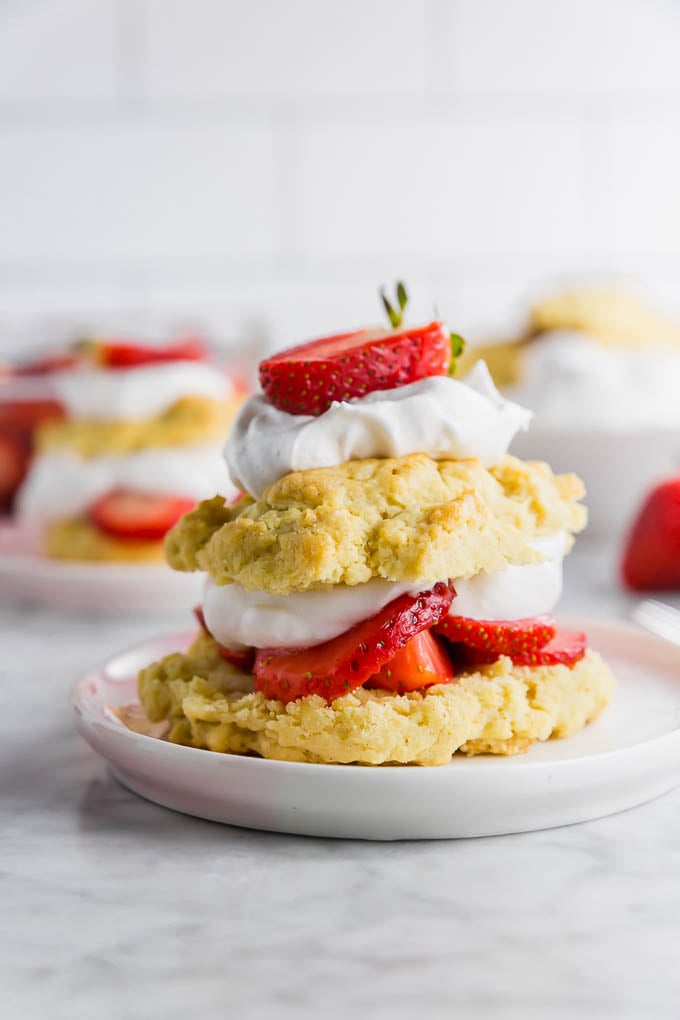 (2) Gluten-Free Angel Food Cake
This light and refreshing dessert is perfect for summer BBQs. Don't forget to get an angel food cake pan and plenty of eggs for this delicious recipe by yours truly. Get the recipe here.
(3) Strawberry Overnight Oats
Elevate breakfast with my delicious overnight oats recipes featuring plenty of antioxidant-rich strawberries inside. Get the recipe here.
(4) Strawberry Salad with Coconut-Strawberry Dressing
This strawberry salad offers a refreshing way to jazz up your summer BBQs. The dressing is homemade and berry-licious! Get the recipe here.
(5) Strawberry Gazpacho Soup
My refreshing strawberry gazpacho soup is always a hit. It's truly the perfect strawberry recipe when strawberries are at their peak ripeness. Get the recipe here.
(6) Gluten-Free Strawberry Lemonade Cake
This dessert by my friend Nicole at Allergylicious just screams summer, and we can all use some happy summer vibes about now. Get the recipe here.
(7) Ridiculously Simple Strawberry Sauce
Jazz up ice cream night with this delicious and highly addictive homemade strawberry sauce. It's the perfect ice cream topper – yum! Get the recipe here.
(8) Gluten-Free No-Bake Mini Strawberry Cheesecakes
These mini cheesecakes by The Gluten Free Palate taste as beautiful as they look. Get the recipe here.
(9) Gluten-Free Strawberry Chocolate Galette
This strawberry chocolate galette recipe by Allergy Awesomeness looks incredible – and best of all – it's free from the top eight allergens. Get the recipe here.
(10) Gluten-Free Funfetti Cupcakes with Strawberry Buttercream
Thanks to my friend Jennifer at Living Freely Gluten Free, we all benefit from this extraordinary recipe for gluten-free funfetti cupcakes made with a luscious-looking strawberry buttercream. Get the recipe here.
(11) Gluten-Free Strawberry Chocolate Layer Cake
Michelle at My Gluten Free Kitchen has created a chocolate cake masterpiece. This cake is layered with whipped cream, chocolate drizzle, and fresh strawberries – oh yeah! Get the recipe here.
(12) Strawberry Rhubarb Crumb Bars
Check out The Fresh Cooky's gluten-free spin on strawberry rhubarb crumb bars. Looks like a beautiful summery treat to me! Get the recipe here.
(13) Strawberry Mint Sorbet
If you've got an ice cream maker at home, you'll love how easily this recipe by Nourished Kitchen will come together. Doesn't this look absolutely refreshing?!? Get the recipe here.
PS: Maybe this is the year to invest in an ice cream maker?
(14) Gluten-Free Strawberry Cheesecake Bars
This recipe from Fearless Dining looks incredible and is made with fresh strawberries and almond flour. Yum! Get the recipe here.
(15) Gluten-Free Strawberry Cake
My girl Shay at What the Fork blog created this gorgeous gluten-free strawberry cake from scratch with what looks like easy to find ingredients. Get the recipe here.
(16) Grilled Halibut with Strawberry Guacamole
Fire up the grill and channel summer vibes with this wonderful light and oh-so-beuatiful recipe from the Cook At Home Mom. Get the recipe here.
(17) Strawberry and Watermelon Salad with Mint and Feta
You gotta try this refreshing fruit salad created by The Organic Kitchen. It's got summer fun written all over it! Get the recipe here.
(18) Gluten-Free Strawberry Banana Muffins
Muffin lovers will squeal in delight with these light and generously stuffed strawberry banana muffins by The Rising Spoon. Be sure to use this gluten-free 1:1 baking flour. Get the recipe here.
(19) Strawberry Frozen Fruit Bars
Ditch grocery store popsicles for these cleaner and more flavorful homemade frozen fruit bars from A Farmhouse Girl's Kitchen. This recipe is naturally gluten free, which is why I'm awarding it bonus points! Get the recipe here.
PS: Don't forget the popsicle mold pan!
(20) Strawberry Jam Yogurt Popsicles
Looking for a creamier frozen treat? Combine fresh strawberries, strawberry jam, honey and Greek yogurt and you've got yourself this winning frozen treat created by Belly Full. Get the recipe here.
(21) Individual Strawberry Meringues
This impressive dessert by It's Not Complicated Recipes may look fancy, but you don't need any fancy ingredients or techniques to make this winning dessert. Get the recipe here.
(22) Mini Chocolate Strawberry Mousse
This no-bake dessert will satisfy your chocolate cravings and channel those berry summer vibes. Get Happy Foods Tube recipe here.
(23) Homemade Strawberry Lemonade
Imagine sipping on this homemade strawberry lemonade while soaking in the summer sun. Nice, right?!? This refreshing beverage recipe is by Joy Food Sunshine. Get the recipe here.
(24) Grain-Free Almond Strawberry Breakfast Cake
Looking for grain-free strawberry recipes for summer? Look no further than this tasty grain-free almond strawberry breakfast cake by The Roasted Root. Get the recipe here.
Ready to Cook, Bake and Eat Strawberries?!?
I hope you enjoyed skimming this list of 24 amazing gluten-free strawberry recipes for summer. There is truly something for everyone here!
If you eat gluten free, please take a look at my Gluten-Free Recipe Gallery, filled with tons of easy gluten-free recipes tailor made for you.
And if you have an irresistible strawberry recipe for summer to share, please drop the link in the comments.