Breakfast on the go just got a whole lot easier with these gluten-free breakfast donuts made with oat flour. Bake up a batch and enjoy them for a quick, easy and filling breakfast treat all week long. This post contains affiliate links. Please read my disclosures.
I'm a little obsessed with donuts these days, so when I came across a healthy version of my favorite breakfast treat, I decided to give it a go.
These donuts are way healthier than the sugar-filled donuts you'll find at the store or Dunkin' Donuts, and of course, they're totally gluten free, vegan, and delicious.
I usually tell you how to make the donuts first, but in this blog post, I have to start by telling you how good these donuts taste. They taste amazing. They are slightly sweet. Slightly moist and chewy. And they satisfy that bread-texture you crave so much.
In other words, these gluten-free breakfast donuts are delicious… and because they contain so many healthy and good for you ingredients, you won't feel guilty eating one – or two – of them for breakfast either.
What You Need
You'll need a few simple ingredients to make this recipe, however, some of these ingredients you'll probably need to snag on your next visit to the grocery store.
(1) Gluten-Free Oat Flour: I keep gluten-free oat flour on hand at all times because I need it for my gluten-free challah recipe, but I realize many people do not keep this flour in their homes.
You can purchase safe, gluten-free oat flour from Bob's Red Mill. I have seen it in some grocery stores, or you can simply order it on Amazon and save the trouble of searching for it. It is important that you only use gluten-free-labeled oat flour because oats, while naturally gluten free, are cross contaminated with wheat crops during the growing, harvesting, storing and transporting stages so they are not safe for someone on a gluten-free diet to eat. (Read my post, Are Oats Gluten-Free?)
(2) Chia Seeds: Chia seeds are small, hard seeds that congeal and gel when mixed with liquid. They work beautifully in many recipes, including in my gluten-free apple pie oatmeal.
Chia seeds pack a nutritional punch. They are a great source of fiber, protein, healthy fats and calcium, so eat up!
I don't have a brand preference when it comes to chia seeds, but I do use Salba Chia Seeds, which you can also find on Amazon.
(3) Other Ingredients:  You'll also need baking powder, salt, cinnamon, maple syrup, a dairy-free milk of choice (almond or cashew milk will work well) and vanilla extract. If you don't have milk, you could also use water.
(4) Donut Pan:  A donut pan will allow you to bake (not fry) these donuts and give them their round and fun donut shape. You can get a six-cavity donut pan for only a few dollars on Amazon and I promise you, you'll get so much use out of a donut pan. You can use it to make my chocolate donuts and almond flour bagels, for example.
If your budget allows it, get two donut pans. This way you can double recipes and have a dozen donuts or bagels at once. Please note this particular gluten-free breakfast donut recipe makes six breakfast donuts, so you'll only need one donut pan.
(5) Powdered Sugar: You'll want to combine the powdered sugar along with a little almond or cashew milk in order to make the sugar glaze to top these donuts (the glaze is totally optional but recommended). I prefer to use powdered sugar that is free from cornstarch, so I like the Wholesome brand, which is made with tapioca starch.
How to Make Breakfast Donuts
This gluten-free breakfast donut recipe is easy to make.
You'll start by combining all the oat flour, chia seeds, baking powder, salt, and cinnamon in a large bowl.
Then you'll add the maple syrup, milk and vanilla and mix together until you get a liquidy batter that looks like this: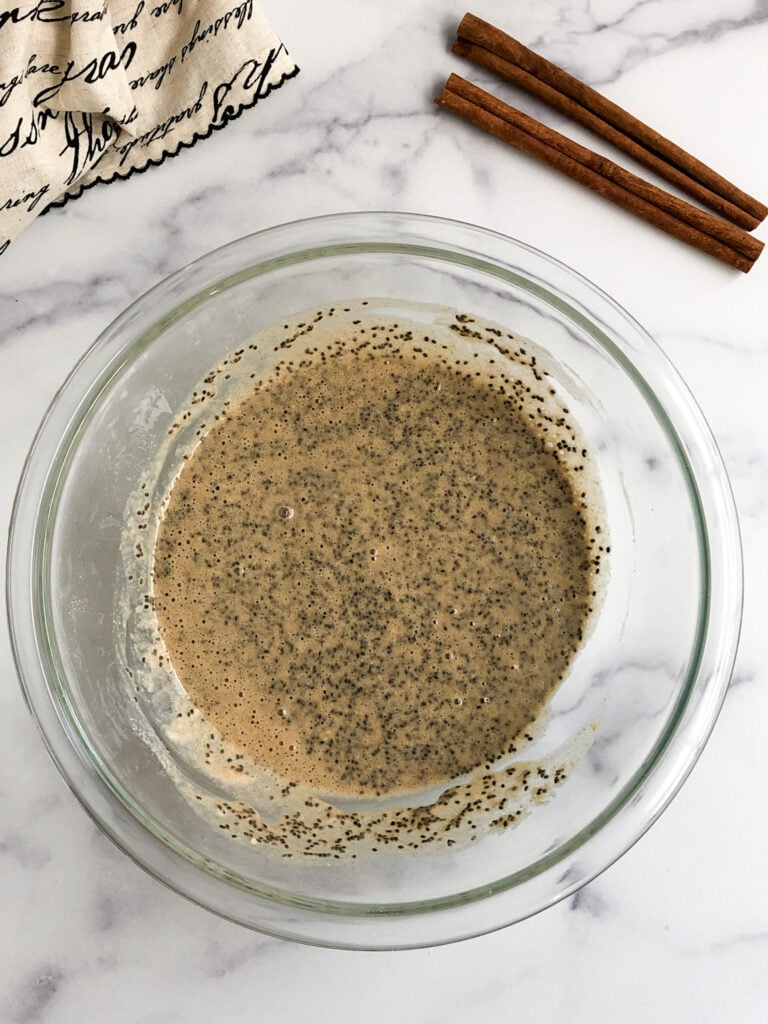 Next, pour the batter evenly into a well-greased six-cavity donut pan. It's easiest if you add the batter inside a pourable cup; doing so will allow you to more easily pour the batter into the small donut pan cavities.
Bake the donuts in a 300º F oven for about 20 minutes. They need to cool in the pan for 5 minutes before you remove them and place them top-side-down on a wire rack to finish cooling.
Once the donuts are cool, drizzle them with a delicious glaze made from powdered sugar and milk. You can drizzle the mixture using your spoon and a flick of your wrist. Don't worry about them looking perfect.
Funny thing is that these breakfast donuts don't look all that amazing in pictures, but I assure you, they taste amazing. They are moist inside and slightly sweet all over. Enjoy!
FAQs
Here are answers to your most pressing questions:
How do you store unused donuts? These gluten-free breakfast donuts are best when eaten right away, however, they do hold up well for several days. I recommend that you freeze uneaten donuts inside a zip top bag. Simply reheat for 10 seconds in the microwave before enjoying.
Can I use regular milk? Yes, you can use regular milk, any dairy-free milk, or even water.
Do I need a donut pan? Yes, the batter is very liquidy and you must use a donut pan to make them. If you don't have a donut pan, you can use a well-greased muffin pan filled half way. Adjust baking time as needed.
This recipe is inspired by the Oh She Glows cookbook, a cookbook that I highly recommend for anyone looking to incorporate more vegan recipes in their diet. Not all recipes are gluten free, however, most are adaptable to the GF diet.
Gluten-Free Breakfast Donuts
No time to cook in the morning? Make these donuts ahead of time and just grab and go on a busy morning. These donuts are loaded with fiber, omega 3 fatty acids and protein. This healthy spin on a traditional donut will be a huge hit with the entire family!
Print
Pin
Rate
Ingredients
Donut Batter
3/4

cup

gluten-free oat flour

1/2

cup

chia seeds

1 1/2

tsps

baking powder

1/4

tsp

Kosher salt

1/4

tsp

cinnamon

1/3

cup

maple syrup

1/3

cup

almond or cashew milk

1

tsp

vanilla extract
Glaze
1/2

cup

powdered sugar

1

scant tbsp

almond or cashew milk
Instructions
Preheat oven to 300º F and lightly grease a 6-cavity donut pan. Set aside.

In a large bowl, combine oat flour, chia seeds, baking powder, salt and cinnamon. Stir together.

Add maple syrup, milk and vanilla extract and mix together until well combined. 

Evenly pour or spoon batter into each cavity of the donut pan. The batter is very runny. It will set in place upon baking.

Bake donuts for 20-22 minutes until a toothpick inserted into the center comes out clean. Allow donuts to cool the pan for 5-10 minutes before moving them to a wire rack to finish cooling.

OPTIONAL: Combine the powdered sugar and scant 1 Tbsp milk in small bowl until smooth. Using your spoon, drizzle the mixture over the donuts while they're still on the wire pan (put a piece of parchment paper under the wire rack to catch the drippings). All frosting to set and enjoy!

Store uneaten donuts in a zip top bag for up to two days or freeze and enjoy all week long.
Notes
You will need a 6-cavity donut pan to make this recipe. However, if you do not have a donut pan, you can use your muffin tin. Just fill 6 muffin cavities equally with the batter. Adjust baking time as needed. Don't forget to grease your pan well!
This recipe adapted from The Oh She Glows Cookbook, an amazing cookbook full of approachable vegan recipes.
Nutrition
Calories:
222
kcal
|
Carbohydrates:
39
g
|
Protein:
5
g
|
Fat:
6
g
|
Saturated Fat:
1
g
|
Trans Fat:
1
g
|
Sodium:
123
mg
|
Potassium:
256
mg
|
Fiber:
6
g
|
Sugar:
21
g
|
Vitamin A:
8
IU
|
Vitamin C:
1
mg
|
Calcium:
178
mg
|
Iron:
2
mg