---
If you're looking for a gluten-free nutrition expert specializing in celiac disease, you've come to the right place!
I'm Jenny Levine Finke, a Certified Integrative Nutrition Health Coach (certified by the Institute for Integrative Nutrition) and Certified Gluten-Free Practitioner.
I bring 11 years of lived experience with celiac disease to the table, and I literally wrote the book on healthy, gluten-free living, Dear Gluten, It's Not Me, It's You.
I believe it's possible to live a healthy, happy life with celiac disease and non-celiac gluten sensitivity.
I am proof this CAN happen.
I have celiac disease, but you'd never be able to tell because I have put in the hard work to put my disease and subsequent symptoms into remission.
And it shows:
At 45 years old, I've never felt healthier or had better skin in my life, and I'd like to help you get healthy, too.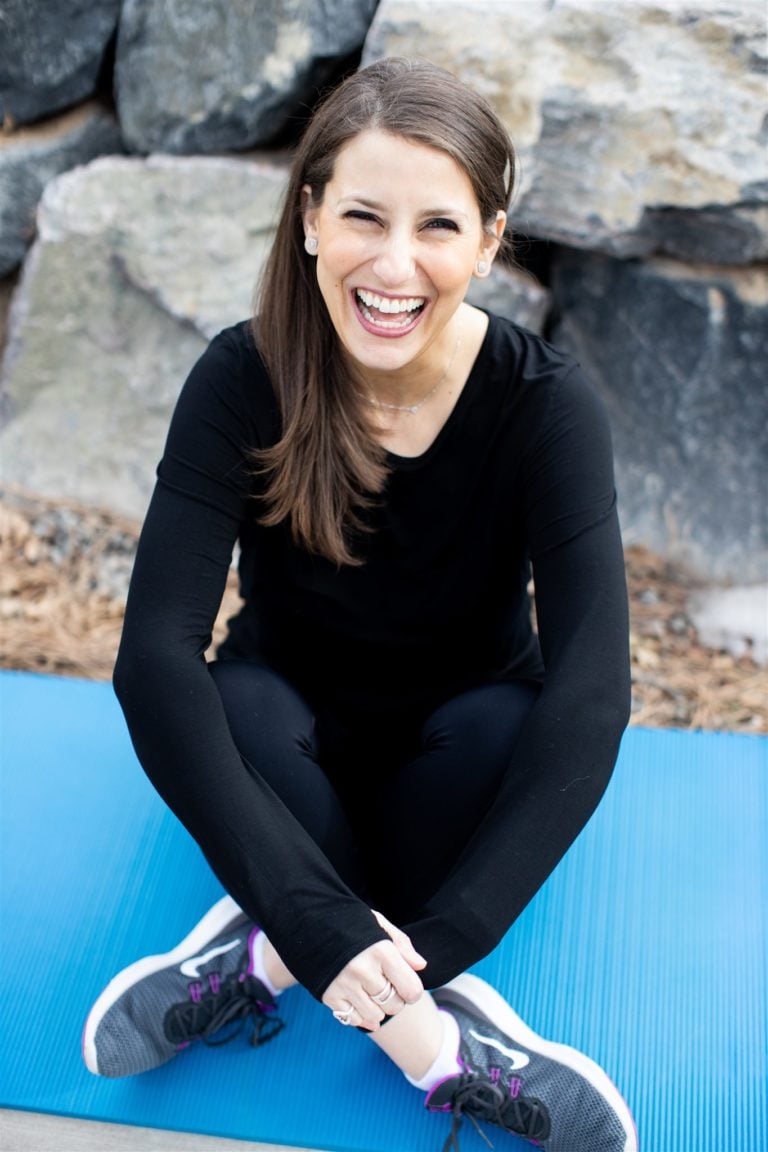 How I Can Help YOU
You've come to the right place if you're looking for gluten-free and nutritional guidance due to a celiac disease diagnosis or gluten intolerance.
My 1-to-1 coaching services can help you make sense of the gluten-free lifestyle and help you achieve optimal health.
I get it.
Celiac disease and gluten intolerance are challenging.
You have to make a lot of changes to your home, how you shop, eat out, and look at food.
Your friendships change. Your mental health changes. Your relationships change. And your outlook on life changes.
I've dedicated my life to working with individuals struggling with celiac disease or issues related to gluten sensitivity, autoimmune disorders, and the gluten-free diet.
This is what I do best, and it's a topic I have studied, in earnest, for more than a decade!
I believe most people need someone to talk to… someone who has been there, done that, and can help set them in the right direction and hold them accountable.
That's precisely what I do.
Are We a Good Fit?
You're a good fit for my celiac coaching program if:
(1) You've been gluten-free for 1+ year(s) and you're still not feeling better.
I've been in your shoes before. It took me years to figure out how to heal my body and restore my gut to its factory setting.
If you've been gluten-free for a while and you're still not seeing results, we should talk.
Please note that my 1-to-1 coaching is best suited for people who already understand the ins and outs of the gluten-free lifestyle.
If you're new to gluten-free, I strongly encourage you to enroll in my SIGNATURE Gluten-Free Course first.
(2) You're struggling with the daily challenges of a GF lifestyle.
A gluten-free lifestyle brings about many daily challenges that most of us are unprepared to handle.
If you need help figuring out what to eat, how to communicate your needs and advocate for yourself, lose or gain weight, overcome cravings, or want someone who cares about you and will hold you accountable, I can help.
(3) You're tired of bogus advice from the Internet.
There are many "experts" on the Internet who would have you doing weird cleanses and detoxes and who want to sell you a slew of pills, oils, and protein shakes.
Other extremists will tell you to avoid oats (even though they're gluten-free), corn, and other perfectly safe foods.
We should talk if you want information based on fact, not fear.
What to Expect
A health coaching session is a 50-minute intensive one-on-one learning session that centers on your health history, eating habits, and overall lifestyle so we can figure out what you're doing – or not doing – that might impair you from feeling your best self.
We will spend our time together focused on what you're most concerned about, and you'll leave with a to-do list of things to try, research, or further discuss with me or your doctor.
Many clients benefit from just one session, although most book 2-6 sessions with me, as needed. There are no monthly commitments. Simply pay as you go.
We will cover A LOT of ground during our time together, and I'm confident you'll leave with a better understanding of food, nutrition, gluten, gut health, and more!
Get ready to unlearn everything you thought you knew about food and nutrition, and finally learn how to eat in a way that promotes health and wellness throughout your body.
I can't wait to be your gluten-free coach on this journey to achieve optimal health.
What My Clients Say:
"Since our conversation, I think I've been doing so much better. I was even able to have an enjoyable dinner at Red Robin without any issues. I have also started adding avocado to my salads and starting my day with a protein-packed breakfast. I think just talking to someone who has walked in your shoes and experienced what you're going through and is surviving makes a big difference." -Elizabeth H.

"Jenny helped me change my eating habits for a healthier and happier me. She is very friendly, empathetic, knowledgeable, understanding, pragmatic and always focused on how to enjoy food more consciously that will best benefit me. As a celiac who had visited too many doctors over his lifetime, signing up with Jenny was an investment in myself that was well worth it. I highly recommend her to anyone looking to proactively improve their health." – Michael P.

"I have worked with a number of nutritionists in my effort to calm both my guts and my brain, but nothing really changed until I met Jenny. Somehow, after ONE session, she had me off coffee. And the changes keep happening. Someone is finally speaking to me in a language I understand. I am eating and living my way to health now. I can feel it." – Anne H.

"Have you ever been fortunate enough to have that singular person in your life that is caring, sharing, and has a wealth of information to make your life work better? Jenny is one of those people. She can and will assist you with what seems difficult to do – transform. My advice? Create a way to engage her in your life. I have and I know. She'll meet or exceed your expectations." – Jim W.