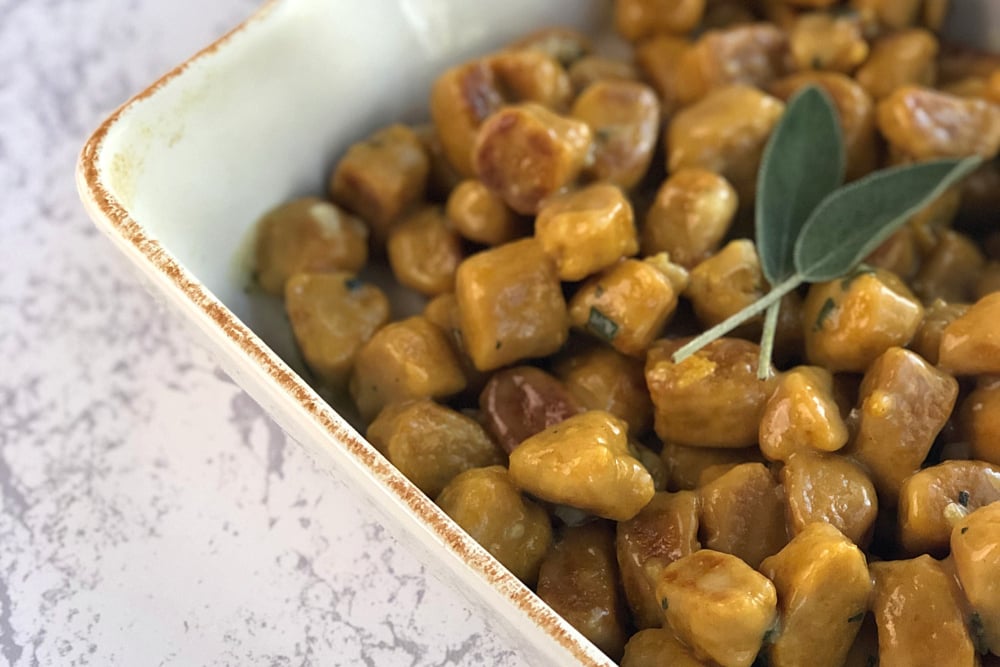 This recipe for gluten-free pumpkin gnocchi contains affiliate links. Please see my disclosures here. This post has been updated.
I think I speak for most of us when I say we miss the texture of soft pasta. While there are pretty good gluten-free noodles and bread, they are not the same without gluten.
So when you're gluten-free, you often find yourself on a quest to find foods that mimic that doughy, soft texture you crave.
So when I saw a Pinch of Yum's pumpkin gnocchi recipe floating around the Internet, I knew I had to try it. It looks like it offers up that doughy texture I so desire.
Of course, Pinch of Yum is not a gluten-free blog, and the pumpkin gnocchi recipe is not gluten-free either. This meant I needed to make some gluten-free swaps.
The most important swap requires the switching of standard wheat flour for my trusty Bob's Red Mill 1-to-1 Gluten-Free Flour Blend. Sometimes the swap works, and sometimes it doesn't.
Spoiler alert – it worked! Just look at this beautiful gnocchi:
How to Make Gluten-Free Pumpkin Gnocchi
I had a lot of fun making the pumpkin gnocchi despite the mess and multiple dishes and pots required to get it done. Once you get the dough together, however, it's like playing with Play-Doh. 
In order to create the dough, you have to do a few things:
(1) First, you'll need to prepare the potato. Wash it, stab it several times with a fork, wrap it in a paper towel, and place it in your microwave. Cook on high for five minutes, plus allow a few minutes of cooling time before handling.
(2) Once the potato is cool to the touch (wear disposable gloves, it helps), use a knife to help you peel off the skin. It should come off fairly easily. Dispose of the skin. Use the thin part of your grater to grate the potato. You'll end up with about 1.5 cups of finely shredded potato.
(3) Combine the shredded potato with the pumpkin puree and mix well. Then add egg, flour and salt and mix dough well. I like to use my hands (usually with gloves) to really get in there and mix every bit together.
(4) Once the dough is well combined, you're ready to shape the gnocchis. Working in batches, take a handful of the dough and gently roll it into a long snake. The dough is fun to play with, but it's still fragile. Use gentle pressure to avoid breakage (remember, there's no gluten holding that dough together!). Then cut the dough into small pieces with a butter knife, and place it on a floured plate (extra flour will prevent the gnocchi from sticking together).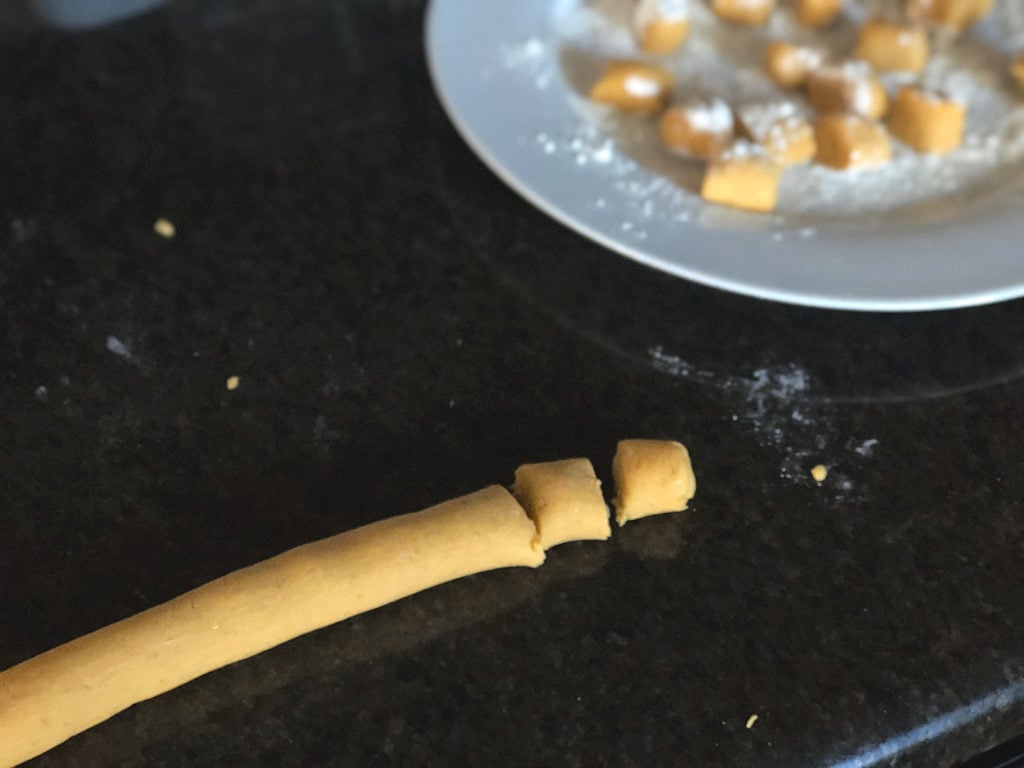 (5) Next, you'll want to bring a large pot of water to a boil, then add about half of the gnocchi. After about one minute, the gnocchi will begin to float to the top. Use your slotted spoon to transfer the floating gnocchi to a clean bowl. Repeat until all gnocchi have been cooked in the boiling water.
(6) Now, you'll want to brown the gnocchi a bit to give them shape and color. Melt some butter in a large non-stick pan, then add the gnocchi to the pan and cook, undisturbed, for about two minutes. This will sear one side of the gnocchi well. Mix the gnocchi gently and continue cooking until the gnocchi browns on all sides. Just look at this gorgeously browned gnocchi: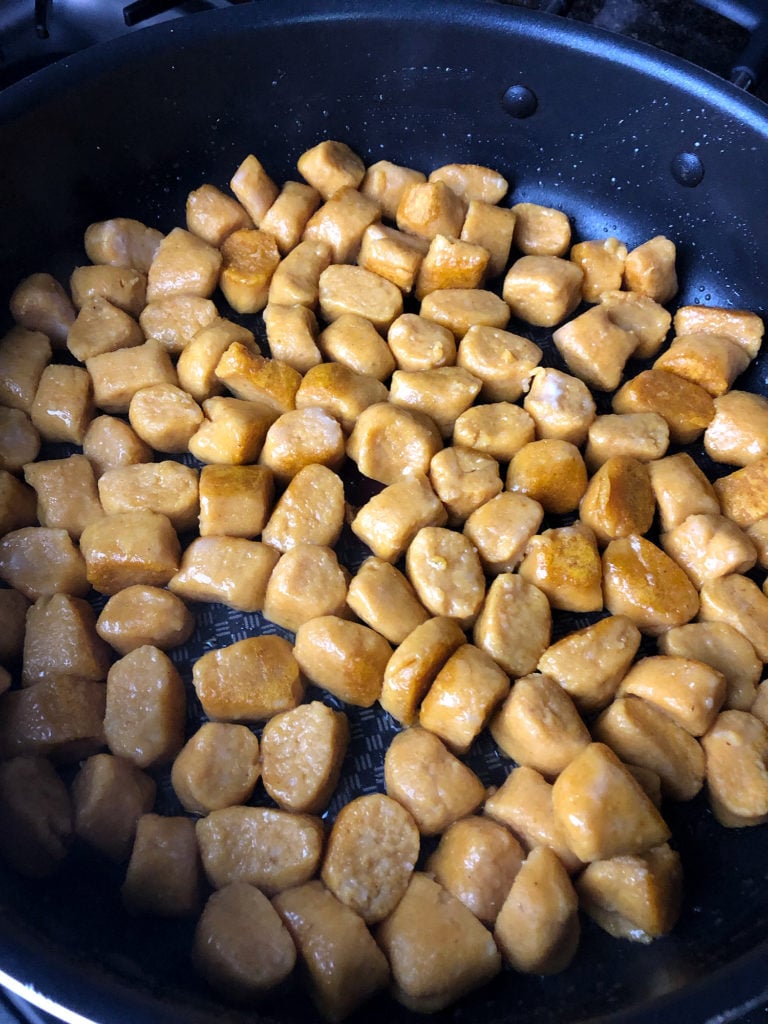 (7) Remove the gnocchi from the pan to make the garlic butter sauce next.
(8) Add butter to the pan, along with garlic and sage. Then add chicken broth, a flour-water slurry and a pinch of Kosher salt. Whisk everything together until the sauce thickens.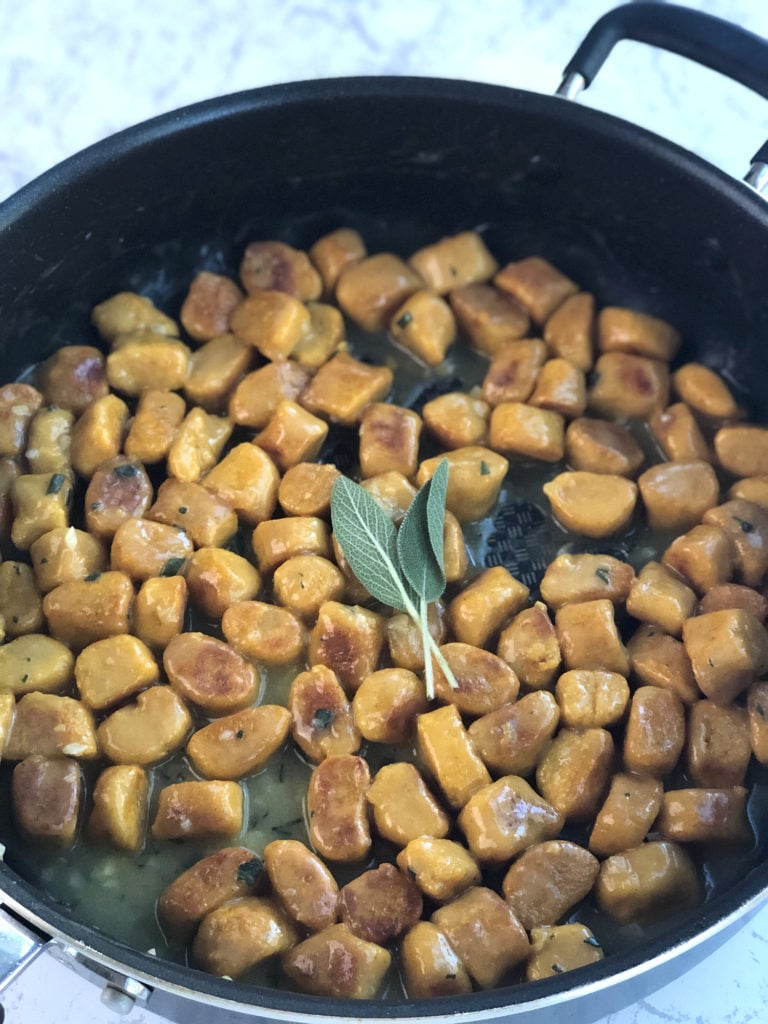 (9) Add gnocchi back into the pan and coat gently with sauce. Serve immediately.
Is your mouth watering yet?
What I Love About This Dish
There are so many things to love about this dish… the flavor, the smell, and the taste of delicious gnocchi.
However, the thing I love most is the texture. The gnocchi has an amazing texture. They're soft, doughy, and chewy, offering up that doughy texture so many of us gluten-free eaters miss.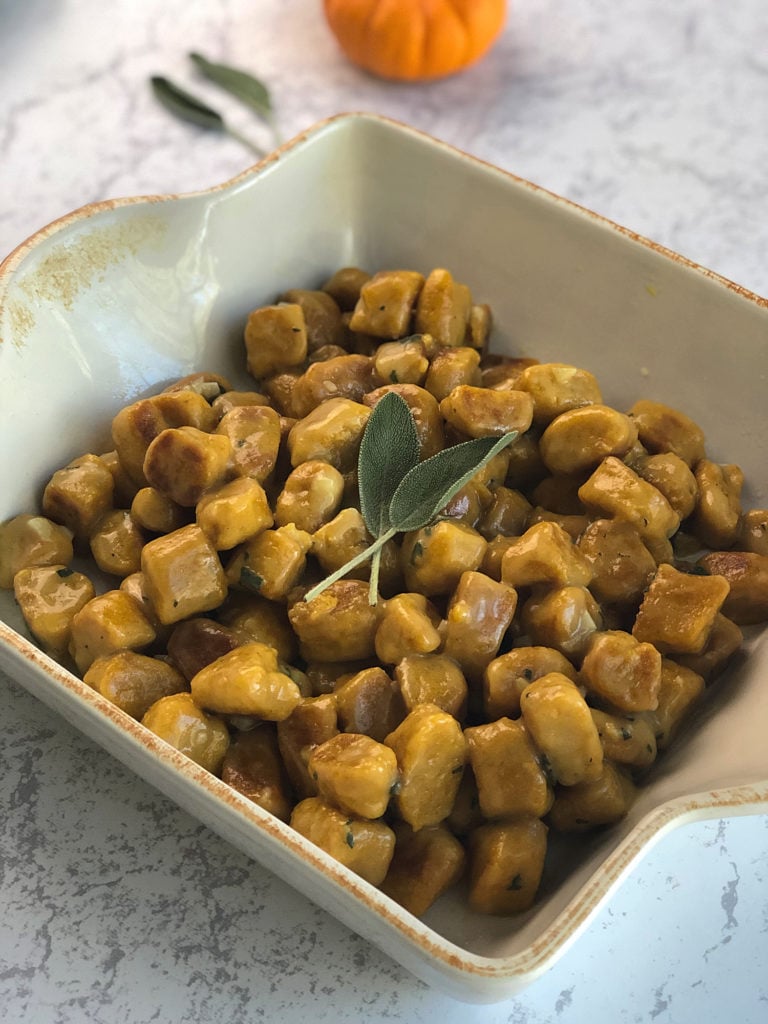 Something you'll notice about my recipe vs. a Pinch of Yum's recipe is the changes I made to the sauce. Her recipe calls for heavy cream (yuk!). I prefer a lighter sauce so I opted for a broth-based sauce instead. I think you'll find this swap just as tasty and less heavy and caloric in the end.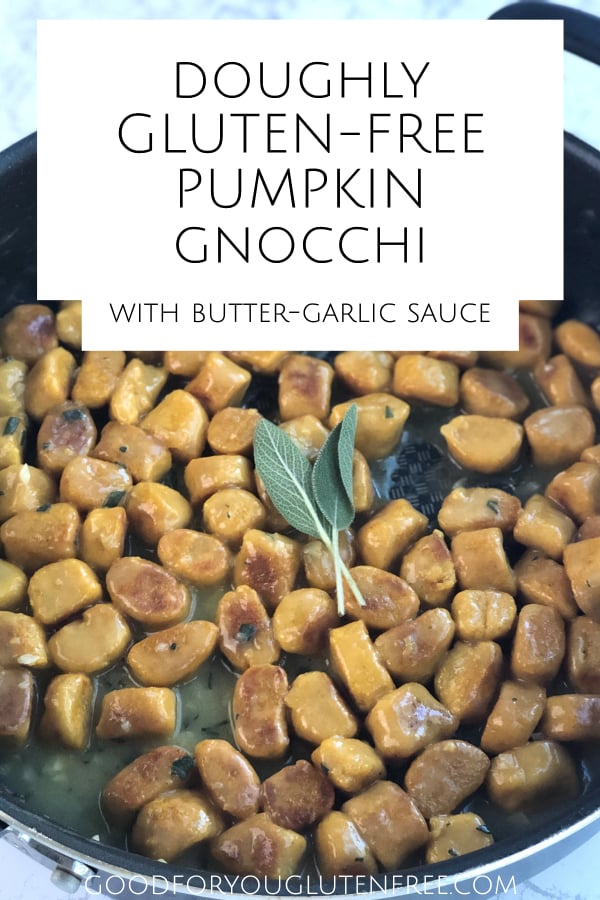 Now, I warn you, this dish does require a bit of effort to make. I created a big mess, so big that I had to laugh at myself. You might be wondering, "Is it worth it?" after all, it's a lot of effort. My reply is, "You betcha it's worth it!" This gluten-free pumpkin gnocchi recipe is the bomb. 
Next time I make this delicious doughy gluten-free pumpkin gnocchi recipe, I'm doubling it and freezing half the dough. I may even triple the recipe. It's less work with all the delicious taste. Yummy!
Gluten-Free Pumpkin Gnocchi
This gluten-free pumpkin gnocchi offers up an amazing doughy texture that many of us gluten-free people miss. The light butter sauce is a nice touch to this already delicious and festive dish.
Print
Pin
Rate
Ingredients
Pumpkin Gnocchi
1

large Russet potato

1

cup canned pumpkin puree

1

large egg

1

tsp

Kosher salt

2

Tbsp

butter
Garlic Butter Sauce
2

Tbsp

butter

3

garlic cloves, minced

5

sage leaves, minced

1

cup

gluten-free chicken broth

2

Tbsp

water

1/2

tsp

Kosher salt
Instructions
Wash potato and stab it with a fork several times to create air holes. Wrap the potato in a paper towel and microwave on high for five minutes. Allow the potato a few minutes to cool before handling. It's easier to handle the potato while wearing disposable gloves.

Next, using your knife and fingers, peel off and discard the potato skin. Finely grate the potato into small pieces. You'll wind up with about 1.5 cups of grated potatoes.

Combine potatoes with pumpkin and mix well with your hands. Add egg, flour and salt and continue mixing by hand.

Divide dough into about 6 small sections. Roll out each section into a long snake and then cut dough into small bite-sized pieces with your knife. Add gnocchi to a plate coated with a little flour to keep them from sticking to one another.

Bring a pot of water to a boil and cook gnocchi in two batches. Once a gnocchi floats to the top of the water (about 1 minute), use a slotted spoon to remove it from the water and set it aside in a bowl.

Heat 2 Tbsp butter in a large non-stick saucepan. Add gnocchi and allow it to cook, undisturbed, for two minutes before mixing. Continue to cook gnocchi on all sides for about 6-8 minutes. Remove gnocchi from saucepan and set aside in a bowl.

Heat another 2 Tbsp. butter in a large saucepan. Add garlic and sage and cook for 30 seconds. Add chicken broth and bring mixture to a boil.

In a small bowl, combine 1 Tbsp. flour with 2 Tbsp. water to create a slurry. Mix well. While whisking the chicken broth mixture, add the slurry to the sauce and continue whisking until mixture thickens, about one minute.

Add gnocchi to saucepan and coat with sauce. Serve immediately.
Nutrition
Calories:
346
kcal
|
Carbohydrates:
50
g
|
Protein:
8
g
|
Fat:
14
g
|
Saturated Fat:
7
g
|
Cholesterol:
71
mg
|
Sodium:
1207
mg
|
Potassium:
293
mg
|
Fiber:
6
g
|
Sugar:
2
g
|
Vitamin A:
455
IU
|
Vitamin C:
7.8
mg
|
Calcium:
56
mg
|
Iron:
2.7
mg