Did you know that Caribou Coffee offers gluten-free breakfast sandwiches? Just as Starbucks was discontinuing its gluten-free sandwiches, Caribou Coffee surprised the gluten-free community with gluten-free options of its own. This post was updated in August 2023 to reflect Caribou's new offerings and may contain affiliate links. Please see my disclosures.
Caribou Coffee is the second largest company-operated premium coffeehouse in the United States, with nearly 300 company-owned locations in 22 states.
Not only is Caribou Coffee known for its coffee (more on that in a bit), but it also has a few treats for the gluten-free community.
Just as Starbucks discontinued its gluten-free breakfast sandwich in 2018 due to low sales, Caribou Coffee ramped up its gluten-free offerings.
In this post, I'll share more about what you can eat and drink at Caribou Coffee when avoiding gluten, a protein found in wheat, rye, barley, and non-GF-labeled oats.
I also tested several items for hidden gluten using my Nima Sensor, a portable gluten-detecting device that enables you to test a small portion of your food for hidden gluten.
If you're new to Nima, read What You Need to Know About Nima Sensor Before You Buy – Perspective from a Celiac & Nutrition Professional.
What's Gluten-Free at Caribou Coffee?
In October 2018, Caribou Coffee launched two gluten-free breakfast sandwiches – (1) a Gluten-Free Chicken Chorizo Munster sandwich and (2) a Gluten-Free Spinach, Artichoke, Egg & Provolone sandwich – citing what the company says is increasing demand for gluten-free products.
In a now-removed press release, Caribou acknowledged that "Gluten-free food has been the number one guest request at Caribou Coffee for several years."
However, somewhere between its gluten-free launch in 2018 and August 2023, Caribou Coffee updated its gluten-free offerings.
Today, it offers only one gluten-free breakfast sandwich – (1) a Gluten-Free Spinach Artichoke, Egg & Provolone sandwich – as well as (2) a Gluten-Free Bacon & Gouda souffle.


It's important to note that Caribou Coffee is not a dedicated gluten-free restaurant, but it did say in its press release that each sandwich is manufactured and packaged in a certified gluten-free facility. The products are then served to customers inside the packaging to reduce cross-contact risk.
Tip! When ordering a gluten-free sandwich or souffle, ask your server to serve it in its original packaging.
In 2018, I used my Nima Sensor to test both gluten-free breakfast sandwiches for hidden gluten.
The server warmed the sandwich inside the bag and served it to me still wrapped in a bag as shown below.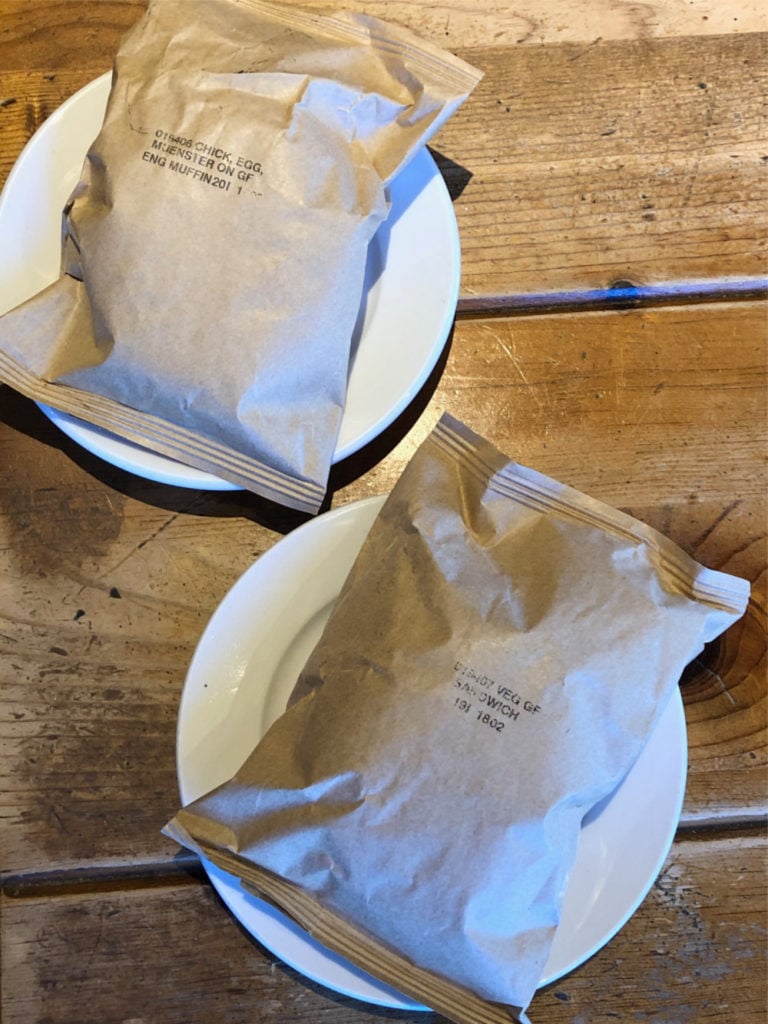 Both sandwiches produced a smiley face on Nima, which means Nima didn't find any gluten.
You can watch me test each sandwich during this Facebook Live:
Is the Coffee Gluten-Free?
Caribou Coffee, unfortunately, demonstrates that it's the #2 coffee brand by a mile based on how little information it offers online and inside its app. For example, finding a listing of ingredients for any given food or beverage is impossible – non-existent.
I've emailed Caribou Coffee to ask where I can find ingredient lists for each product and have yet to hear back.
In the meantime, you'll need to do a few things to protect yourself from getting glutened at Caribou Coffee:
(1) Ask your server for information about ingredients before ordering any beverage. They should be able to provide you with in-store details on ingredients and allergen disclosures. If not, report them to the FDA immediately.
(2) Beware of the oat milk. Many oat milk brands contain traces of wheat and are unsafe for people on a gluten-free diet. You can read more about the perils of oat milk in my article, Is Oatmilk Gluten Free?
Caribou Coffee is not transparent about its source of oat milk, so customers don't know if it's gluten-free unless they ask in-store.
Personally, I recommend avoiding products containing oat milk. Some beverages default to oat milk, so ask for anything but oat milk.
(3) Avoid Bakery Items and Oats: All bakery items are off-limits and contain gluten. Avoid all oatmeal and overnight oats.
(4) Ask for Allergy Prep: Disclose that you have a "gluten allergy" to your server and ask them to clean any equipment used and change gloves.
Caribou Coffee vs. Einstein Bagel
Caribou Coffee's gluten-free breakfast sandwich and gluten-free souffle are found at all Caribou Coffee stand-alone stores.
However, they are NOT available in Einstein Bagel partnership stores. Visit the company online at CaribouCoffee.com to find a location near you.
Additional Reading
I love eating out despite my diet "disability," and I've dedicated much of my energy to helping others eat gluten-free as safely as possible.
Please consider reading my ebook, The Ultimate Guide to Eating Out Gluten Free if eating out is a source of angst for you. I'll teach you how to do it as successfully as possible.
You can also get my book, Dear Gluten, It's Not Me, It's You, for more information about following a gluten-free lifestyle, including tons of information about eating out and traveling while gluten-free.
I encourage you to invest in a gluten-detecting device. A few to research include Nima Sensor, Glutrust, and The Allergy Amulet.
I also encourage you to visit my Eating Out Library to see how other restaurants fared when tested for hidden gluten.
Finally, you can also learn more about how to eat gluten-free at Starbucks in my article, These 90+ Foods and Beverages at Starbucks are Gluten-Free.