This post featuring Whole 30 Breakfast Ideas and Whole 30 Recipes contains affiliate links. Whole 30 compliant recipes are ALWAYS 100 percent gluten-free. Always check ingredient labels.
Breakfast truly is the most important meal of the day when you're doing the Whole 30 challenge. It helps to fuel your day. A filling breakfast will keep you from feeling hungry at 10am.
In case you don't know about the Whole 30 challenge, it's a 30-day clean eating diet that eliminates all gluten, grains, dairy, soy, legumes, corn, beans and sugar.
You must eat very clean and read labels like a champ. Lucky for me, I am an avid label reader already (at least there's one perk to being gluten free).
While Whole 30 offers a limited menu, there are still plenty of things to eat such as meats, vegetables, fruits, potatoes (both white and sweet potatoes) and seeds and nuts. Everything should be natural and contain no sugar, soy, gluten, etc.
I Love Whole 30 Breakfasts
I might be in the minority, but I personally love breakfast – and even prior to the Whole 30 challenge I often would eat a savory, high-fat breakfast.
I found chicken sausages (Trader Joe's brand) and hot dogs (Teton Waters Ranch) that were Whole 30 compliant (and if you eat pork – I don't) you can find some pork sausages and bacon options that are Whole 30 compliant too.
Many people have asked me what my Whole 30 breakfast plates have looked like – most people have a hard time giving up cereal, toast and pancakes – but I assure you, breakfast is truly the easiest the meal of the day if you keep it savory. Plus, the Whole 30 is all about challenging yourself to eat more savory vs. sweet.
Keep in mind, when putting together an ideal Whole 30 breakfast, be sure to have a good source of protein (meat or eggs), plenty of healthy fats (you'll see a lot of avocado below!), and lots of vegetables (fruit is okay too – but fruit is sweet so I prefer it for snacking vs. breakfast).
Amazing Whole 30 Breakfast Ideas
Here are some of the delicious breakfasts I found myself gravitating toward during the Whole 30 challenge:
1) Protein Punch: This protein punch Whole 30 breakfast includes fried eggs (cooked in ghee or avocado oil), sauteed chicken sausages, one-half avocado and chopped cucumber pieces. I squeeze lime and sprinkle Kosher salt atop the avocado and cucumbers.
2) The Mexican Scramble: Scramble up some eggs, red peppers, red onions, diced potatoes and portabella mushrooms, then add a sprinkle of chili powder, cumin, Kosher salt and pepper. Serve alongside one-half of lime and salted avocado.
3) The Rolled (or Regular) Veggie Omelet: It's hard to see, but this omelet packs a veggie punch. I sauteed red onion, portobello mushrooms, and a handful super greens (a mix of kale, spinach and Swiss chard leaves) and then added two scrambled eggs, rolled the omelet using my nifty Rolled Omelet Pan, and served alongside my usual cut-up avocado and cucumber bits.
(4) Shakshuka
I fell in love with shakshuka when I visited Israel a few years ago as it's a Middle Eastern and Mediterranean staple. Shakshuka is a poached egg nestled inside tomato sauce seasoned with harissa spices.
You can get my delicious – and surprisingly easy recipe – here. If you're willing to spend a few extra minutes prepping breakfast, this dish is a real treat!
(5) Fried Eggs, Hashbrowns, Mango Salsa and Avocado
Talk about a breakfast feast!  I fried some eggs, made homemade hashbrowns, and served it alongside some leftover mango salsa I made the other day (to top my fish) and a half of avocado (with lime squeeze and Kosher salt).
This was definitely a breakfast of Whole 30 champions… savory, filling and even fun to look at! (Note: Russet potatoes work best for hashbrowns.)
(6) Egg and Hashbrown Whole 30 Breakfast Muffins:  When my husband told me he was going on a day-long hike in the middle of our Whole 30 challenge, he asked if I could make him some egg muffins to take along for the hike.
I usually make these egg breakfast muffins with quinoa and cheese, but because he's keeping Whole 30 too, I decided to make them with a hashbrown crust instead.
I shredded some russet potatoes, tossed the potatoes with a little avocado oil, and then put a spoonful of the hashbrowns into each cavity of a 12-cavity muffin tin, spreading it until it formed a bottom crust. I then par-baked it in a 400 degree oven for 10 minutes.
While the hashbrown crust cooked, I sauteed some onions, mushrooms and yellow peppers. I then filled each cavity with eggs (scrambled in a bowl with a splash of water) and then sprinkled a little of the vegetable mixture into each cavity. I baked it for 15 minutes until egg was set.
Be sure to make extra so you can enjoy it as a healthy snack throughout the week.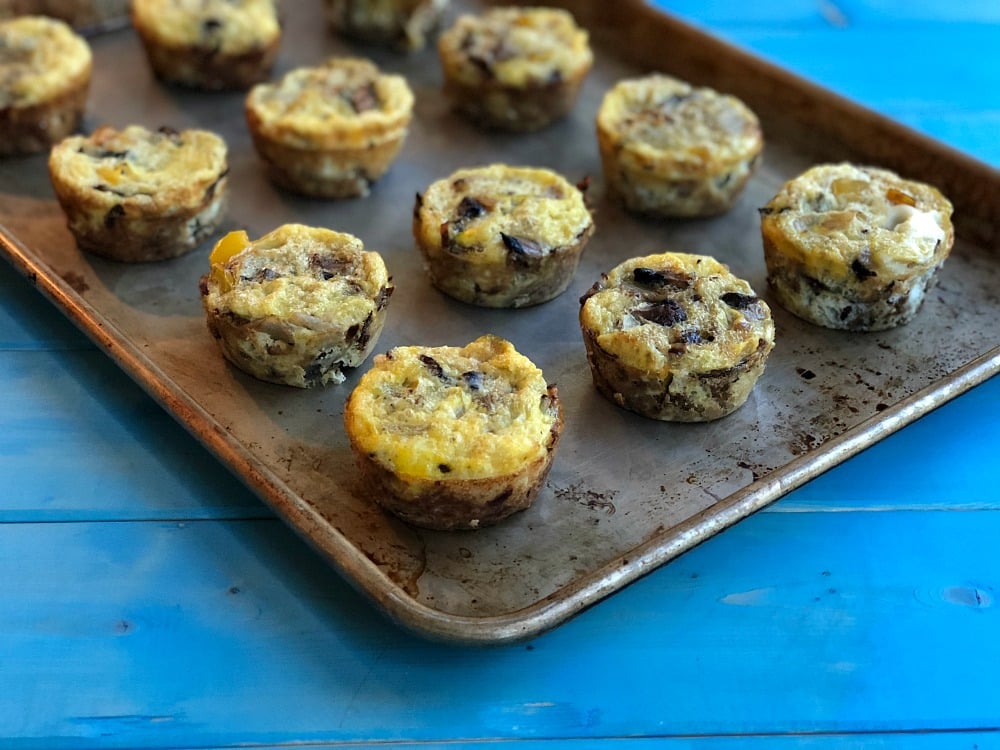 (7) Turkey Bacon and Scrambled Eggs
It is possible to find Whole 30 compliant turkey bacon, you just have to look. Most conventional turkey bacon brands contain sugar, but Garrett Valley turkey bacon (which I found at Sprouts), contains no sugar and is Paleo Magazine approved too.
I fried up some turkey bacon, scrambled some eggs, and served it all alongside my usual avocado and chopped cucumbers (topped with lime juice and Kosher salt). Yummy!!
Whole 30 Breakfast of Champions
There you have it, a week's worth of delicious Whole 30 breakfast ideas to get you out of your breakfast rut.
While I've always enjoyed a savory breakfast, I know the transition from a sweet breakfast to a savory breakfast can be a challenge for many of you. If you're serious about eliminating these foods from your diet – at least for 30 days – I know you can do it! After all, you can still eat so many delicious things.
Need more inspiration? Get 10 incredible Whole 30 recipes for dinner here, and read my list of my favorite Whole 30 snacks.