Trader Joe's is on a roll with the launch of its new gluten-free pumpkin ravioli, which is available for a limited time during the fall season (aka, pumpkin season!).
This well-textured and well-flavored ravioli might just be one of the best gluten-free ravioli you'll ever eat. And, of course, there's no gluten in sight!
Gluten is a protein found in wheat, rye, and barley and must be avoided by millions of people with celiac disease and gluten intolerance.
In this article, I'll share where you can find Trader Joe's gluten-free pumpkin ravioli, how much it costs, what's in it, and how it tastes. Let's get started!
All About the Pumpkin Ravioli
Trader Joe's is not new to the gluten-free ravioli fray. Its gluten-free cheese ravioli is a staple in any gluten-free kitchen, and I use it to make my famous gluten-free toasted ravioli.
Trader Joe's also isn't new to the world of pumpkin. The budget grocer is famous for its vast selection of seasonal pumpkin products, including dozens of beloved gluten-free pumpkin alternatives.
On top of it all, Trader Joe's Honey Roasted Pumpkin Ravioli (not gluten-free) has been a beloved treat since its introduction in 1998; sadly, the gluten-free community could only look at those beautiful squares of pasta with envy.
Enter September 2023, and Trader Joe's has given the gluten-free community something they could only dream of by launching its first-ever gluten-free pumpkin ravioli alternative.
What's In the Gluten-Free Pumpkin Ravioli?
This festive pasta includes perfectly squared orange-hued gluten-free pasta made from a blend of potato and tapioca starches.
The ravioli are stuffed with a filling of pumpkin purée, kabocha squash, and a blend of ricotta, Parmesan, and mozzarella cheeses.
Everything is flavored with fall-esque notes, including hints of honey, brown sugar, cinnamon, nutmeg, and other fall spices.
The exact ingredients include the following:
Filling ingredients: Ricotta cheese, kabocha squash, pumpkin puree, parmesan cheese, low-moisture mozzarella cheese, potato flakes, dried pumpkin [pumpkin, maltodextrin, corn flour], honey, brown sugar, vegetable fibers (bamboo and psyllium fiber), sea salt, canola oil, parsley, black pepper, allspice, cinnamon, clove, nutmeg).
Pasta ingredients: Potato starch, water, tapioca starch, dried egg, xanthan gum, sea salt, paprika oleoresin [color]).
Where to Find the Ravioli
Each 8-ounce package of gluten-free pumpkin ravioli costs $4.49 and contains two servings (200 calories per serving). It can be found in the Trader Joe's refrigerated section near the other fresh pasta and ravioli.
Remember, this seasonal pasta is only available during the fall, so stock up and put some bonus packages in your freezer so you can enjoy it again on a cold winter's day.
How Does It Taste?
When I got home from Trader Joe's, I prepared a package of the gluten-free pumpkin ravioli.
I boiled a pot of lightly salted water, then added the entire package. The ravioli cooked in about 2-3 minutes and didn't fall apart.
I drained the water, drizzled the ravioli with olive oil, and dug right in.
The pasta held its shape well without cracking and falling apart. However, I recommend handling the pasta gently throughout the cooking process. Remember, no gluten bonds are holding it together.
The pasta was chewy and soft. It had a good bite to it. The texture was spot-on! I have no complaints.
The filling was delicious, too. I would say it's more pumpkin-y than cheesy, which I loved. Every bite was pumpkin-spice perfection!
It was smart that Trader Joe's leaned into the pumpkin flavor and texture. It sets this ravioli apart from the gluten-free cheese ravioli.
The following picture doesn't do this ravioli justice; maybe I took a bad picture. Trust me, the filling is flavorful, smooth, and delicious!
The Competition
Trader Joe's doesn't have a lot of competition in the gluten-free pumpkin ravioli space. The only other brand making pumpkin pasta is Taste Republic.
Taste Republic makes seasonal gluten-free pumpkin tortelloni, sweet potato tortelloni, and butternut squash ravioli, which cost $6.49 per 12-ounce package.
While I can say, without hesitation, that the Taste Republic seasonal pasta is incredibly delicious, so is Trader Joe's gluten-free pumpkin ravioli. I won't say which is better because they're both good, but something about pumpkin ravioli vs. pumpkin tortelloni gives me all the fall feels.
I love pumpkin ravioli so much that I even spent hours developing my own gluten-free pumpkin ravioli recipe (pictured below) last year.
My homemade gluten-free pumpkin ravioli is super delicious but a lot of work to make and assemble. I can't compete with the delicious product Trader Joe's is offering.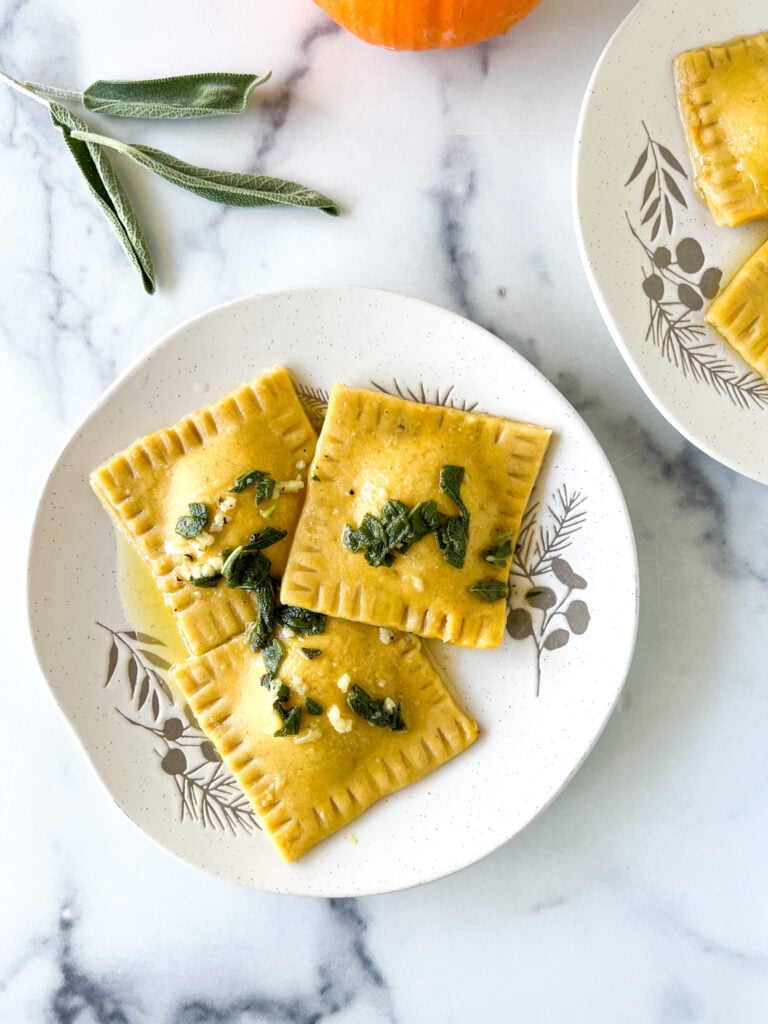 The Bottom Line
With the launch of Trader Joe's new gluten-free pumpkin ravioli, the gluten-free community no longer has to envy their gluten-eating friends who have been enjoying pumpkin ravioli from Trader Joe's for decades.
Between the perfectly textured pasta and fabulous fall filling, this gluten-free pumpkin ravioli has won over this celiac's heart.
Related Articles
Enjoy these related articles: