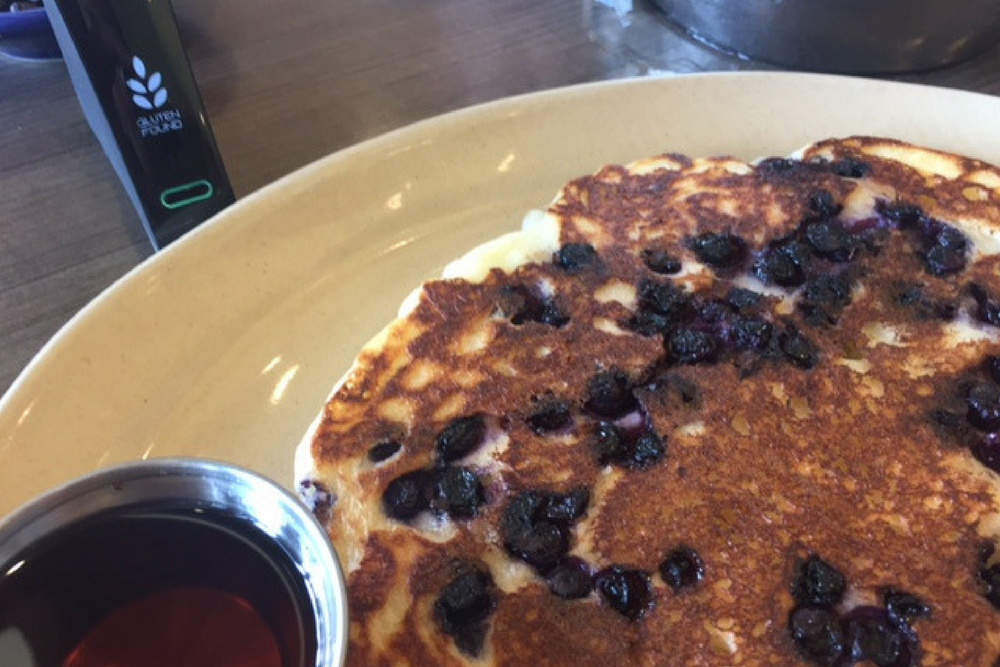 This post about eating gluten-free at Snooze was last updated in March 2021. Please see my disclosures.
Snooze is a popular brunch eatery based in Denver, Colorado, with locations throughout Colorado, Arizona, California, Texas, North Carolina, Georgia, Missouri and Kansas.
The restaurant is known for its quirky atmosphere and delicious food, and the line is always out the door if you want inside the small and often ill-equipped-to-handle-such-demand restaurant.
My friend once told me she saw a huge line out the door of a Snooze near her, and she wanted to open the door and scream, "It's just pancakes!" to the dozens of people waiting for a table. That would have been a sight to see!
My friend's contempt towards Snooze is justified when you're hungry (or hangry) and you have to wait in line for hours to get a small table to just eat eggs and pancakes. But I digress.
Brunch is not always about the food for me; rather it's about time with friends and being together in a fun atmosphere.
In this post, I'd like to share what's gluten-free at Snooze, and what you might want to avoid when ordering one of Snooze's gluten-free friendly menu items.
In full disclosure, I've dined at Snooze on several occasions, but after my last visit swore I'd never go back. In hindsight, I probably caught Snooze on a bad day. More on that in a bit. Like most dining experiences, Snooze is a crapshoot when it comes to getting a safe, gluten-free meal.
What's Gluten-Free at Snooze?
If you want to eat at Snooze, but can't eat gluten, you will be excited by the laundry list of items the restaurants calls "gluten-free friendly." Please note there is not a Snooze gluten-free menu, per se, but almost all items on the menu, with a few exceptions, can be made what Snooze calls "gluten free friendly."
You can order anything from a variety of pancakes and French toast signature dishes, to almost all of the egg and omelets on the menu, of course, notifying your server of your "gluten allergy" upon ordering.
Gluten-free dishes are served with a toothpick on top indicating to the staff and diner that the dish is gluten free. I love when restaurants do that. It gives gluten-free diners that extra level of confidence.
Snooze is clear that it is not a "gluten-free restaurant" and even specifies that while its gluten-free friendly menu items aren't made with gluten, they may have come in contact with gluten, known as cross contamination, somewhere along the way.
Putting Snooze to the Hidden Gluten Test
For all intents and purposes, Snooze looks like a fantastic place to enjoy a lazy gluten-free brunch experience, but I had a bad experience that I feel you should know about so you can judge for yourself if you feel safe eating here.
I was at Snooze in July 2017, with my friends, and I ordered the "gluten-free friendly" pancakes. My server assured me that the chef would change gloves, use a clean pan, and that I would receive a gluten-free pancake.
Once the pancakes came, I used my trusty Nima Sensor, a portable gluten detecting device, to test the pancakes for hidden gluten. The Nima Sensor came back with the message, "Gluten Found." My server promptly offered to make me a new gluten-free pancake. I tested the new pancake and received the same "Gluten Found" message on my Nima Sensor.
At this point, I'm feeling certain that the pancake batter used was either not gluten free or it was heavily cross contaminated with the gluten-y batter. I didn't suspect cross contamination, as the server assured me the cook used clean hands, clean pans, and took "extra" care in preparing my pancake.
You can watch my Nima Sensor test live here:
After getting two positive "gluten found" tests, I decided I didn't want the pancake after all and simply enjoyed my egg omelet, which I also tested with my Nima Sensor and it tested fine.
While I may have caught the restaurant off-guard with my nifty gluten-detecting device, the manager at Snooze handled my "issue" poorly.
She not only told me that people with celiac disease should not eat at Snooze, but also said that I should not have ordered the pancakes (thanks for the judgement).
She further insisted that the pancake batter used to make my pancake was gluten free, which I told her, without a doubt, was not. I asked her to pull the batter or make fresh gluten-free pancake batter to avoid getting other gluten-free people sick, but she refused.
I left the restaurant feeling defeated, hurt, and shamed for needing a gluten-free meal and wanting to enjoy a safe, gluten-free meal with my family and friends. The emotional burden of the gluten-free diet is real, and it was ever-present during this ghastly dining experience.
Post Incident
After this incident, I decided to email Snooze's HQ to tell them about my embarrassing debacle at the restaurant. I felt strongly that I needed to speak up and advocate for myself and the entire gluten-free community at large.
Please note that I have conducted dozens of hidden gluten tests at dozens of restaurants, and not once have I had to reach out to the company's management team. Not once have I been made to feel shameful for eating at a restaurant despite my "disability."
This is the statement I received from the restaurant's spokesperson:
Thank you for joining us and taking the time to send this our way. We take feedback very seriously and we have forwarded this email on to our management team, regional manager, CEO, COO and training team to read and address immediately.

First and foremost we are sorry for the frustration this visit caused you and all of the miscommunication that was conveyed. We are truly thankful for the feedback as there is a clear opportunity for us to re-train our staff properly.

We have spoken with [manager name] about the way you felt when you were given the opportunity to speak to a manager and are working with her to coach her and make her a stronger member of our team.

The health and safety of our guests are our top priority and we make every effort to accommodate our guests who have food allergies and food sensitivities, however, we do not consider ourselves gluten-free. Instead, we signify that we are gluten-free-friendly as we are happy to provide gluten-free recipes but cannot guarantee cross contamination without a separate kitchen.

We sincerely apologize that this was not handled properly and have checked our batter to ensure that it is correct going forward. If a guest has celiac disease we do not generally advise that they dine at Snooze. We will be using this experience to re-train our staff and management team immediately.

Please feel free to reach out to me again Jenny and I am more than happy to call you and have a discussion if you would like. Again, your feedback has been taken very seriously and we sincerely apologize for the frustrating experience you had.
While this statement was an apology, I still didn't feel great about the overall sentiment because she, too, stated, "If a guest has celiac disease we do not generally advise that they dine at Snooze."
I'd like to pose the question to Snooze asking, "Why the hell do you offer gluten-free foods that people with celiac disease cannot eat? Shouldn't people with celiac disease be the ones you are accommodating? Aren't people with the celiac disease the ones who NEED a safe gluten-free meal?"
When you offer gluten-free foods without regard for the celiac disease community, you look like you're just trying to cash in on the gluten-free trend and not truly serve those in need.
Imagine a restaurant builds a ramp to make their restaurant more "accessible" for people with wheelchairs, yet they don't make the ramps wide enough to accommodate a standard wheelchair? That is what it felt like eating at Snooze.
So, my gluten-challenged friends, if you must eat a Snooze, stick with the eggs, or better yet, eat at the Urban Egg instead. Their pancakes tested a-okay when put to the Nima Sensor hidden gluten test.