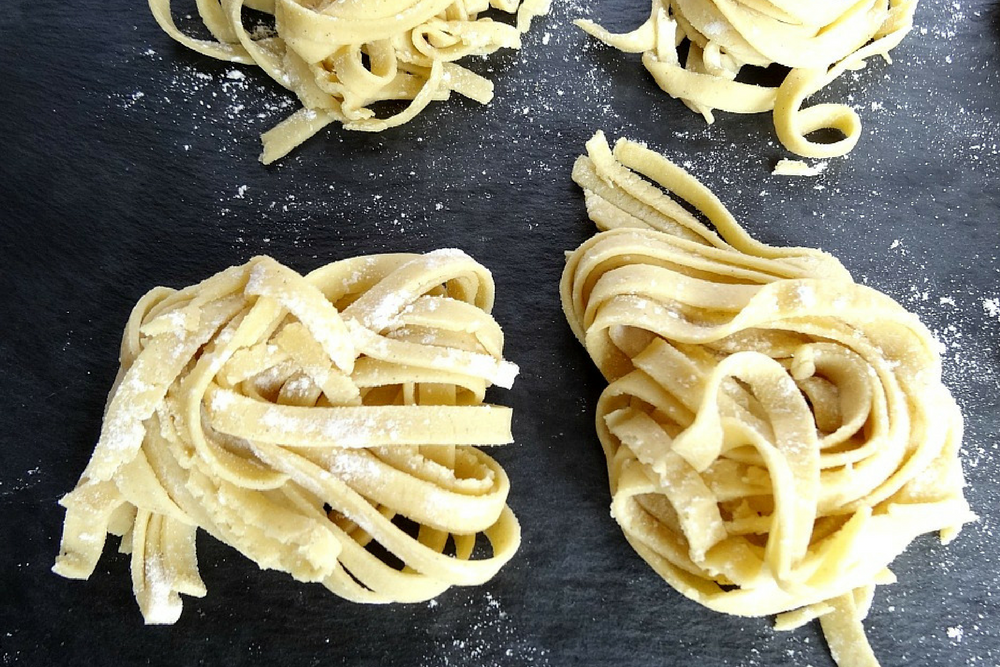 Making homemade gluten-free pasta with two ingredients takes only a few minutes to do and tastes like you spent all day cooking. This pasta has the perfect texture – a texture that you likely miss and crave since you started eating gluten-free. This post contains affiliate links. Please read my disclosures.
Chances are you miss the taste and texture of pasta since you gave up gluten, a protein found in wheat, rye, barley, and sometimes oats. Pasta just isn't the same without gluten.
Whenever I feel sad about pasta, I bust out my amazing pasta machine and make homemade gluten-free pasta. It tastes so good and makes me feel normal again.
You might think making homemade pasta is hard to do, but all you need is two simple ingredients: gluten-free flour and eggs. The process takes about 20-30 minutes to create beautiful homemade pasta dough.
And once you get more comfortable rolling out the dough or putting it through your pasta machine, making homemade gluten-free pasta will become a weekly occurance!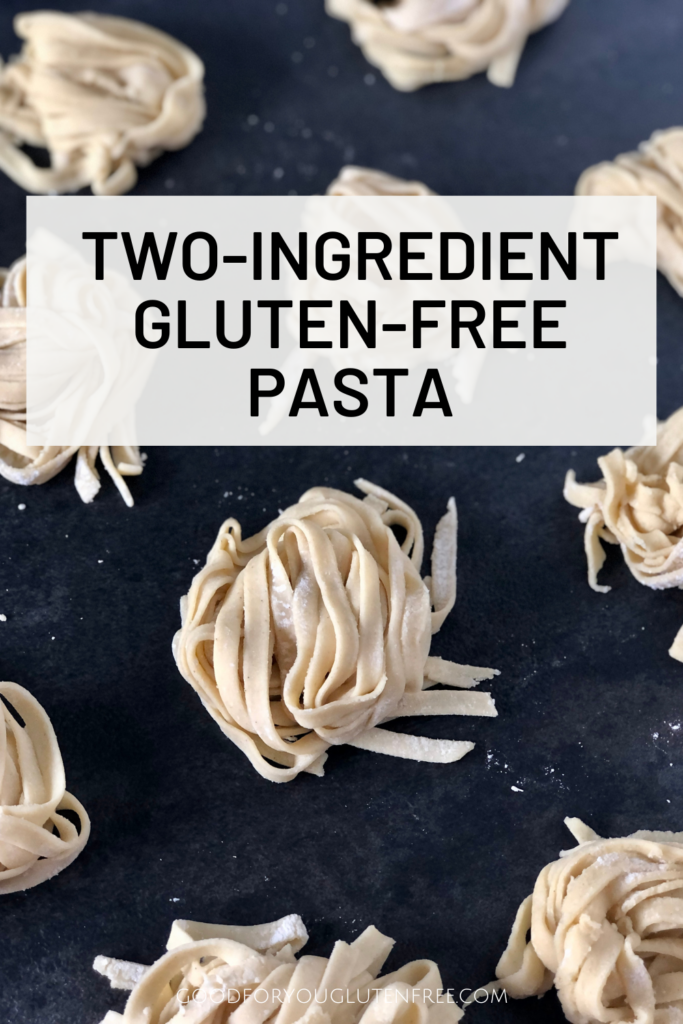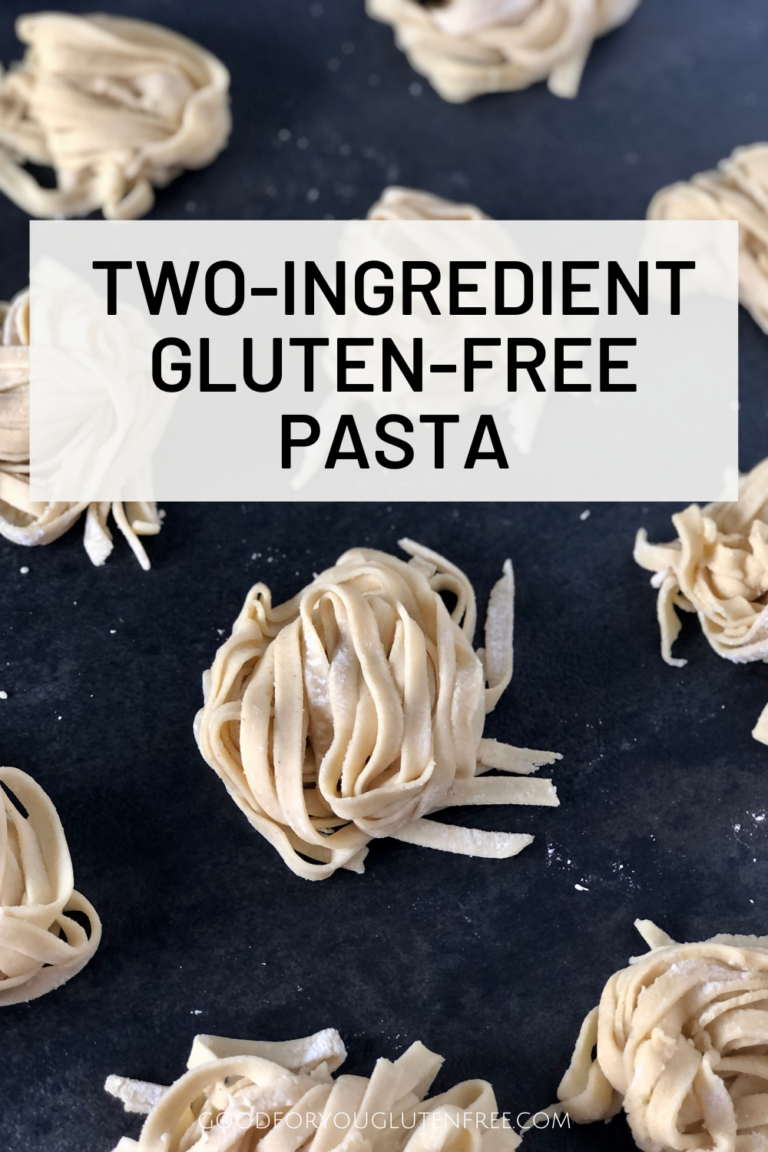 Introducing the Pasta Machine!
If you're serious about making fresh, homemade gluten-free pasta, you'll want to invest in a pasta machine. Be sure to make this YOUR dedicated gluten-free pasta machine so it doesn't get contaminated by bits of gluten. Remember, a pasta machine can't be shared for making regular and gluten-free pasta.
I own an electric Marcato Atlas Pasta Machine, and I love it. My mother-in-law bought it for me for my birthday the year after I was diagnosed with celiac disease. It's the gift that keeps on giving!
You can get a less-expensive manual pasta machine with a crank, but it will be harder to work with, especially given that gluten-free pasta cracks easily. My pasta machine has a motor that lets me gently glide the pasta sheets through the machine with little effort or breakage.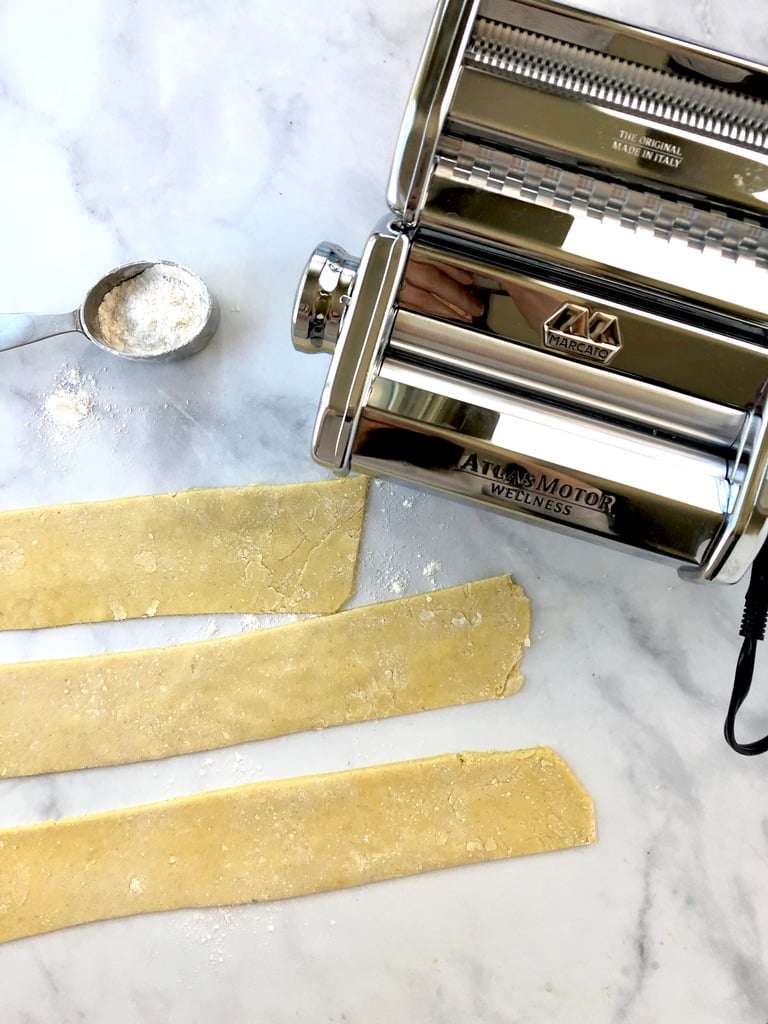 You don't have to own a pasta machine to make homemade gluten-free pasta, though. If you own a Kitchenaid Standing Mixer, you can purchase the pasta attachment and use that to cut the pasta into beautiful strands. 
And you can even cut the pasta into strands by hand with a knife or pizza cutter. The strips may not be as thin or even as they would be if you used a pasta machine, but it'll still work.
Ingredients For My 2-Ingredient Pasta
It's hard to believe that this recipe requires only two ingredients, but all you need is three large eggs + 200 grams of a 1-to-1 gluten-free flour blend.
I use Bob's Red Mill 1-to-1 Gluten-Free Flour blend, which always works well. Others have made this recipe using King Arthur Measure-for-Measure Gluten-Free Flour and Cup 4 Cup All Purpose Gluten-Free Flour. Your gluten-free flour blend should include xanthan gum; if not, add one teaspoon of it.
Making Gluten-Free Pasta
On a floured surface (I use a Silpat mat), add the gluten-free flour and create a well in the center of the flour. Add the eggs to the well.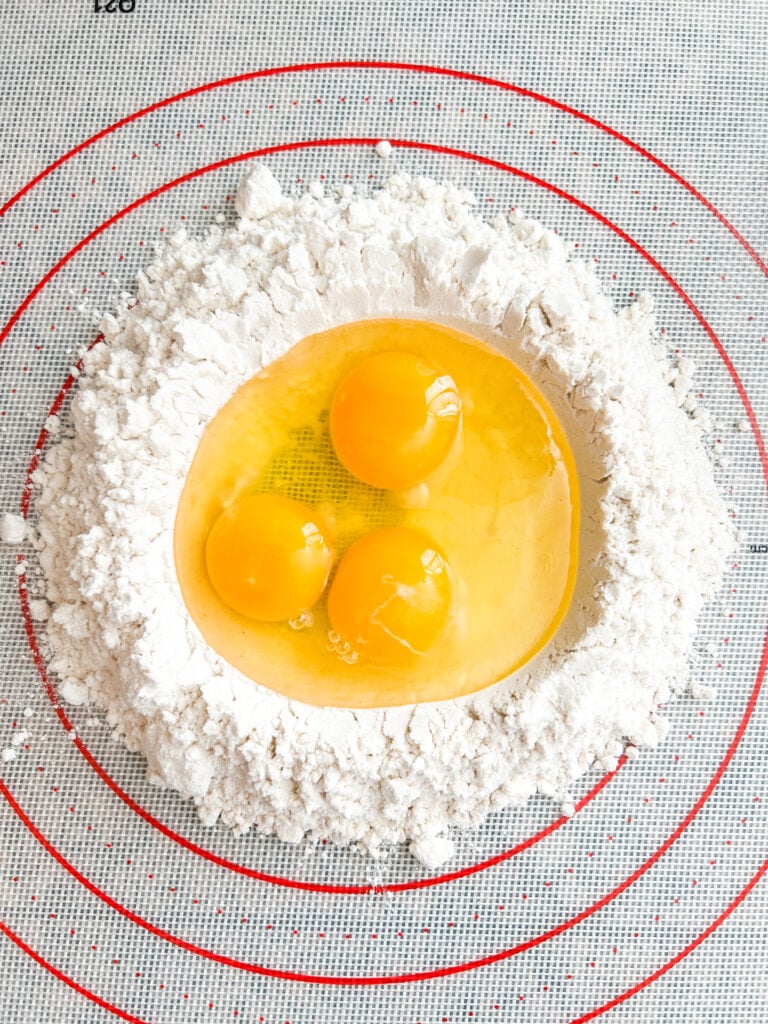 Next, use a fork to incorporate the flour bit by bit as you scramble the eggs. Once the dough comes together, use your hands to mix the dough and form it into a sticky dough ball.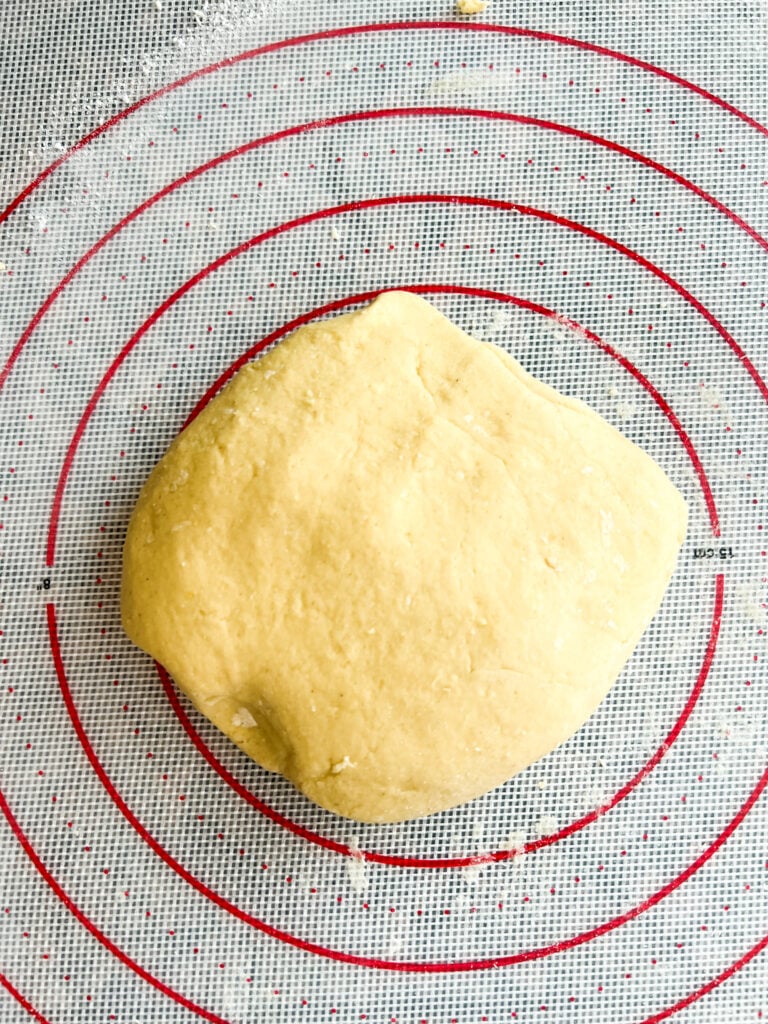 Divide the dough ball into four sections to make it easier to work with. Roll out each of the four sections into long strips using a rolling pin. This will make it thin enough to run through the pasta machine successfully.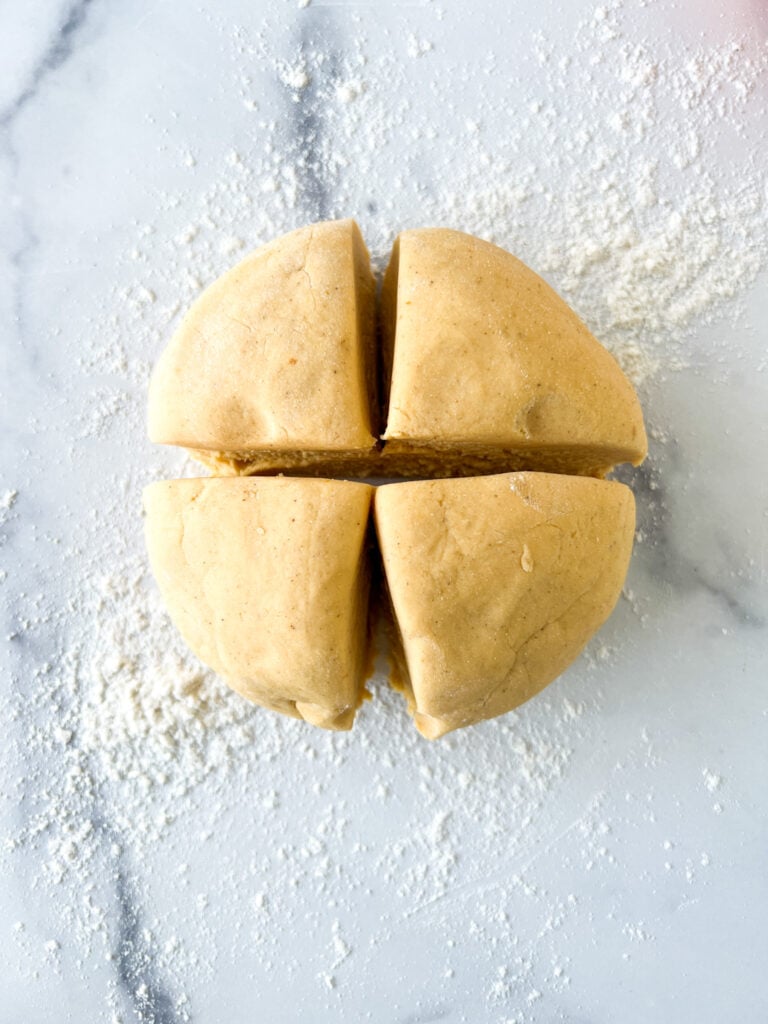 Feed each pasta sheet through the pasta machine twice, first on the #1 setting and then on the #2 setting, to get the sheets as thin as possible.
To make the dough easier to work with, I recommend cutting the sheet in half before running it through the pasta machine for round #2.
Cut off any frayed edges so the pasta sheets. Removing the frayed edges from the pasta sheets will ensure the pasta strands come out even and beautiful.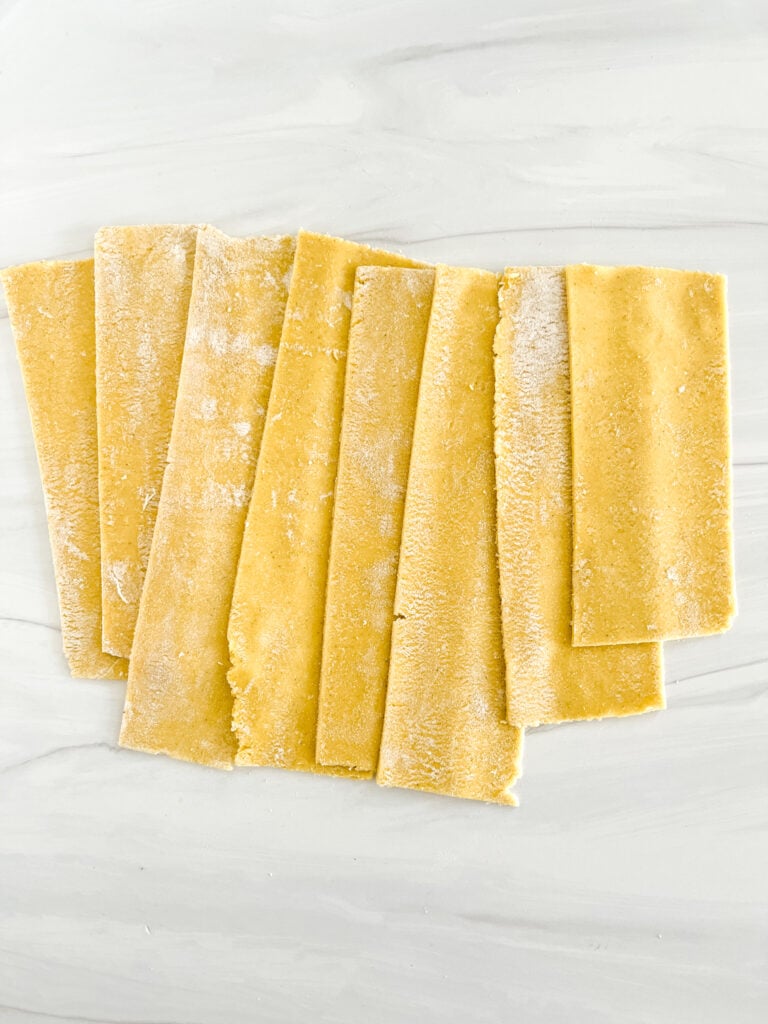 Feed each sheet through the pasta machine to cut it into the desired strands.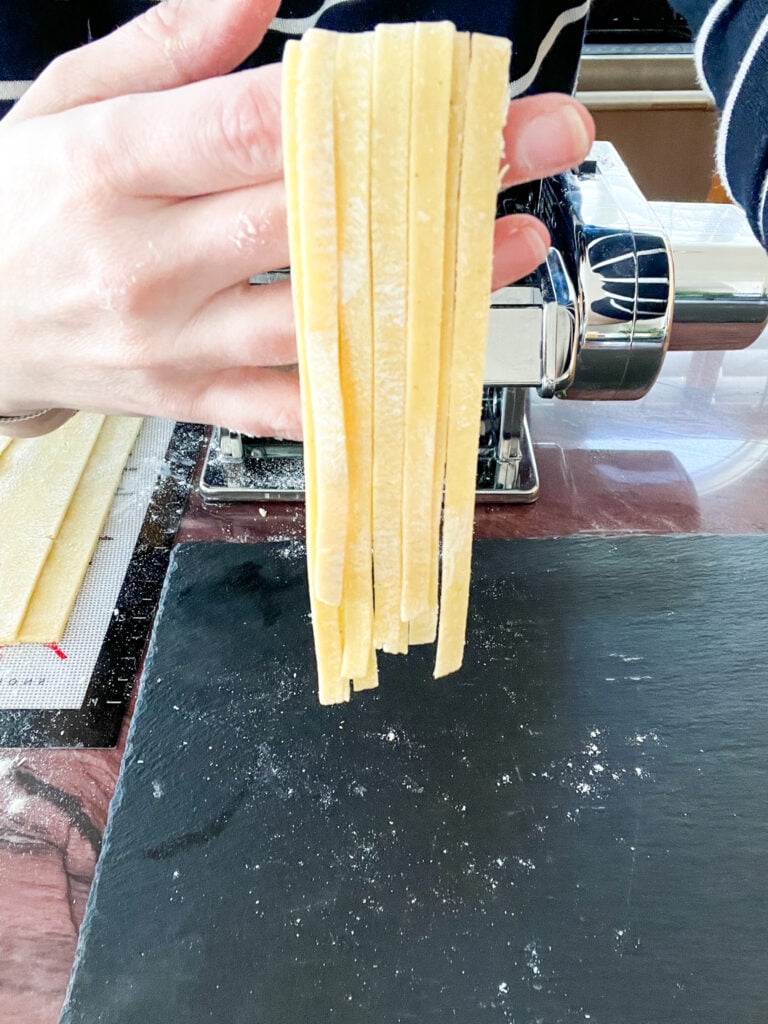 Place nests of the cut pasta on a floured tray until you're ready to cook the whole batch.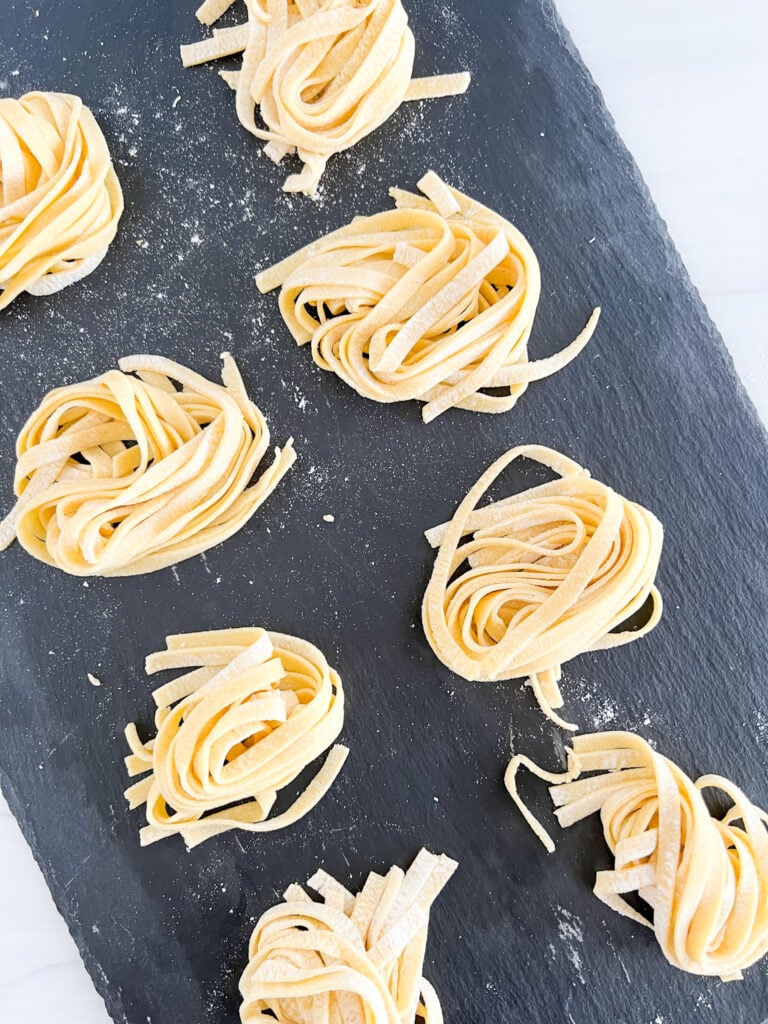 Bring a large pot of salted water to a boil and add the pasta. Be sure to separate the pasta before putting it into the water so you don't wind up with clumps.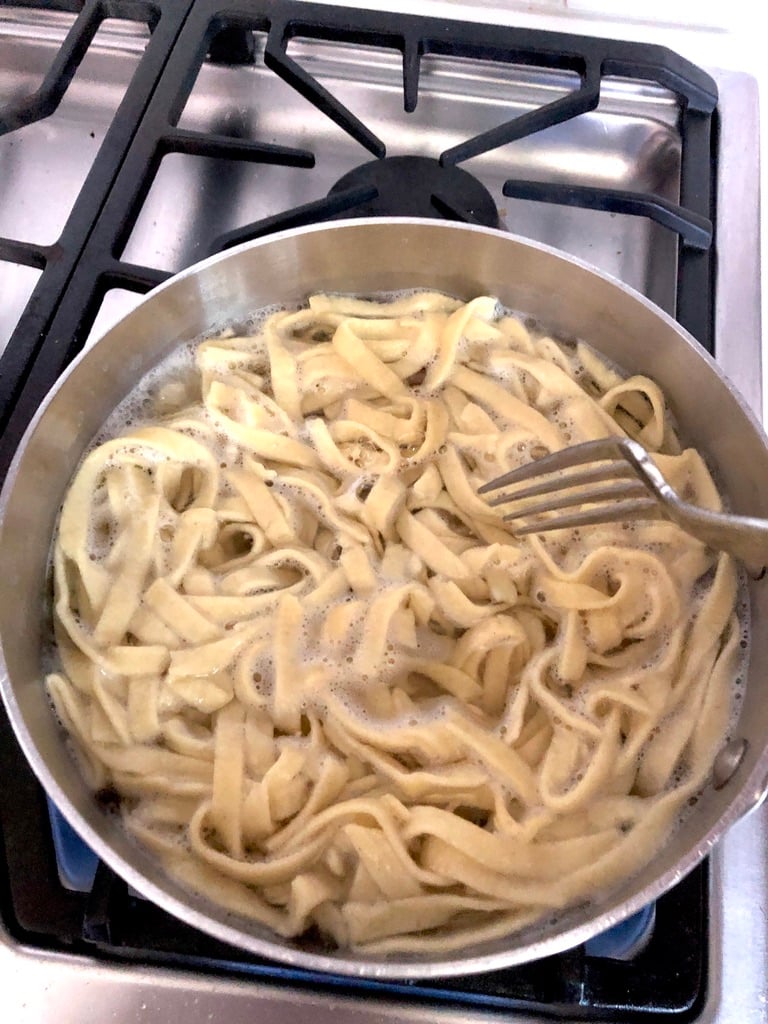 Boil the pasta for 1-2 minutes, then drain and serve. The noodles cook quickly, so watch them carefully.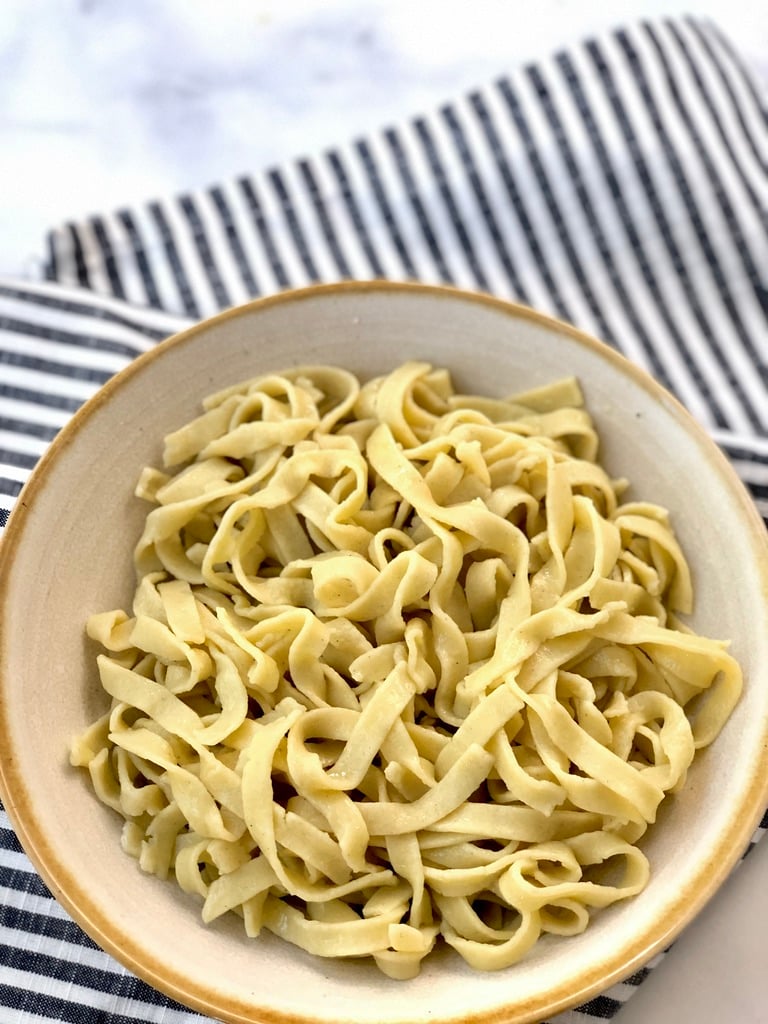 How Do They Taste?
The pasta is chewy and doughy, offering that gluten-y texture you miss when you're on a gluten-free diet. It tastes like homemade pasta and tastes as good as any pasta, even pasta made with gluten.
I think these homemade gluten-free pasta noodles taste fabulous when topped with a bit of olive oil and salt.
You could also top them with your favorite jarred or homemade marinara sauce, pesto sauce, or a garlic-butter sauce like the one I used to cover my homemade gnocchi.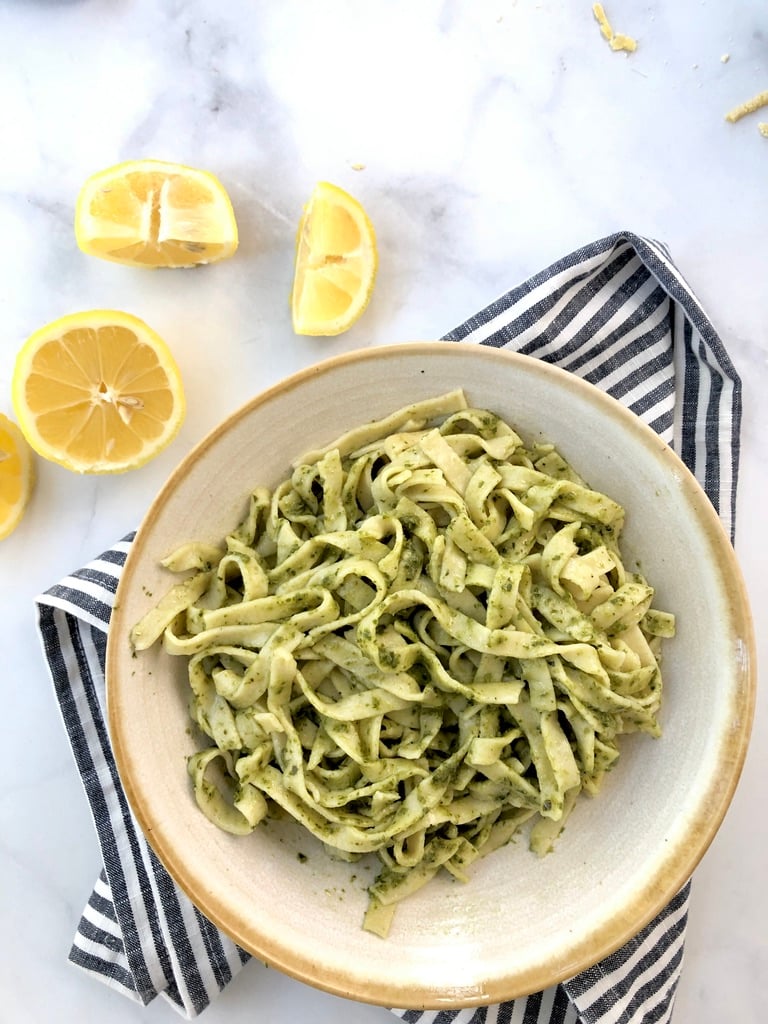 Other Ways to Use Two-Ingredient Gluten-Free Pasta Dough
This from-scratch pasta dough can be used to create a variety of gluten-free foods.
Specifically, I used it to create gluten-free pumpkin ravioli and my homemade gluten-free kreplach (Jewish dumplings).
You could also use it to make lasagna, perogies, dumplings, and any dish that calls for pasta sheets or wonton wrappers.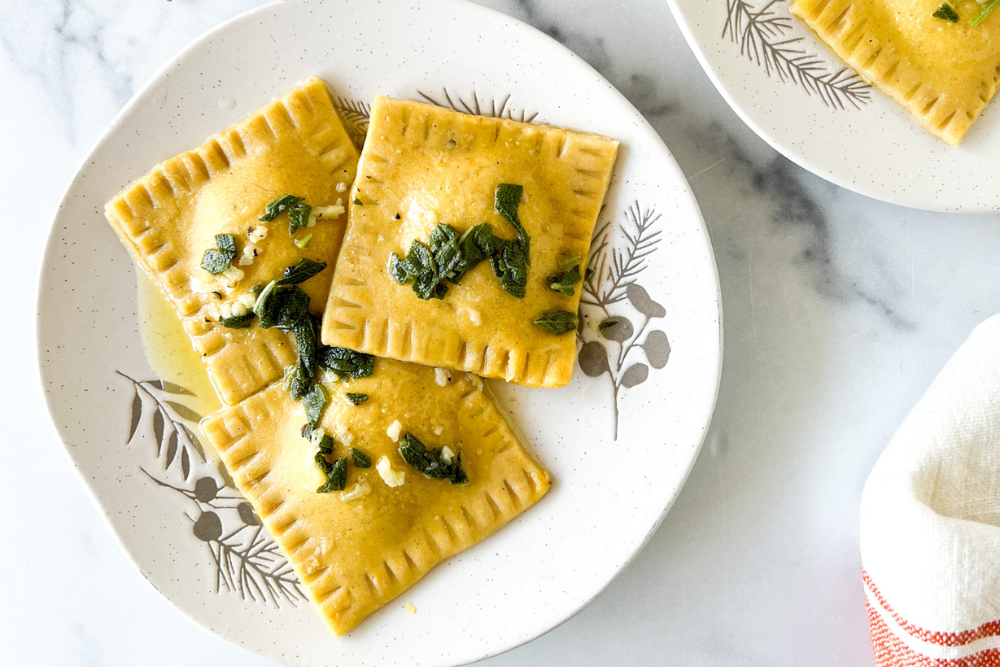 Additional Recipes
You might enjoy these recipes, too: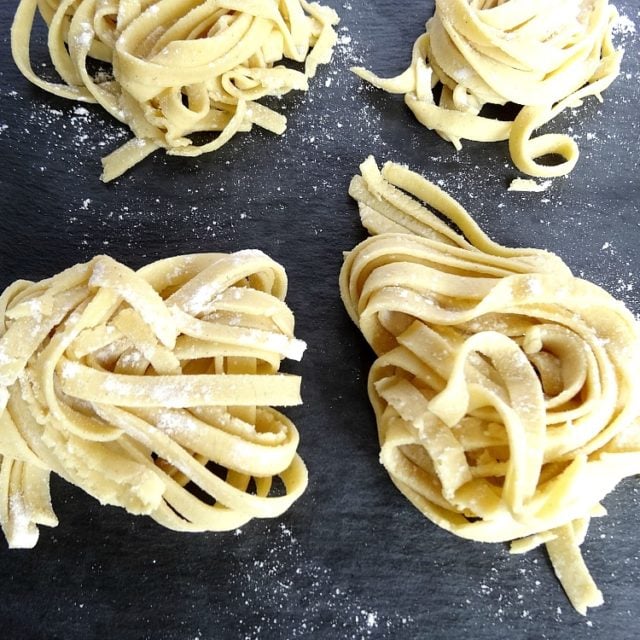 Two-Ingredient Gluten-Free Pasta Dough
You're going to love making – and EATING – homemade gluten-free pasta using my simple two-ingredient gluten-free pasta dough recipe. This pasta has a wonderful texture and taste. You won't miss gluten!
Print
Pin
Rate
Ingredients
200

grams

Bob's Red Mill 1-to-1 Gluten-Free Baking Flour*

+ extra for rolling out the dough (200 grams is equivalent to ~1 1/4 cups + 2 Tbsp) – see notes

3

large

eggs
Instructions
Add the flour to a clean, well-floured surface (I use a Silpat mat). Create a small well in the center of the flour. Add the eggs to the well, then use your fork to scramble the eggs and incorporate a little bit of flour at a time. Once the dough becomes too stiff to mix with the fork, use your hands to work the dough together into a sticky ball. The gluten-free dough doesn't require kneading, so it's ready to go once the flour is fully incorporated into the eggs.

Place the dough ball on a floured surface and cut it into four equal sections.

Roll out each section into a long, thin, flat layer on a floured surface. It should resemble a lasagne sheet. To evenly flatten the sheets of dough, run each sheet through your pasta machine on Setting #1. Then, run each sheet through the pasta machine on Setting #2. If the sheets are too long to feed through the pasta machine without breaking, cut them in half before running them through the pasta machine on Setting #2. Use a pizza cutter or butter knife to remove any frayed edges from the pasta.

Add each sheet through the pasta machine again, this time on the pasta cutting setting of choice. Nest the strands of pasta on a lightly floured surface until you're ready to cook it.

Add a pinch of salt to boiling water, then add the pasta strands to the water and cook for about 1-2 minutes. The pasta cooks fast, so watch it carefully.

Drain the pasta and rinse with cold water (optional). Serve immediately with your favorite sauce or simply top with a little olive oil and sea salt.
Notes
If your gluten-free flour blend doesn't contain xanthan gum, add 1 tsp. Most one-to-one gluten-free flour blends already have xanthan gum. I use Bob's Red Mill 1:1 gluten-free flour blend, which includes xanthan gum. This recipe works with other 1:1 gluten-free flour blends too. 
The dough should be slightly sticky, but if it's too sticky, it will stick to the pasta machine. Make sure the dough is floured before feeding it through the pasta machine.
Separate the pasta before adding it to the water. Don't overcrowd the pot or the pasta strands will clump.
To prevent pasta from sticking together after it's cooked and drained, coat it with a light drizzle of olive oil. The oil will keep the pasta from sticking together. 
Be sure to read the entire blog post above this recipe for pictures and detailed instructions.
Nutrition
Calories:
401
kcal
|
Carbohydrates:
65
g
|
Protein:
18
g
|
Fat:
10
g
|
Saturated Fat:
2
g
|
Cholesterol:
279
mg
|
Sodium:
107
mg
|
Potassium:
104
mg
|
Fiber:
9
g
|
Sugar:
3
g
|
Vitamin A:
405
IU
|
Calcium:
101
mg
|
Iron:
5
mg